Riga castle (Latvian name Rigas pils, German Rigaer Schloss) is one of the most important elements and historical and architectural complex of the classical city of Riga.
For several centuries, Riga castle was the residence of the secular power in the city. After the restoration of independence of the Republic of Latvia in 1991, the castle became the official residence and main workplace of the President of Latvia. Due to this, the Riga castle is also called the Presidential Palace.
Riga castle is located on the right Bank of the Daugava river in the heart of old Riga, the so-called Vecriga, at the address: Pils iela 1/3.
Riga castle is one of the most important and oldest monuments of history and architecture of the fourteenth century.
The first stone in the Foundation of the castle was laid on 15 June 1330. For centuries, throughout its history, the castle was repeatedly destroyed, after it was restored and expanded, and its present appearance was completed in the 60-ies of the XIX century.
Riga castle is not one building but a whole complex of colorful buildings of different eras, enclosed by a protective wall. That is why, if you look at the castle with the narrow streets of the old town of Riga, the picture is incomplete and some unfinished. Best Riga castle in its holistic architectural complex can be seen from the Daugava river embankment and the great view to the Riga castle opens with a suspension bridge that crosses the Daugava river.
View of Riga castle from the embankment of the river Daugava
View of the Riga castle with bridge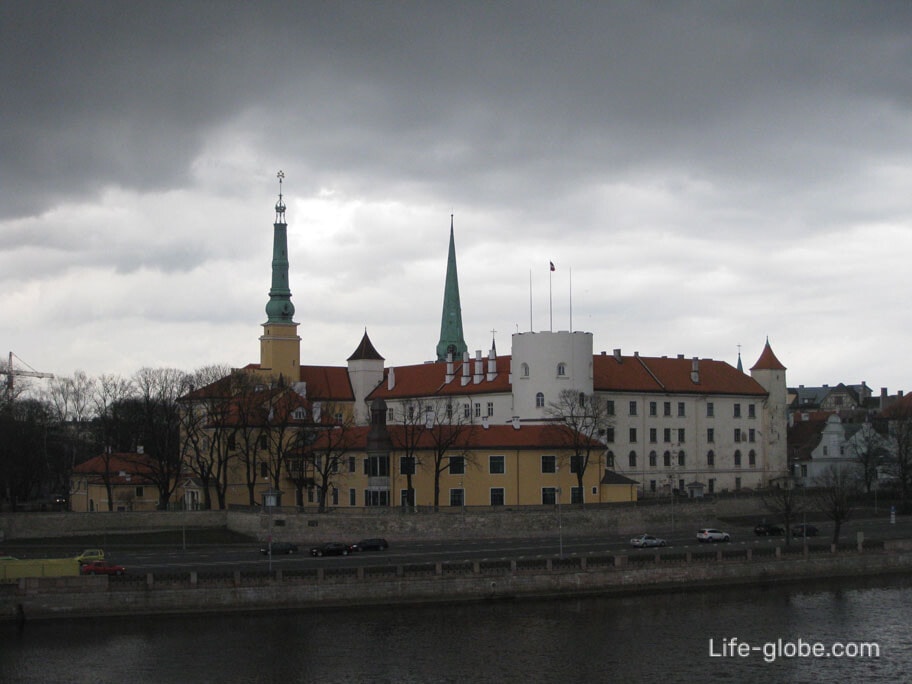 Currently in the castle a large-scale construction works for reconstruction and restoration of the Presidential residence. The reconstruction is planned to finish by the upcoming centennial of the Latvian state in 2018, after which the Riga castle will restore its original luster. In the meantime, the castle is in pretty poor condition.
Before the reconstruction of the Riga castle and some of the rooms of the castle have held the exhibition of two museums: the national history Museum of Latvia and Museum of foreign art. However, after start of large-scale unfolding of the works of foreign art Museum moved to the building of the Riga stock exchange, which is the dome squareand the national history Museum of Latvia is located temporarily near the Freedom monument, at the address: Brivibas Bulvaris 32 (Brivibas Bulvaris, 32).
The main gate, the entrance to the Riga castle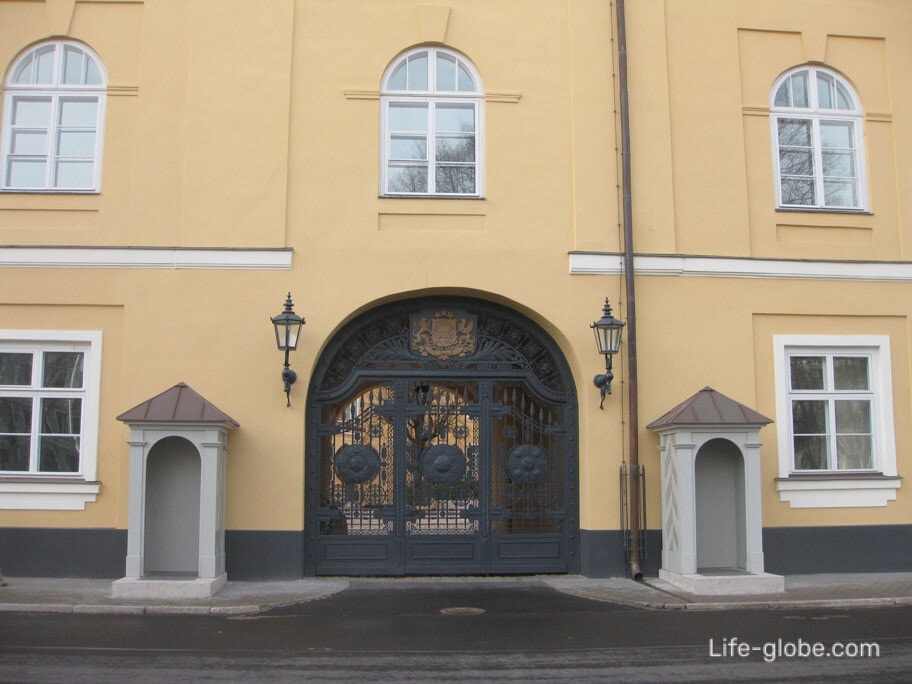 At the main entrance to the Riga castle lies the Palace square (Pils laukums)
The spires of the two buildings in the photo, it towers the famous Riga churches. The Dome on the right and Cathedral of St. Jacob green on the left.