Rawai Beach is one of the beaches of Phuket.
This beach is uncooperable, but quite pleasant. Along the beach you can walk along the embankment, and from the beach you can visit the nearby islands.
Rawai is located in the southern part of Phuket Island, 16 kilometers from Phuket Town and 3 kilometers from Nai Harn Beach.
Rawai Beach is sandy and rocky, but its water area is not intended for swimming and rather serves as a pier.
Most of the beach is occupied by boats and boats of local residents.
The water in the sea is cloudy, the shallow water is rocky. During low tides, the water goes quite far, thus draining the rocky bottom, and during high tides it leaves only a narrow strip of land.
When he first gets to the beach, he does not make an impression, but after walking along the beach for a short time, something catches you. First of all, it is peace and quiet. The silence here is really peaceful, unlike other developed tourist beaches of the island, with constant traffic, busy life and numerous tourists.
Some of the boats and speedboats are used to transport tourists to the nearest islands and to go out to sea for fishing.
Here, on Rawai Beach, you can order individual fishing from local entrepreneurs, and you can also be taken to nearby islands, where they promise a serene holiday, clean beaches and excellent snorkeling (snorkeling).
In the morning you are taken to the island, and after 16:00 hours they pick you up. A round trip costs from 900 - 1000 baht, with a visit to two or more islands in one day - from 1300 - 1700 baht. A mask and snorkel can be rented here from local residents.
From Rawai Beach, a pier goes into the sea waters, along which you can walk. Boats start from the pier to the islands and for fishing trips.
Rawai beach is not as technical as it may seem at first glance. If you visit the beach closer to lunch, you can see tourists relaxing along the beach in the shade of palm trees and casuarina trees, some even have picnics.
Along the beach strip there is a road and a sidewalk, which also serves as an embankment, along which there are cafes, restaurants, hotels and apartments
At the eastern edge of Rawai Beach there is a seafood market (Rawai Seafood Market). There are also several cafes in which, for a small surcharge (from about 75 baht per dish and from 100-150 baht per kilogram, depending on what and how they will cook), everything bought at the market can be prepared for you.
Also near the beach there are minimarkets, exchangers, souvenir shops, Thai massage parlors, makashnitsy come.
Attractions of Rawai Beach
Rawai does not end with a beach and an embankment, it is a residential area of the same name, where you can find all the charms inherent in small Thai island residential areas.
In Rawai, you can visit the Buddhist temple Wat Sawang (Arom Phuket / Wat Sawang Arom).
Not far from the beach is Rawai Park - a children's play area with a swimming pool, several slides, water entertainment, a game room, a green area for walking with places to relax, a carp pond, swings, a trampoline area and playgrounds under canopies.
There is a family-run bistro restaurant and a kids' club on site, and foam parties are held on weekends.
Rawai Park is suitable for families with young children.
Rawai Park website: rawaipark.com.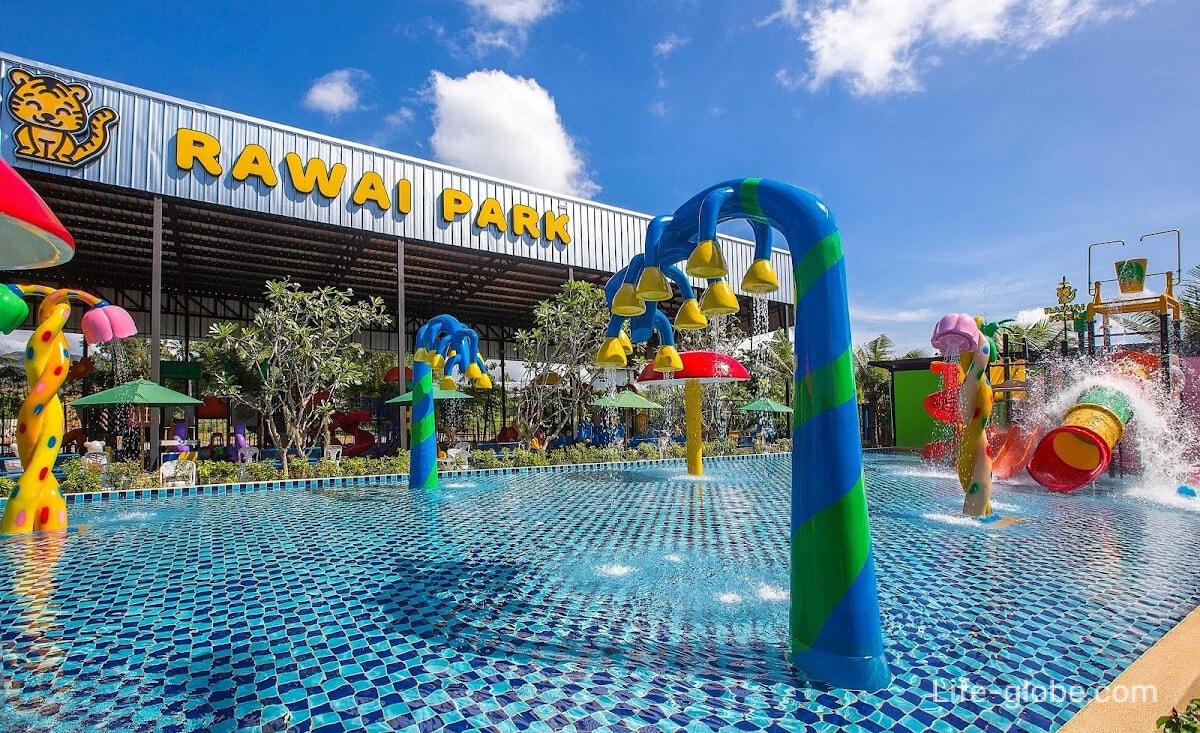 There are several places of interest in the Rawai area.
First of all, this is the famous Promthep Cape, which we advise everyone to visit, regardless of whether you are resting on Rawai Beach, or anywhere else on the island.
Promthep Cape is the southernmost part of Phuket, where there is an observation deck with picturesque views, as well as a lighthouse and a monument to the Prince of Thailand - Admiral Krom Luang Chumphon.
From Rawai beach to Promtep, you can walk, having overcome the path of 2.5 kilometers.
Where to stay at Rawai Beach
The choice of accommodation facilities in Rawai is very diverse, ranging from hotels and villas, ending with apartments (full-fledged apartments with all amenities).
Near Rawai beach you can stay
The 4-star Rawai Palm Beach Resort - SHA Extra Plus, designed in Thai style. The hotel has 3 swimming pools, a spa, several restaurants, a bar and free Wi-Fi. The hotel offers a free shuttle bus to the nearby Yanui Beach. Breakfast may be included in the room rate. Link to the hotel
Phuket Sea Resort SHA Extra Plus is a 4-star resort with 2 outdoor pools, a pool bar, a restaurant, common areas, free Wi-Fi and parking. Link to the hotel
3-star Hotel Meet Holiday Hotel
4-star Ya Nui Beach Villas Complex with an outdoor pool, free Wi-Fi and parking
Genesis Villas offers a year-round outdoor pool, free Wi-Fi and free private parking
Tropical garden Villa with 3 bedrooms
Villa Nikkie 2 with 2 bedrooms
Direct pool access apartment at The Title by Lofty with 2 bedrooms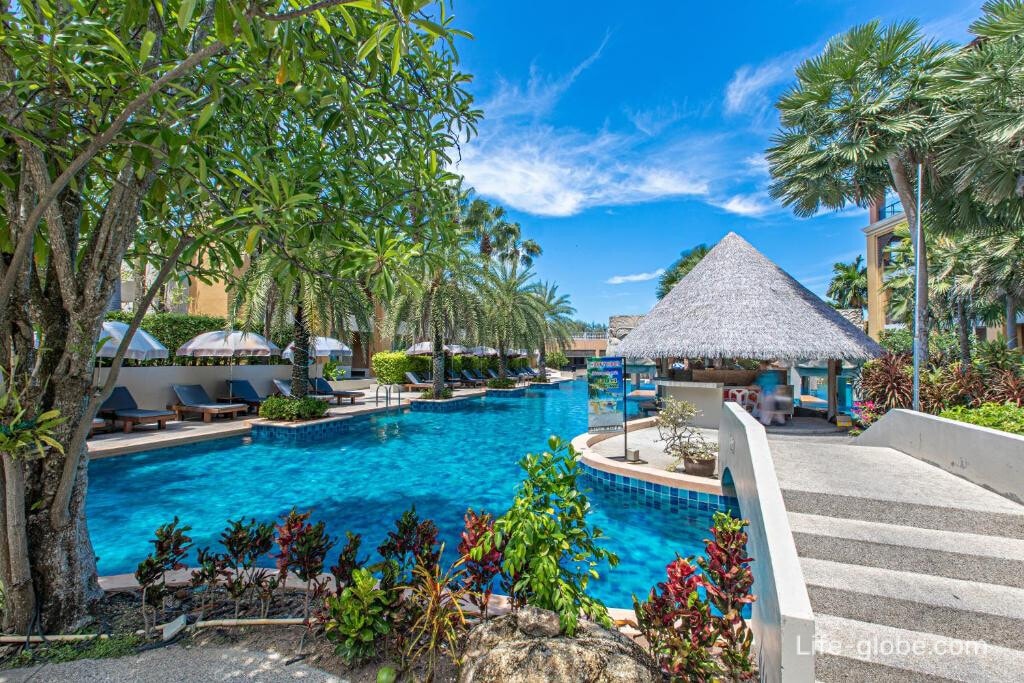 All accommodation facilities in Rawai (hotels, villas, houses, apartments, etc.), both directly near the beach and more remotely from it, can be viewed and booked here
How to get to Rawai Beach
From the airport and Phuket Town
From the airport by direct bus Phuket Smart Bus.
By buses with a transfer to Phuket Town. First we take the Airport-Phuket Town bus to Phuket Town, then, from Phuket Town from Ranong Street by local bus (songteo) "Phuket - Rawai - Nai Harn" to Rawai. You can get off at a fork near the pier.
From the beaches of Kata and Karon via Phuket Town. Or, which is faster, get off at the Chalong Ring and wait for the Phuket Town - Rawai - Nai Harn bus.
From Kata Noi Beach, walk or drive to Kata Beach, the distance is approximately 1 kilometer. And then follow the instructions above.
From Nai Harn beach there is a direct bus "Phuket Town - Rawai - Nai Harn", without transfers.
From other beaches of the island by bus through Phuket Town.
At any time of the day from Phuket airport and other places on the island, you can get directly to Rawai by taxi, tuk-tuks, rented car or bike.