Kata Noi (Kata Noi Beach) is one of the best and most picturesque beaches in Phuket, which has soft sand, luxury hotels and view villas, and is also one of the most photographed beaches on the island.
Kata Noi Beach has a length of only 600-700 meters, but despite this, the beach, even in the high tourist season, is not as crowded as on the more famous and visited beaches of Phuket, such as Patong or Karon.
Kata Noi Beach is quite wide.
There is fine, pleasant and soft to the touch light sand on the beach. Walking on the beach barefoot is a great pleasure.
Kata Noi Beach is perfect for a calm, measured rest.
In our subjective opinion, this is the best beach in Phuket. Photos of this particular beach can be seen in many brochures and brochures advertising a paradise vacation in Phuket. And it really is, Kata Noi beach can be called the "paradise of Phuket".
On the beach there are places of natural shade emanating from vegetation near hotels located directly near the beach.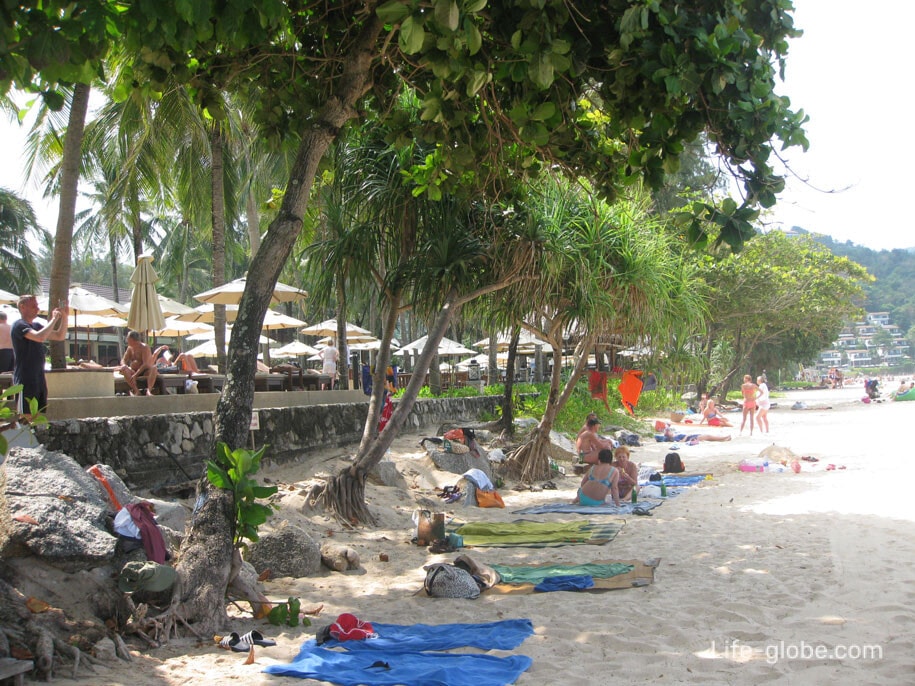 The beach is framed on both sides by capes going into the sea waters, which makes this beach, if not private, then certainly more secluded than many other beaches in Phuket.
The water in the sea is a delicate turquoise color.
The entrance to the sea is quite gentle, the depth comes quite quickly, which is good for swimmers. The bottom is sandy, without stones. The temperature of the sea water may be, since the depth comes quickly, a little cooler than on the neighboring beaches, which is also a plus, since it gives a little coolness from the hot Thai sun. What is also interesting is that the water in the sea is a little saltier than on the neighboring Karon.
Video of Kata Noi Beach
Remark! We stayed at the nearby Karon and often came to swim on this beach. The road, at a leisurely walking pace, takes 30-40 minutes. So, you wake up in the morning, the gentle sun is already looking in the window, enveloping you with its gentle and warm rays, and you think: "where to go for a swim? Stay on Karon or overcome more than 4.5 kilometers and go to Cat Noi Beach?"... When you come to Kata Noi beach, you understand with all confidence, "It was worth it!".
If we had made our choice of a hotel knowing all the details about Kata Noi Beach, then, without a doubt, we would have chosen this beach for our vacation in Phuket.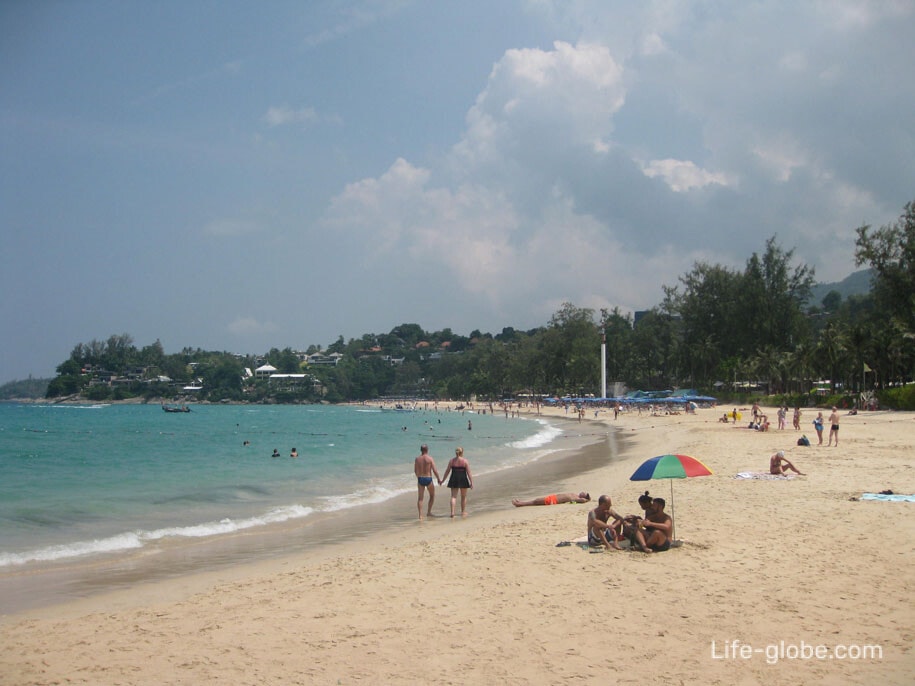 In terms of comfort, Kata Noi beach is in no way inferior to other famous beaches of the island, and in some cases even surpasses those.
Sun loungers and umbrellas can be rented on the beach. From beach entertainment - you can ride a banana or a jet ski.
The beach is clean, it can be seen that it is regularly cleaned.
On the first line of Kata Noi Beach there are chic 4- and 5-star hotels, as well as villas with panoramic views of the beach and the Andaman Sea. Perhaps for this reason, you can find information on the web that Kata Noi beach is the most expensive beach in Phuket. But this is not so, the beach itself is public and free, but the hotels that are located along the beach hold the status and are really not budget, but not the most expensive of Phuket hotels.
Exits to Kata Noi Beach
There is one road leading to Kata Noi Beach, Kata Noi Rd.
There are two ways to get to the coastline of Kata Noi Beach.
The first and nearest entrance to Kata Noi Beach - if you follow from Kata Beach, will be a staircase descending from the road and leading to the beach. Going down this staircase, you will get to the right extreme side of Kata Noi Beach.
The second entrance will take you directly to the center of the beach. To do this, you need to go along the Kata Noi Rd road further down the stairs and you will come to the beach.
The same path is also suitable for those who follow the beach not only on foot, but also arrived by rented car or motor vehicle. Parking spaces can also be found here.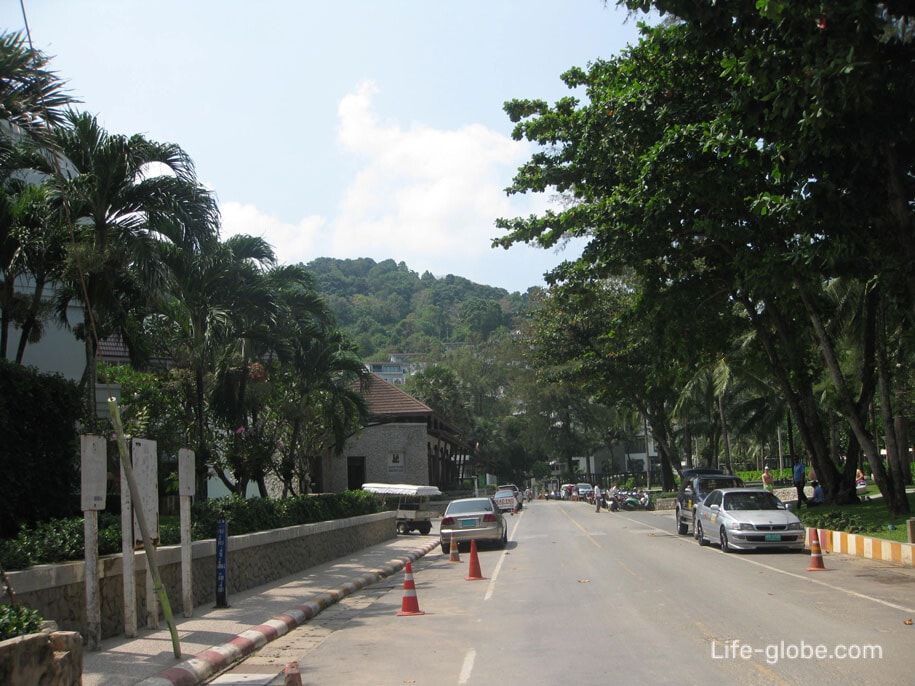 Infrastructure near Kata Noi beach
Just behind Kata Noi Beach, at the carriageway of the only road, there is a small and beautiful park square where you can play games, take a walk by the artificial pool or sit in a cafe.
Behind the park is Kata Noi Rd street, along which there are cafes and restaurants, as well as massage parlors, exchangers, tour desks, a tennis court, bike rental, grocery minimarkets and makashnits where you can have a snack and buy fruit.
What to see in the vicinity of Kata Noi Beach, by yourself
As such, there are no attractions on the beach. Kata Noi is a relaxation beach for a calm and measured rest.
However, there are several attractions and one entertainment near the beach, which you can visit even on foot.
1. The most famous and visited observation deck in Phuket is Karon View Point, which offers stunning views of three beaches - Karon, Kata and Kata Noi.
The fastest way to get to this site on foot from Kata Noi Beach is by following the street that departs from the center of the beach.
Street photo
Following this street, you will go uphill, first along a concrete road, after which the road will become unpaved. Without turning off, in 10 minutes you can get to the wide road Kata-Sai Yuan Rd.
Going out on the Kata-Sai Yuan Rd road, turn right and you will find yourself almost at the elephant farm "Khokchang Safari". The farm will be located on the left side of the road. On the farm, you can ride elephants through the jungle.
If you follow the Kata-Sai Yuan Rd road further, then after 850 meters you will find yourself at the Karon View Point observation deck.
Map of Kata Noi Beach, nearby beaches, farm and Karon View Point observation deck
2. From Kata Noi Beach, if you go towards the neighboring Kata Beach, you can walk to another Phuket attraction - Big Buddha Phuket.
It's a long way, it's about 6 kilometers, but it's quite realistic to walk. To do this, from Kata Beach, you need to go to the wide roadway Patak Rd and follow towards Karon, then there will be a Big Buddha sign on the right side of the road, then turn right onto Patak Soi 12 (you can also go along Patak Soi 10 and Patak Soi 14, bypassing Patak Soi 12) and follow the signs, climb uphill, and after, on the road Soi Yot Sane 1, turn right and follow the driveway to the Big Buddha.
Turn and sign "BIG BUDDHA" on Patak Rd
Also, from Kata to the lapel to Big Buddha, you can take a public bus (songteo) «Phuket town - Karon - Kata».
3. For entertainment and a more intense life, you can walk to the neighboring beaches of Kata and Karon.
Photo of the road from Kata Noi Beach to Kata Beach
Where to stay on Kata Noi Beach (hotels and villas)
The best hotels of Kata Noi beach are located on the first line and have exits to the beach.
Katathani Phuket Beach Resort - SHA Extra Plus is a 5-star resort with a green area, outdoor pools, restaurants, bar, spa, fitness centers, tennis courts, free Wi-Fi and parking.
Breakfast is included in the room rate. Link to the hotel
5-star Resort The Shore At Katathani - Adult Only - SHA Extra Plus
The hotel has detached villas with private pools located on the mountainside, which gives a stunning view of the sea and the beach. The complex has a main infinity pool, restaurant, bar, free Wi-Fi and a spa where you can relax.
Breakfast is included in the price of each villa. Link to the hotel
Between the beaches of Kata Noi and Kata are
4-Bedroom Villa Villa Saleah, Phuket Thailand
8-Bedroom Villa Sunyata - Phuket Oceanfront 8-Bedroom Luxury Villa - 5-Minute Walk to Kata Beach
5-star villa complex Kata Rocks - SHA Extra Plus
4-star complex with suites Mom Tri's Villa Royale - SHA Plus
All accommodation facilities on Kata Noi (hotels, villas, apartments), both directly near the beach and more remotely from it, can be viewed and booked here
How to get to Kata Noi
From Phuket Airport, from Phuket Town and from Kata Beach
From the airport by bus or minibus to Kata.
By public buses first to Phuket Town. From Phuket Town to the final stop of Kata Beach, and from there on foot in 15 minutes to Kata Noi, along the coast by road. Buses from Phuket Town will start from Ranong Street.
At any time of the day, you can get directly to Kata Noi by taxi, tuk-tuks, rented motorbike or car.
Rent a car in Phuket (all places and airport) →
From Patong Beach
From Patong Beach, you can get to Kata by public buses with transfers. First you need to take a bus to Phuket Town, and then transfer to the bus next to Kata.
You can get from Patong to Phuket Town, or, which is faster, before reaching Phuket Town, get off at the ring near the Central Phuket shopping center, cross the road and take the bus to Kata.
From Karon Beach
From Karon Beach on foot or by bus to Kata Beach, and from there on foot to Kata Noi.
From the beaches of Rawai, Yanui and Nai Harn
Via Phuket Town. Or, which is faster, get off at the first and only ring on this route - Chalong. You can get out in front of the ring, walk a little forward, turn left and wait for the Phuket Town-Karon-Kata bus. Or go outside the ring, cross the road and also wait for your route.
Photo of the Chalong ring

From other beaches of the island
From other beaches in Phuket, you can get to Kata Noi by bus through Phuket Town.
In the direction of Kata Noi, the only bus runs, which starts in Phuket Town, then passes through Karon, and stops at the final stop located on Kata Beach. Then on foot or by taxi or tuk-tuks.