Patong is a tourist residential area and the beach of the same name in Phuket, which is one of the most visited, and is also considered a hangout and youth.
Patong is located on the southwest coast of Phuket Island.
By the standards of Phuket, Patong is almost a full-fledged island city. It is quite large, has a developed infrastructure: bars, cafes and restaurants for every taste and budget, ranging from budget Thai to Italian cuisine, an abundance of shops and souvenir shops, there are also markets, supermarkets, a shopping center and nightclubs, currency exchangers, tour desks, Thai massage parlors and a large selection of accommodation facilities (hotels, apartments, etc.)
There is a famous street of bars and cafes on Potong - Bangla Road; there is a cabaret show and Thai boxing.
Also, Patong is one of the budget places to stay in Phuket.
All this makes Patong crowded, energetic and often noisy, where people who love an active evening life, as well as young people, prefer to relax. No wonder Patong is called the capital of the party tourist life of Phuket.
For relaxation and a relaxed holiday, Patong is hardly suitable. For a more relaxed atmosphere and unity with nature, it is better to choose another beach. For example, Kata Noi or Bang Tao, you can also consider Kata, Kamala, Karon or Knighton.
Patong Beach and Sea
Patong Beach (Patong Beach, Patong Beach) is quite long and wide.
The length of the beach is 4 kilometers - there is a place to relax, take a walk and do sports.
During the high tourist season, the beach is almost always crowded.
The coastline is sandy, the sand is a pleasant white color, shimmering under the rays of the sun. But, despite this, the sand is quite dense.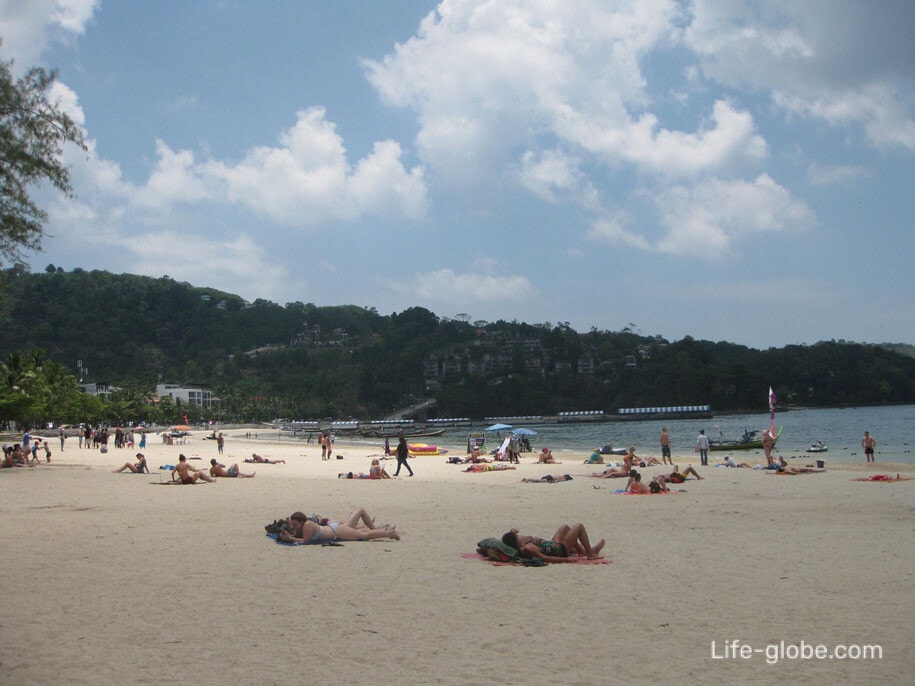 On the beach there is all the necessary infrastructure: sun loungers and umbrellas, toilets and showers, small tents from which drinks and snacks are sold, you can do Thai massage.
Along the beach there is a strip of trees, under the crowns of which you can find a natural shade.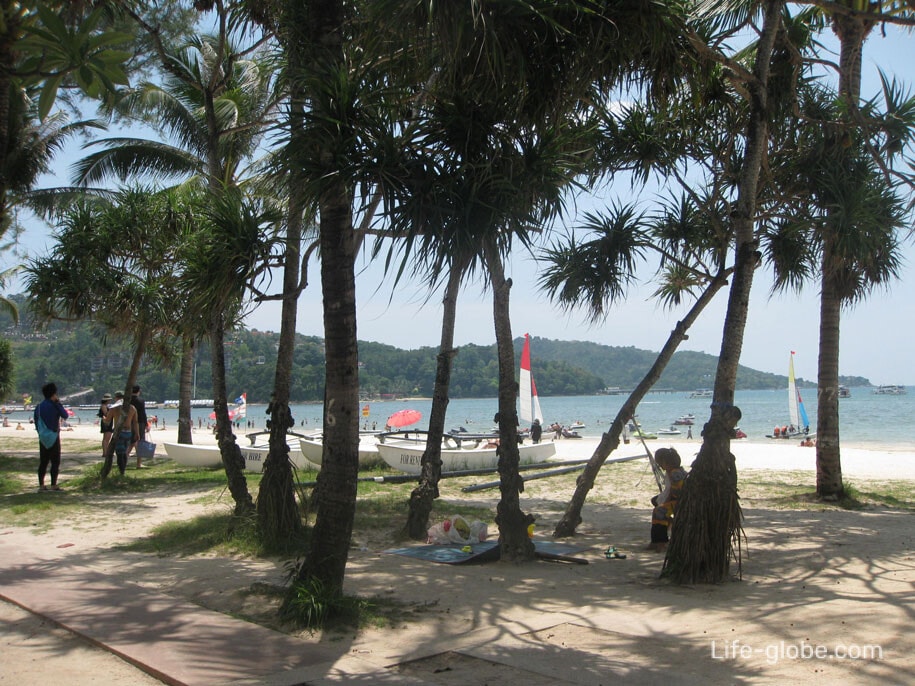 The approach to the sea is gentle, the bottom is sandy.
The purity of sea water, as well as the beach strip, depends on the time of year, weather, currents and the number of vacationers.
In the high season (from December to March), large waves are rare.
From entertainment, you can rent a jet ski, ride a banana, play beach volleyball, or fly over the sea surface by parachute.
Infrastructure and streets near Patong Beach
There is a shady area behind the beach strip - something like a small park with a sidewalk (aka the embankment) for walking and relaxing. This is Thawewong Rd.
Behind the park is a highway, on the opposite side of which cafes, restaurants, exchange offices, tour desks, massage parlors, shops and retail outlets are concentrated.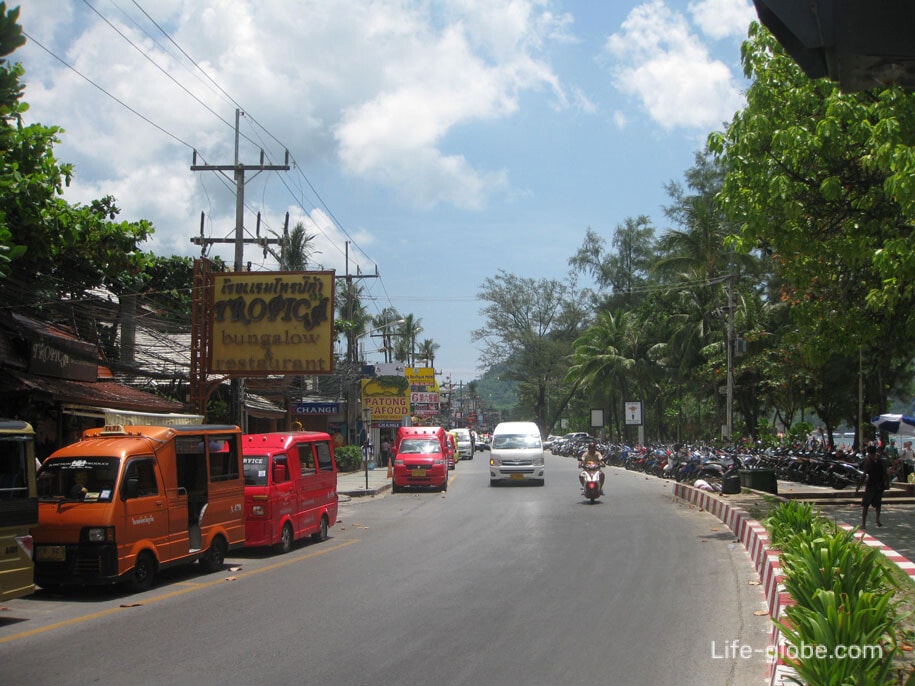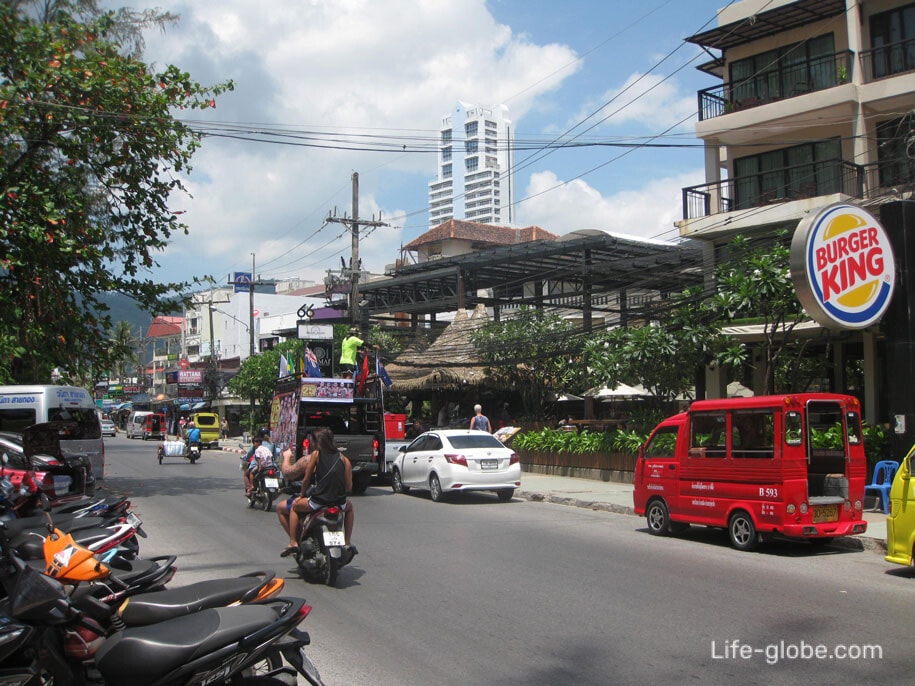 From the street into the interior of the island there are secondary streets that also have an abundance of retail outlets, cafes, bars and restaurants, exchangers, massage parlors.
The most famous of the streets of Patong is Bangla Road (Bangla Road / Bangla Road), which originates from the Patong embankment and goes deep into the city.
This is a small street, on both sides of which cafes, bars and clubs are concentrated. Bangla Road Street with all confidence can be called the party heart of Phuket.
As the sun sets, the street is blocked from traffic, and it becomes completely pedestrian. At this time, entertainment and drinking establishments begin their work with all their might: nightclubs and bars, cabarets and go-go dance, drag shows, striptease shows and discos.
Here ladies and ladyboys will meet you with a smile and take you to the tables, after which they will offer alcoholic and soft drinks, as well as entertainment and much more, which will be enough for your imagination and reflexes.
Branches of alleys with disco clubs and bars originate from Bangla Road.
Whatever you say, and with the sunset, the whole of Patong, including Bangla Road, the embankment and other streets, turns into a noisy party. Eat, drink, dance, and, as they say, do not deny yourself anything.
Photos of the streets of Patong
In Patong, you can also visit the Surf Day Phuket Surf School, Thai boxing, Simon Cabaret show cabaret, rope park with zipline Ziplinemax, Buddhist temples Wat Suwan Kriri Wong and Wat Doi Thep Nimit Monastery, Masjid Nurul Islamiyah Mosque.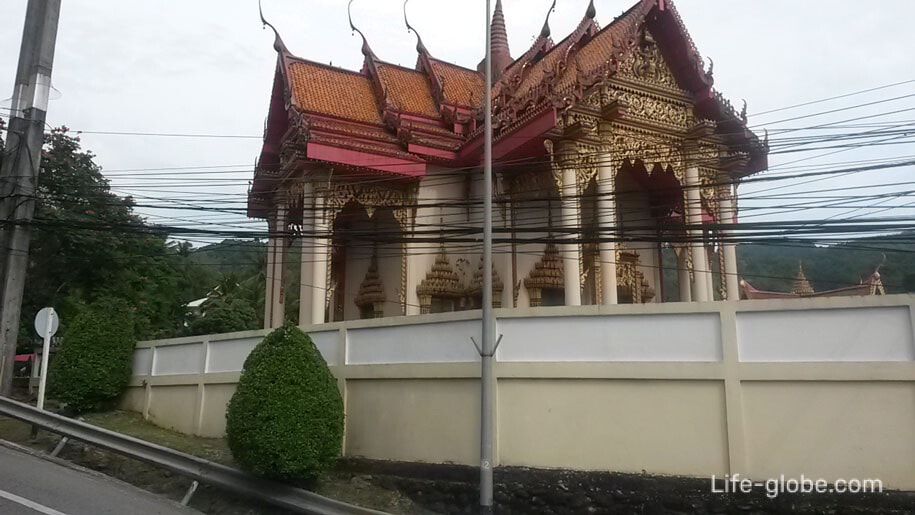 The Jungceylon shopping center is also popular in Patong, where you can buy almost everything you need, from Thai souvenirs to clothing and suitcases. There are also several catering areas in the shopping center, one of which is located outdoors.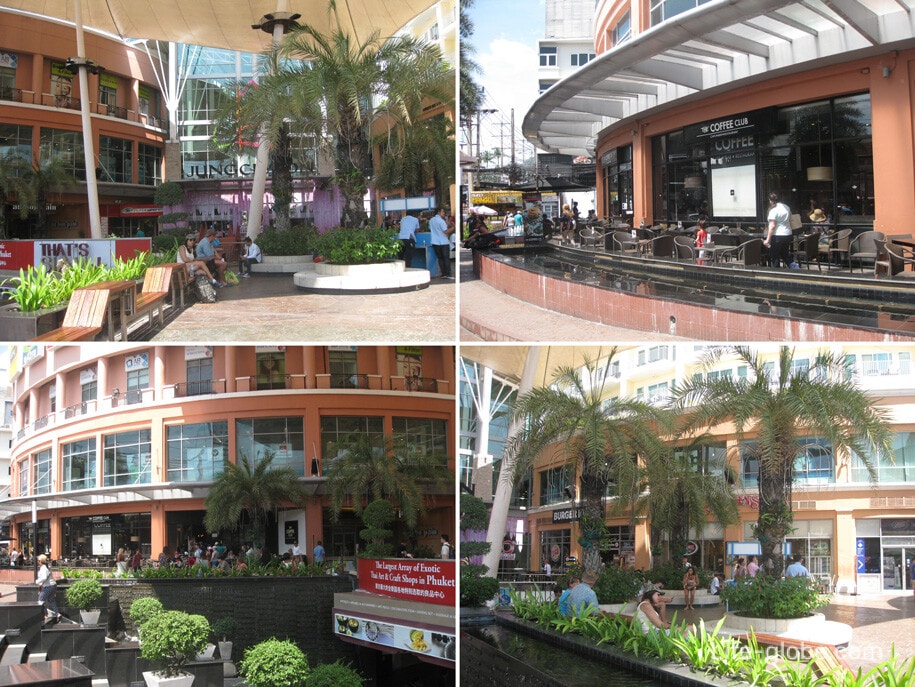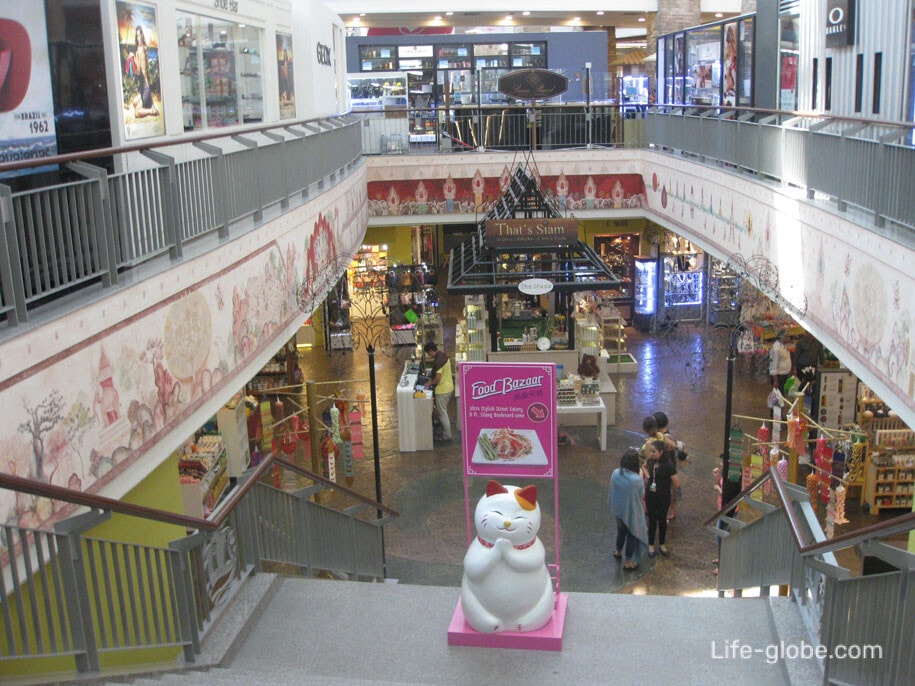 Where to stay in Patong
The choice of accommodation facilities in Patong is very large and diverse, ranging from hotels to apartments.
From hotels near the beach
Phuket Graceland Resort and Spa - SHA Extra Plus 5-star Resort & Spa with 2 outdoor pools, restaurants, bar, spa, bowling alley and meals included in the room rate
5-star Diamond Cliff Resort & Spa - SHA Extra Plus with garden, outdoor pools, sun terrace, restaurants, bars, spa and fitness centers, tennis courts, rooms, suites and villas with pool
5-star Amari Phuket Resort with outdoor pools, restaurant, bar, spa, free shuttle service to Kata Beach and meals included in the room rate
BYD Lofts 4-star Boutique Hotel - Boutique Hotel & Serviced Apartments with an outdoor rooftop pool, apartments, fitness center and bar
4-star tropical hotel Burasari Phuket Resort & Spa - SHA Extra Plus with outdoor pools, sun loungers by the pool, restaurant and spa
Patong Signature Boutique Hotel is a 3-star boutique hotel with an outdoor swimming pool, a restaurant, a bar and a fitness center
How to get to Patong
It is convenient to get to Patong beach, both from the airport - direct bus, and from Phuket Town - direct bus (songteo).
From Phuket Airport and Phuket Town
Minibuses can be found at the exit from the airport. A minibus will take you directly to your hotel.
You can also take the air-conditioned Phuket Airport Bus Express.
Through Phuket Town with a transfer on Ranong Road.
From Karon and Kata beaches
From Karon and Kata beaches, you can get to Patong by public bus with a transfer to Phuket Town.
You can get from Karon and Kata to Phuket Town, or, which is faster, before reaching Phuket Town, get off at the ring near the Central Phuket shopping center, cross the road and take the bus to Patong.
From other beaches of the island
From other beaches in Phuket, you can also get to Patong via Phuket Town.
Bus stops and routes of Patong
As such, there are no stops at songteos (Phuket's public buses). You just stand on the road in the direction of the bus and, seeing one, wave your hand to it, it will stop and pick you up anywhere. If you need to get off, press the bell in the bus, and the driver will stop you at the place you need.
The bus going from Phuket Town to Patong passes along Phrabarami Road past Suwan Khiri Wong Temple, then turns onto Thanon Ratuthit Songroipi Rd, passes Jungceylon Shopping Center, then exits onto Prachanukhro Rd and stops at the final stop located on the ring near the beach and near the Homm Bliss Southbeach Patong Hotel.
In the opposite direction, from Patong to Phuket Town, the bus departs from the same terminus, follows along the beach and leaves on Phrabarami Road.
At any time of the day from Phuket airport and other places on the island, you can get to Patong (including directly to the hotel) by taxi, tuk-tuks, rented motorbike or car.