Phuket Town (Phuket City) is the capital and largest city of Phuket Province, located in the southeastern part of the island, on the shore of Phuket Bay of the Andaman Sea of the Indian Ocean.
Many tourists come to Phuket Town, first of all, for the purpose of transplanting traveling around Phuket by public transport, as well as many go for the purpose of shopping. But, we would recommend staying in the city and taking a walk through its streets. There is really something to see here, because Phuket Town is much more of a Thai city than the resorts of the coast.
There are parks and small squares, Thai and Chinese temples, interesting architectural buildings, museums, Old and New Town, cafes, restaurants and accommodation facilities (hotels, apartments)
It should be noted that there are no kupable beaches in Phuket Town.
For us, Phuket Town has become a charm of elements that can be seen walking through the streets of the city.
Conditionally, the city can be divided into New and Old Phuket Town.
Conditional division occurs due to the fact that there is no clear distinction between the old and the new in the city. Here, the old quarter with narrow streets and bright buildings is closely adjacent to quite modern, by the standards of Phuket island, buildings, shops, car dealerships and wider streets. Of particular interest to tourists is undoubtedly the Old Town of Phuket Town.
Old Town Phuket Town
Old Phuket Town (Old Phuket Town, Old Phuket Town) is a block located on several streets: Thalang, Krabi, PhangNga, Dibuk, Ratsada and other streets adjacent to them.
This place is dominated by low, mostly 2-storey buildings of Chinese-Portuguese architecture, which was temporarily influenced and intertwined with Chinese and European cultures.
Many buildings of the old quarter are painted in bright colors, which makes this area even more attractive and picturesque.
In Strom Phuket Town you can visit
- Phuket Thai Hua History Museum (Phuket Thai Hua Museum), located in a Sino-Portuguese colonial house from 1934, which used to be a Chinese school. On 2 floors with an open-air courtyard there are exhibits telling about how the Chinese lived in Phuket
- Phuket Post Museum (Phuket Philatelic Museum, Phuket Philatelic Museum), located in a renovated old post office building
- 3D Museum (Phuket 3D Museum) with art installations (3D paintings), where there is an opportunity to interact with modern installation art through a permanent collection and temporary exhibitions
- colorful Chinese temple Jui Tui (Jui Tui Shrine) in 1911. It is the venue of the annual Phuket Vegetarian Festival
- Chinese temple Saeng Tham Shrine with Gate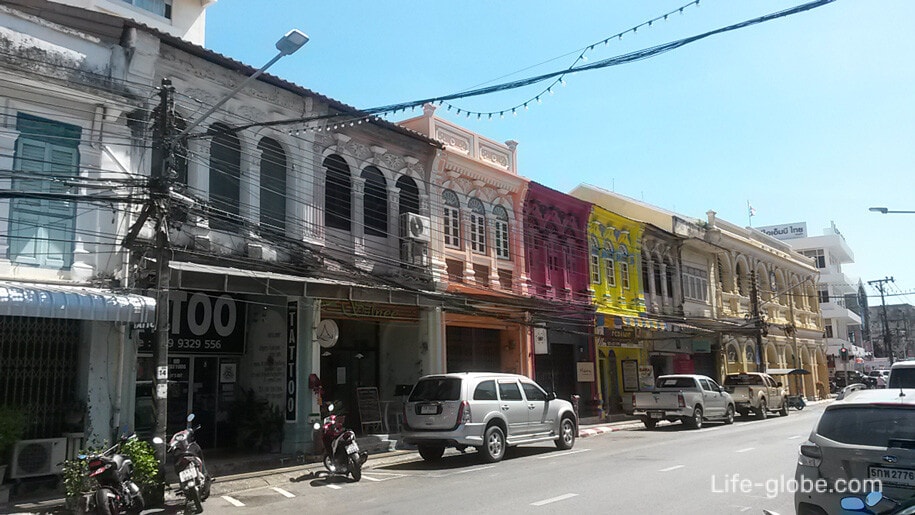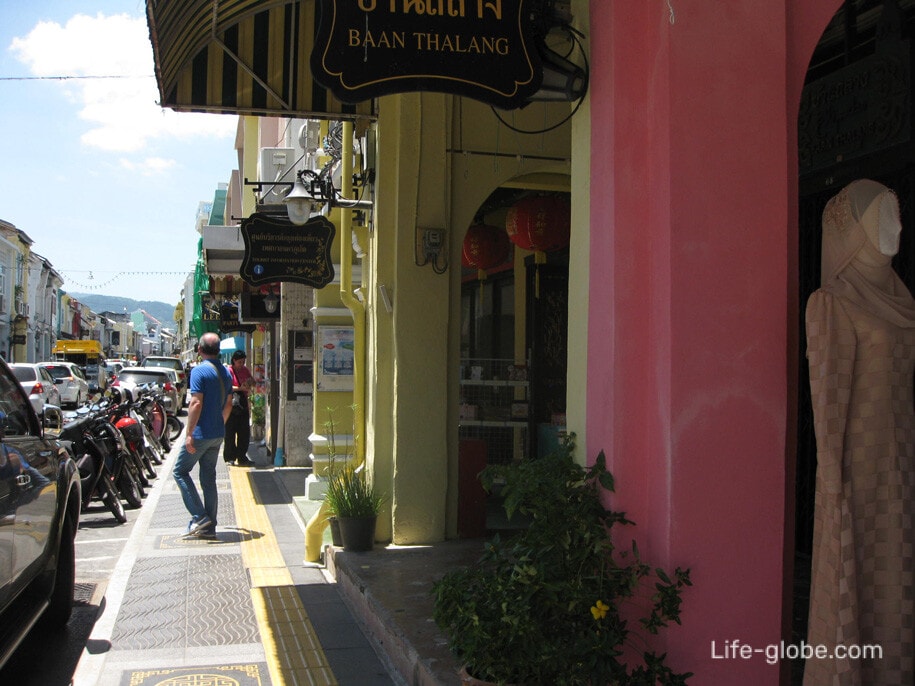 As a rule, the first floors of the buildings of the old center are occupied by souvenir shops, small shops, cafes or workshops.
The cafes and restaurants serve both Thai and Pan-European cuisine.
The facades of some buildings are decorated with bright and interesting street art
Chin Pracha House Museum
In the old center of Phuket town, the Chin Pracha House stands out - a two-story 1903 mansion in the Chinese colonial style, which belonged to the Chinpracha family.
The house has an exposition dedicated to the family history of the head of the Chinese community during the active tin mining in the early 20th century with exhibits of Chinese art, including furniture and photographs.
The house is surrounded by a blooming green garden, where chickens and cats walk freely.
Next to Chin Pracha's house there is a Thai restaurant Blue Elephant, located in a beautiful colonial building.
Temples of Phuket Town
In addition to walking through the streets of the old quarter, you can visit temples, which are enough in Phuket Town.
We visited the Buddhist temple Mongkol Nimit (Wat Mongkol Nimit). Wat Mongkol Nimit is not just a temple, but a large Buddhist monastery and the center of religious life of the population. The temple complex has a fairly decent territory. By the way, this temple is located near the old town.
There are other temples in Phuket Town, including Thai and Chinese: Wat Wichit Sangkaram, Wat Charoen Samanakij, Wat Ko Sire, Saphan Hin Shrine, etc.
Phuket Town Parks
Queen Sirikit Park, located near the old center with a golden dragon on the square.
Rama IX Park (King Rama 9 Park), named after the deceased on October 13, 2016, King Bhumibol Adulyadej of Thailand, who bore the title "The Great". This park is quite large for an island Thailand. There are several ponds on the territory of the park, there are lawns, playgrounds and sports grounds, paths for walking. This is a favorite place for recreation and walks of local residents, especially schoolchildren.
Sapat Hin Park (Saphan Hin Park). A city park located not in the very center of the city, but near the fishing port.
Observation deck in Phuket Town
Those who wish can climb one of the city's Rang hills (Rang Hill), on the territory of which there is an observation deck of the same name.
Near the city of Phuket Town is Monkey Mountain (Monkey Hill, Monkey Hill), which has observation decks with views of Phuket Town, the surrounding area and the coast of Phuket. The Thai name of the mountain is Khao Toh Sae.
Streets of Phuket Town
Many locals are engaged in private business - they keep small shops, eateries, cook and sell something, or repair equipment, bikes, etc. in their workshops. Often such a business becomes a family business and all family members take part in it.
Business income is often the only source of income for the existence of a family.
In order to save money, shops are opened in the same place where they live - on the first floors of houses facing tourist streets. Part of the premises is allocated for a retail outlet, and part remains for family living. Therefore, it is often possible to see such a picture when the whole family is in the trading shop, parents are trading or doing chores, grandparents are sitting and looking after the shop, and the kids are helping relatives or having fun sitting on the floor.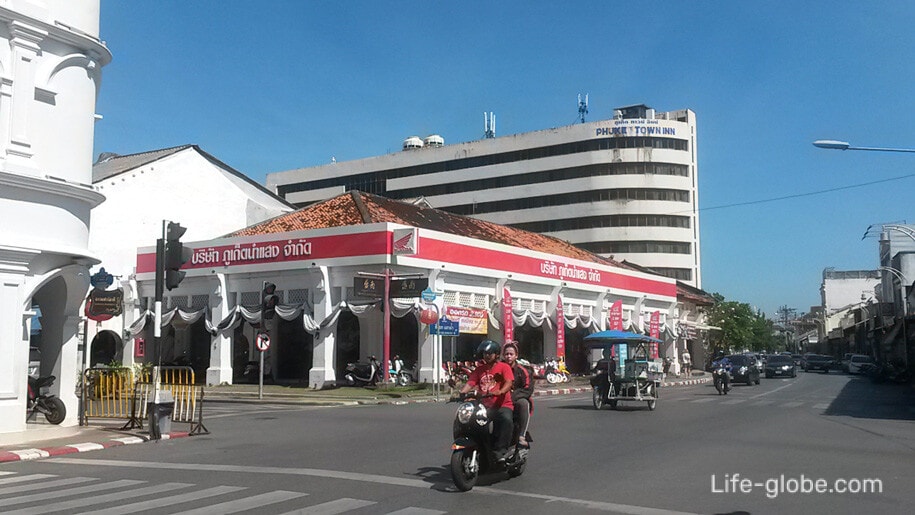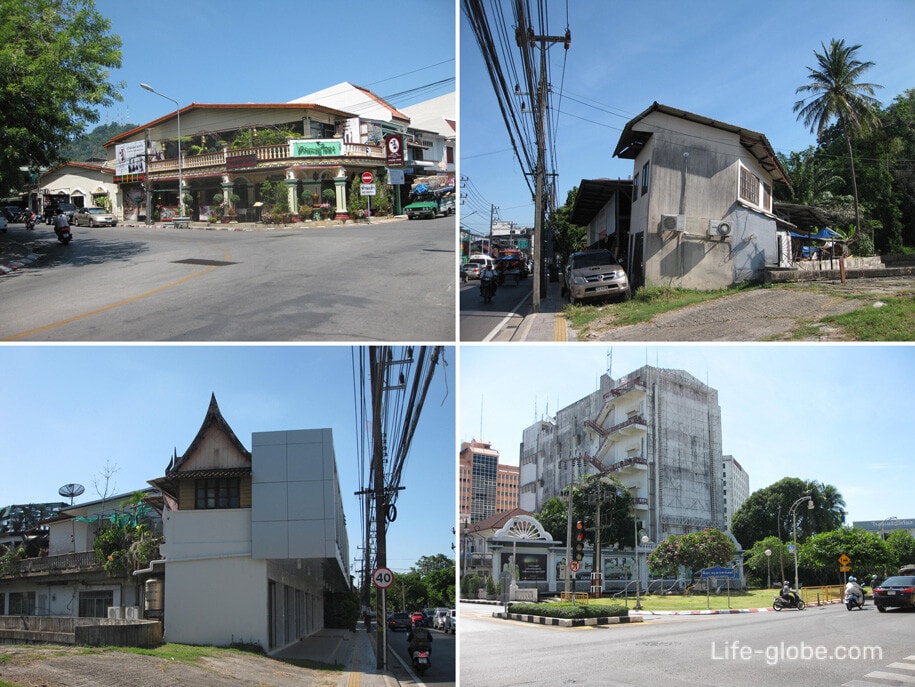 Shopping in Phuket Town
Phuket Town also provides enough opportunities for shopping, there are modern shopping centers and several markets.
The most famous and visited market of Phuket Town is the night (evening) market (Night market). This is the largest market in Phuket, where you can buy, perhaps, anything, from small souvenirs and clothes, to groceries and ready-made food.
Near Phuket Town there is one of the largest and most visited shopping centers in Phuket - Central Phuket with an aquarium, an amusement park, a floating Thai market, a cinema, restaurants, a food court, shops, boutiques, salons, a large supermarket, etc.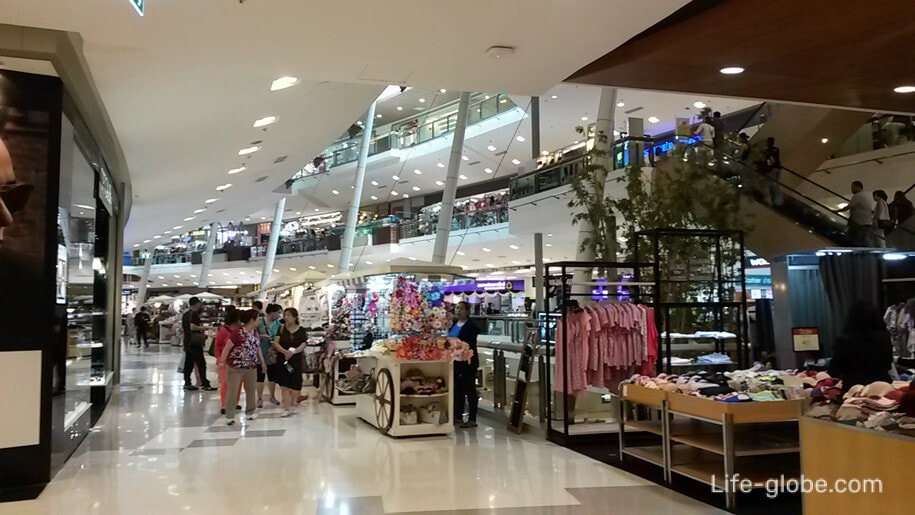 Where to stay in Phuket Town
In Phuket Town, there is undoubtedly something to do and where to go. For a full-fledged study of all the delights of the city, one day will clearly not be enough. At least we didn't have enough of a day.
The choice of accommodation facilities in Phuket Town is very diverse, ranging from hotels to apartments (full-fledged apartments with all amenities).
From good hotels in the center of Phuket Town
The 4-star Verdigris Hotel features a garden, an outdoor pool, a terrace, a spa, a bar, concierge services, free Wi-Fi and private parking, as well as breakfast included in the room rate. Link to the hotel
The 4-star Midtown Ratsada Hotel features an outdoor pool with a terrace, a fitness center, a restaurant, family rooms, free Wi-Fi and parking. Breakfast may be included in the room rate. Link to the hotel
The 3-star BAAN 125 STAY Phuket Hotel offers free Wi-Fi and parking, studios with balconies and seating areas. Link to the hotel
The 3-star Xinlor House - Phuket Old Town Hotel features a terrace, free Wi-Fi, a tour desk, coffee/tea makers in the rooms. Link to the hotel
All accommodation facilities in Phuket Town can be viewed and booked here
Visit and how to get to Phuket Town
You can visit Phuket Town with excursions around the island of Phuket
You can get to Phuket Town on your own by public buses, both from Phuket airport and the beaches of the island, and from the mainland.
At any time of the day and from anywhere on the island, you can get to Phuket Town by taxi, rented car or bike.
To Phuket Town by bus
From Phuket Airport to Phuket Town can be reached by city public bus Airport Bus Phuket. Learn more about how to get from the airport to Phuket Town and to the beaches of Phuket...
There are two bus terminals in Phuket Town: main and local (local).
The main terminal is located on Phang Nga Street. There and from there you can get anywhere: Bangkok, Takuapa, Trang, Khao Lak, Kuraburi, Ranong, Chumphon, Krabi, Satun, Sungikolok, Patalong, Hatyai, Songkhla, Pattani, Narativat, Kolok, Surattani, etc. This terminal is suitable for those who come to Phuket Town from afar.
Those who travel around the island of Phuket need a local terminal. Local bus stops are located on Ranong Street, which is near the Old Town.
Phuket bus routes connecting the main beaches with Phuket Town
- Phuket town - Patong Beach;
- Phuket town - Karon Beach - Kata Beach;
- Phuket town - Rawai Beach - Nai Harn Beach;
- Phuket Town - Bang Tao Beach - Surin Beach - Kamala Beach.
Buses run until 16:30 - 19:00 pm. The fare is 30 - 50 baht, depending on the distance.
Buses (songteo) running within the island are open, without windows and doors, with benches in the cabin.