Phuket Island is a developed tourist destination, and it's no secret that there are at least a dozen elephant farms (elephant farms) on the island, where you can ride elephants through the jungle.
There are also places in Phuket where you can contact elephants more humanely - these are elephant reserves.
Elephant reserves
Elephant reserves (reserves for elephants) differ from farms in that you cannot ride elephants in them, but you can look at elephants in natural conditions, learn more about them, contact elephants, take pictures and feed them.
In nature reserves, elephants are not kept for the sake of proceeds from the exploitation of animals, but they are taken care of - these are rehabilitation centers (shelters) to which elephants get, including from elephant farms, where animals were not taken care of and treated cruelly.
Elephant reserves are visited by those tourists who do not agree and do not share the exploitation of elephants, but they want to look at these large animals and contact them.
There are various visiting programs in the reserves, including elephant walks, lunch for guests and transfer from the hotel.
Of the best elephant reserves in Phuket: Phuket Nature Elephant Reserve Ecological Park, Green Elephant Sanctuary Park, Phuket Elephant Sanctuary, Elephant Jungle Sanctuary Nature Reserve.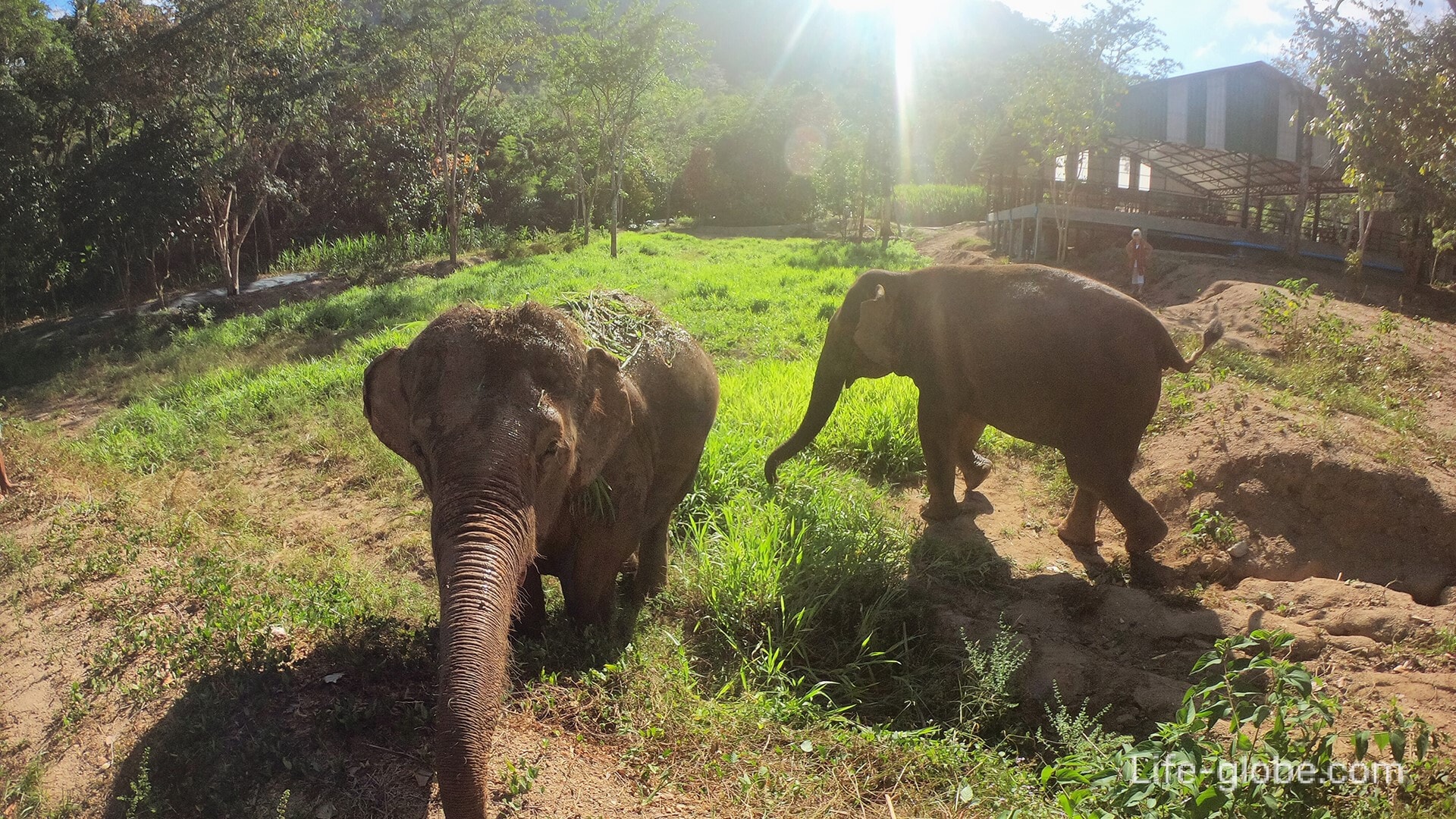 Elephant Farms in Phuket
If you want to ride elephants, then you need to visit elephant farms (elephant farms), of which there are a sufficient number in Phuket, because elephant riding, or, as it is also called, elephant trekking, is a popular and visited entertainment among vacationers both in Phuket and throughout Thailand.
On many elephant farms, in addition to the standard elephant safari, you can see a show with an elephant, monkeys or snakes, as well as take part in a swim with an elephant, take a shower with an elephant or ride quad bikes.
You can visit elephant farms both independently and with excursions, including visits to elephant farms and elephant riding.
Independent visit to the elephant farm
Elephant farms are located in Phuket, mainly near tourist spots (southern beaches) and near popular attractions. So it is quite possible to visit elephant farms on your own, at the same time, grab a visit to one or another of the island's attractions (it will be even more interesting this way), for example, Big Buddha or the Karon observation deck.
Prices are about the same everywhere, a 20-minute ride costs from 800 baht, a 30-minute ride costs from 1000 baht. If you are interested, a discount of 100-150 baht can be provided on the spot. There are discounted tickets for children aged 4-11. Children under 4 years old - free of charge. There are no age requirements, pregnant women are not allowed to go. Swimming with an elephant for 25 minutes - 1200 baht, children under 4 years old - 900 baht.
Elephant riding routes pass through the jungle, so in addition to the riding itself, there is an opportunity to enjoy the beautiful views of the Thai jungle.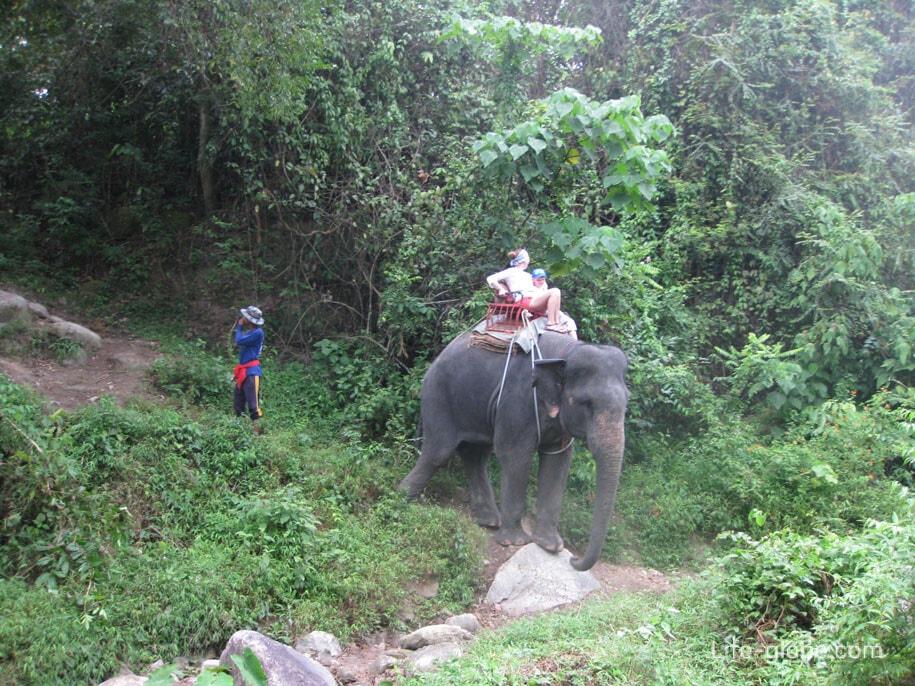 Also, in addition to skiing, you can feed elephants with bananas on farms, while taking some memorable colorful photos. Bananas can be brought with you or bought directly at the farm.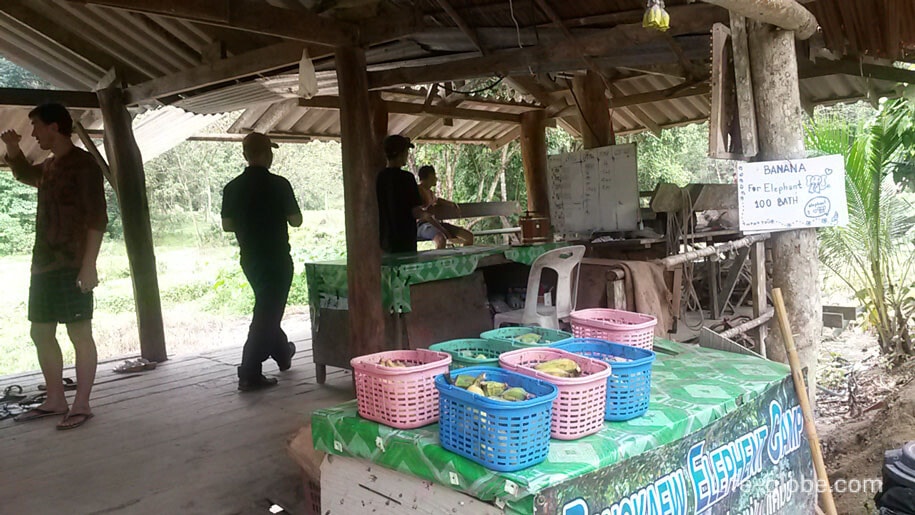 During the ride, the driver will offer, for a small fee of 100 baht, to take some photos of you riding an elephant, while if your route passes by a pond, the elephant will pour water on you, typing it into the trunk, and thereby arrange a refreshing shower for you.
Ride an elephant for two people, the price for riding, indicated in the price list of the farm, for one. So, this price tag, we can safely multiply by two if you are traveling together.
Boarding on elephants takes place in special houses, from where it is convenient to climb into the basket on the animal's back.
From the famous elephant farms in Phuket
Camp Chang Kalim is an elephant camp located between the beaches of Patong and Kamala, and offers guests elephant riding and swimming with an elephant. Website: kalim-elephant-camp-by-camp-chang-kalim.business.site.
Prayai Changthai Elephant Camp, located in Chalong, on the way to the Big Buddha.
Kokchang Safari, located on the way to the Karon View Point observation deck, if you move from the beaches of Kata and Kata Noi. Website: kokchangsafari.com.
ECO Elephant Farm, located on the mountainside, not far from the Karon-Kata observation deck, if you move along the highway towards Nai Harn Beach. The farm offers elephant riding, elephant bathing, elephant showering, elephant feeding and quad bike rides. Website: saveelephantofthailand.com.
Phuket Safari Pang Chang Sai Yuan, located just like the previous one, not far from the Karon View Point observation deck, if you move along the highway towards Nai Harn Beach, closer to the beach.
Elephant Farm Services
In addition to classic elephant riding, some farms offer other services.
These include shows with an elephant, a monkey or snakes. The show lasts about 10 minutes.
Children like such shows, they are delighted!
Riding with the show is more expensive than classic elephant riding.
Swimming with an elephant,
it is also a common service of elephant farms.
Bathing is the following: a small pond, natural in the rivers, where the baby elephant is brought, then they offer you to join him. You pour water on him, rub his back, and finally take a picture with him. The whole process lasts 10-20 minutes.
Little baby elephants participate in the show and bathing, they are not allowed to ride tourists until a certain age. Due, of course, to its small size and small training. For the first few years of training, the baby elephant must get used to its driver, his voice and gestures, so the elephants are trained at shows and bathing, and after that, when they grow up, the bones will get stronger and gain experience - they are sent to ride tourists.
Excursions elephant trekking
Excursions in Phuket, the program of which includes elephant riding, offer a lot.
Such excursions most often include elephant riding + visiting other attractions + lunch + transfer from the hotel and back.
Excursions with elephant riding are available both on the island of Phuket and beyond, for example, to the Khao Lak National Park.
From excursions to Phuket with elephant riding
You can only book a ride, which will include: transfer from (to) the hotel, insurance, elephant riding, + show, or swimming with an elephant.
There are also various excursions around the island, including visiting the sights of the island + elephant riding. For example
- Big Buddha + elephant riding + elephant show
- Big Buddha + Quad bikes + elephant riding + Waterfall
- Rafting + elephant riding + lunch +Monkey cave + waterfall
- Big Buddha + elephant riding + Chalong Temple
- Observation deck + elephant riding + Botanical garden or Big Buddha, etc.
Personal opinion about elephant farms and elephant riding
When you sit on the back of an elephant, the ground is far enough away, and the basket also swings if the animal rises or descends from the hills, and you shake and chatter from side to side. It's not scary, it makes some people laugh. Yes, it's interesting and exciting if it's the first time, but there are also but…
As they say, nowadays most elephant farms take care of their animals. No matter what they say, and no matter how they convince people about a good attitude towards elephants, they are a sacred animal, fines and imprisonment for bullying, and so on... partly it is, they are fed, they are taken care of, but...
Elephants have their tusks filed off so that they don't inadvertently harm tourists.
Nevertheless, it is ultimately up to each guest of Thailand to choose whether to ride elephants or not.
All accommodation facilities in Phuket (hotels, villas, houses, apartments), both near beaches and more remotely from those, can be viewed and booked here