Kamala - the eponymous Kamala Beach and a residential provincial town on the island of Phuket, which is a very popular and developed place among guests.
Kamala is located in the central part of Phuket Island, on its southwest coast.
Kamala, both a beach and a residential area, has a developed infrastructure with cafes and restaurants, a market, shops and supermarkets, the famous theme parks "Phuket FantaSea" and "Carnival Magic", Thai massage parlors, currency exchangers, tour desks, as well as various accommodation facilities (hotels, apartments, villas)
On the north side of Kamala Beach there are Surin and Laem Sing beaches, these two beaches can be easily reached on foot, and on the south - Kalim Beach, adjacent to Patong Beach.
Photo of Kamala Beach and the sea from the Kamala Beach View Point, located above the beach line from its northern side, if you follow from Kamala Beach towards Surin (well, or vice versa, from Surin to Kamala)
Kamala Beach and Sea
Kamala beach is sandy.
It has a length of 2 kilometers and a width reaching up to 40 meters (the average width of the beach is 20-30 meters).
Kamala Beach is a beautiful beach in all respects, which for many guests of Phuket becomes a source of harmony, beauty of nature and a relaxing atmosphere.
First of all, the beach is very picturesque. Here, tall palm trees lined up along the perimeter of the beach strip are harmoniously combined with sea water of a delicate blue-turquoise color and soft white sand, which, in the rays of the sun, shimmers and plays with different shades, from snow-white to light beige and even gray-yellow.
The sand on Kamala beach is light, sometimes white, crumbly and very pleasant to the touch, and sometimes larger and yellow in hue.
From the side of the island, the beach is bordered by a strip of fairly dense vegetation, under which you can hide from direct sunlight.
The advantage of Kamala beach is that there is no passing road immediately behind the beach, which gives additional silence and promotes a relaxed rest.
The beach smoothly turns into a narrow pedestrian sidewalk, aka the embankment, which visually makes the beach strip wider.
The sea water is clean and transparent. The depth comes pretty quickly.
Due to the fact that the beach is long and open, there are waves here.
For a more relaxing holiday and sunbathing, the northern part of Kamala Beach is more suitable.
It's quieter here than in the central part of the beach. Here, at the farthest, northern point of the beach, there are hotels with views and direct access to the beach, sun loungers and umbrellas, as well as swimming pools, restaurants and gardens.
From hotels
5-star InterContinental Phuket Resort, an IHG Hotel - SHA Extra Plus
5-star Twinpalms MontAzure Hotel
4-star Hotel Novotel Phuket Kamala Beach
The central part of Kamala beach has all the necessary beach infrastructure: sun loungers and umbrellas, toilet and shower, beach and water activities (banana and jet ski, parachute flight over the sea surface; you can rent a boat or kayak), massage services under canopies.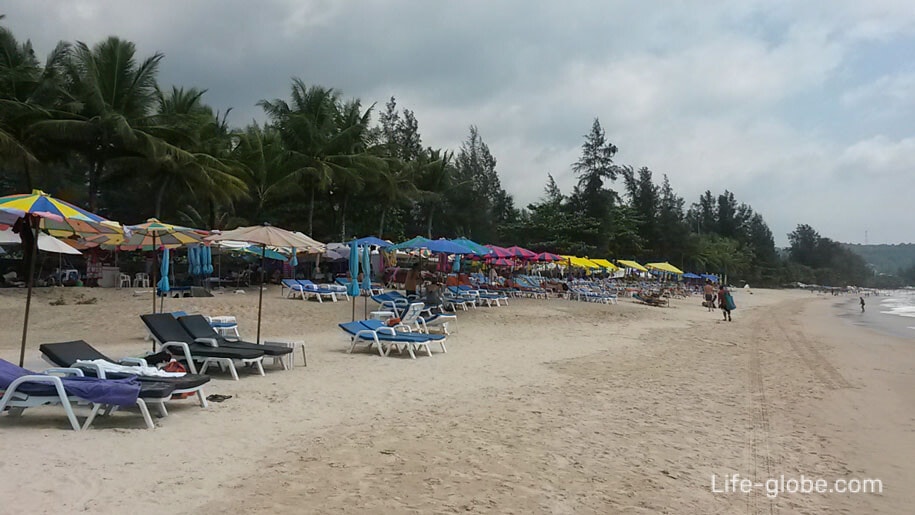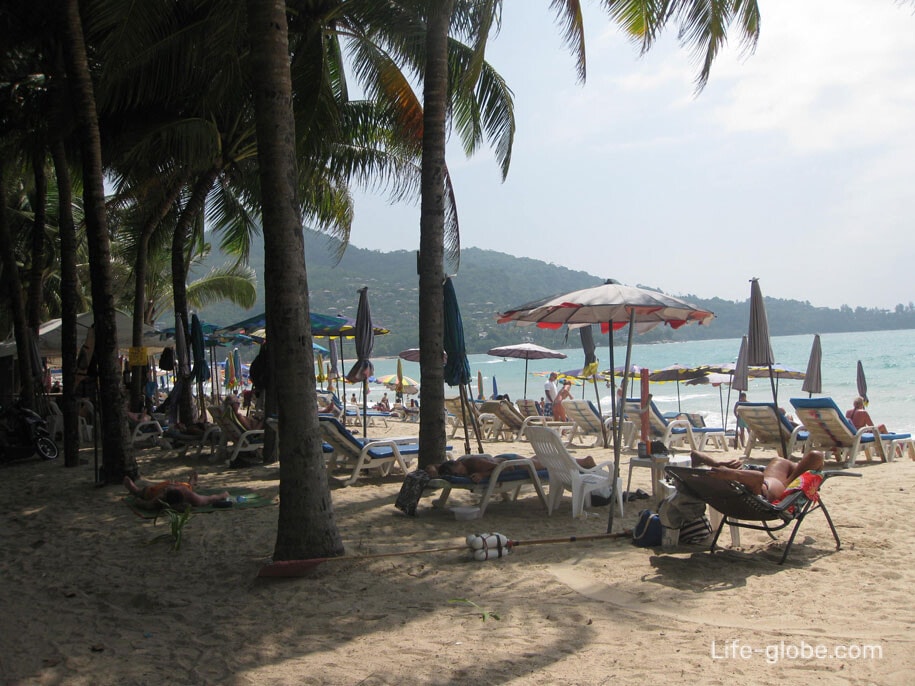 The southern part of Kamala beach is not suitable for a beach holiday, it is a more "wild" place, the coastal strip is dirty.
Streets, market and infrastructure at Kamala beach
In the center of Kamala (near the central part of the beach) there are several streets, where there is an abundance of cafes and restaurants, bars and massage parlors, small shops, supermarkets and retail outlets, there are also exchangers and tour desks.
A narrow "embankment" runs along the beach, along which there are hotels, cafes, bars and restaurants with outdoor tables, makashnitsy and retail outlets.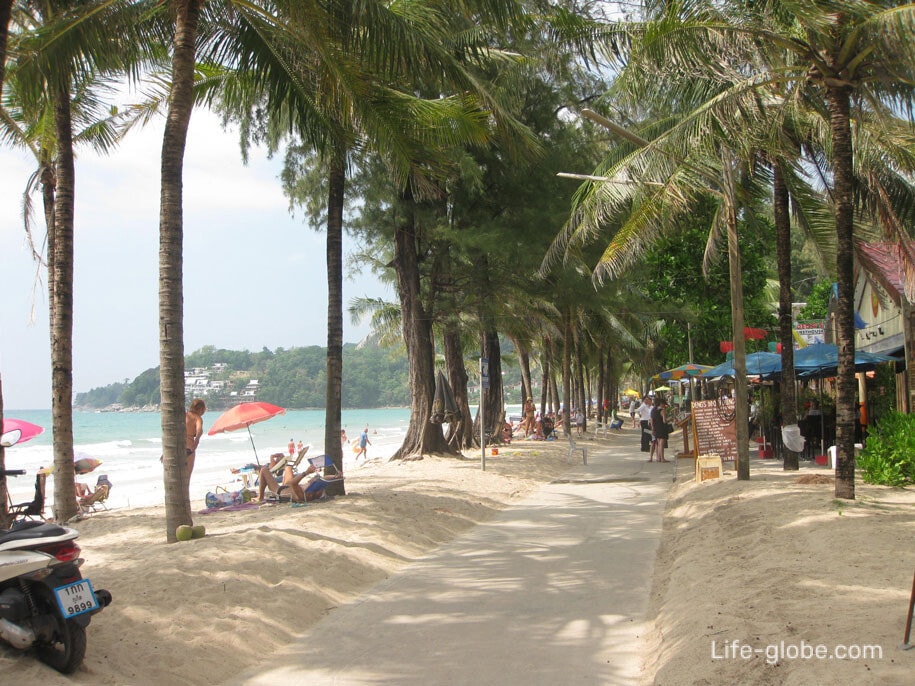 Near the embankment, in the central part of Kamala, there is a small green memorial park "Tsunami" (Tsunami Memorial Park), which houses a cafe, a playground and a Tsunami monument erected in memory of those who died during the tsunami in 2004.
Monument to the victims of the 2004 Tsunami
Moving from the park inland to the center of Kamala, you can go to the busy Rim Hat Rd street, along which there are retail outlets, shops, massage parlors, exchangers, cafes and restaurants, as well as hotels and guest houses.
This street leads to the southern part of the beach, where the bus arrives, following the two neighboring beaches of Surin and Bang Tao, then heading to Phuket Town.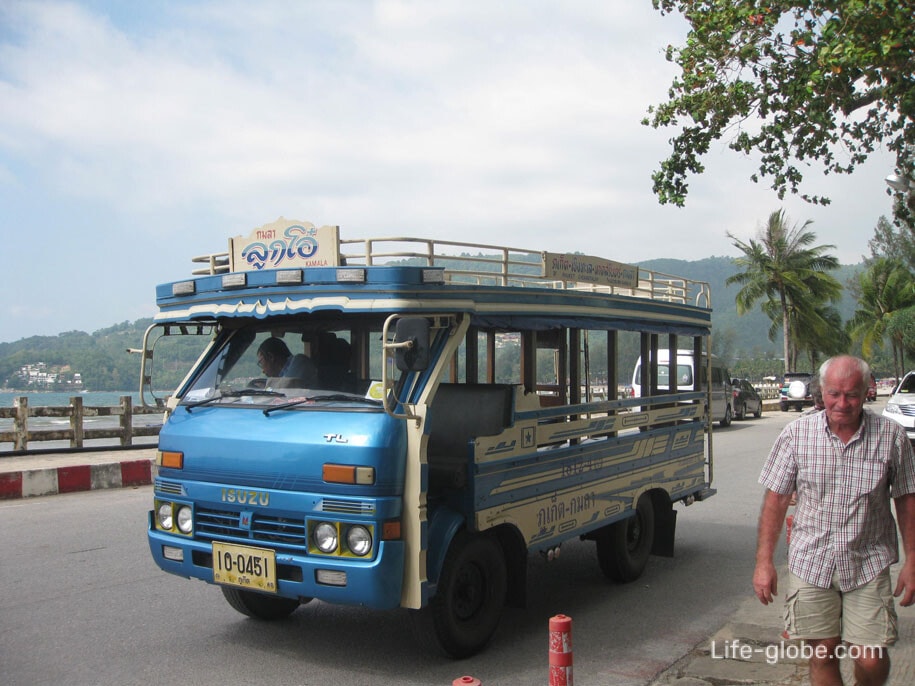 On Mondays, Thursdays and Fridays, Kamala organizes an evening (in Phuket it is called night) exit market (Kamala Market). At the market, you can buy clothes and souvenirs, as well as enjoy Thai cuisine, dishes of which will be prepared before your eyes, and buy fruit. Attention! The days and hours of the market may change, we recommend that you clarify the information before visiting.
Entertainment and attractions of Kamala
One of the main and well-known entertainment in Phuket Kamala is a colorful and large-scale show "Phuket Fantasy" (Phuket FantaSea).
Phuket Fantasy is a theme park with stylized zones, restaurants, a shopping street and an entertainment performance, which involves bright scenery, special effects and a lot of actors performing dances and acrobatic tricks.
Phuket Fantasy Website: phuketfantasea.fun.
Carnival Magic Theme Park with colorful stylized themed areas, a fair, restaurants, a carnival parade, a light show and an interactive dance and water show.
The park's website: carnivalmagic.fun/language.
Kamala Temple (Wat Baan Kamala). The temple grounds are quiet and cozy, and the bright buildings with red tiled roofs and the Buddha sculpture are made in the traditional Buddhist style. The temple is located in the southern part of the beach, near the school.
In the Kamala area, a small waterfall Bang Wan (Bang Wan Waterfall) is notable. The visit is free.
Where to stay in Kamala
The choice of accommodation facilities in and around Kamala is very large and varied, ranging from hotels and resorts to villas and apartments.
Several resort hotels are located directly near the beach. These hotels have areas with gardens, direct access to the beach, sun loungers and umbrellas on the beach, outdoor pools, restaurants, bars, fitness centers and meals included in the room rate.
5-star Twinpalms MontAzure Hotel
5-star InterContinental Phuket Resort, an IHG Hotel - SHA Extra Plus
4-star hotel Novotel Phuket Kamala Beach
Some of the best accommodation facilities in Kamala are located on a hill that frames Kamala Beach from the south and is surrounded by greenery.
5-star Andara Resort Villas - SHA Extra Plus Resort with panoramic views of Kamala Bay, outdoor pool, restaurant, bar, spa, fitness center, free Wi-Fi.
The hotel offers suites and villas with gazebos, where you can eat outdoors and use the services of a chef.
Breakfast is included in the room rate. Link to the hotel
LUXURY VILLA DARAN((six-Bedroom Villa with Private Pool)) with its own outdoor infinity pool, garden, terrace, bedroom, bathroom, equipped kitchen and breakfast included in the price. Link to the villa
Kamala Beach Estate Beach Front Apartment - SHA PLUS apartment with garden, outdoor pool, sun terrace, 2 bedrooms, equipped kitchen, air conditioning. Link to the apartment
All accommodation facilities in Kamala (hotels, villas, houses, apartments), both near the beach and more remotely from it, can be viewed and booked here
How to get to Kamala Beach
From Phuket Airport by direct bus, or with a transfer to Phuket Town. First, take the Airport - Phuket Town bus to Phuket Town, then transfer to the local bus (songteo) "Phuket - Bang Tao - Surin - Kamala" on Ranong Street.
One bus runs from Phuket Town towards Kamala Beach, which starts in Phuket Town, then passes Bang Tao and Surin and reaches Kamala Beach.
From the beaches of Bang Tao and Surin by direct songteo or on foot. From Surin beach, the road is close and takes about 30 minutes, passes over the sea and along the cape. It's further from Bang Tao Beach, but it's quite realistic to walk.
From other beaches and points of the island with a transfer to Phuket Town.
At any time of the day from Phuket airport and other places on the island, you can get directly to Kamala by taxi, tuk-tuks, rented motorbike or car.
Rent a car in Phuket (all places and airport) →