Kata Beach in Phuket (Kata Yai) is one of the most popular and lively beaches of Phuket Island.
The beach is also suitable for family holidays, has a developed infrastructure and hotels near the beach strip.
Kata Beach is located in the southwestern part of Phuket, between Karon and Kata Noi beaches.
Kata perfectly combines everything you need for a comfortable stay. There is a wide sandy beach and an embankment, as well as all the necessary tourist infrastructure that provides opportunities for daytime and evening life: markets, including night markets, shops, fruit stalls, bars, cafes and restaurants, ranging from Thai to restaurants of European cuisine, Thai massage parlors, currency exchangers, tour desks.
Also, Kata Beach has a convenient location. On the one hand, it is adjacent to the more developed and large Karon beach, and on the other - with a small, but cozy and quiet Kata Noi beach. You can get from Kata to both beaches on foot. Karon Beach is 1.5 kilometers away, and Kata Noi Beach is a kilometer away.
Kata Beach and Sea
Kata Beach stretches for more than one and a half kilometers along the line of the Andaman Sea.
The beach is wide enough and represents the shape of an elongated arc.
The beach is light and fine sand. There is garbage of natural origin.
The sea water is a pleasant azure color. The entrance to the sea is gentle, the depth comes gradually, the bottom is sandy, which is well suited for holidays with children, and not only.
The central and left (southern) parts of Kata beach are more developed. It is here that most of Phuket's guests prefer to relax.
The northern part of the beach is less developed.
There is enough space on Kata Beach to fit on a private beach towel.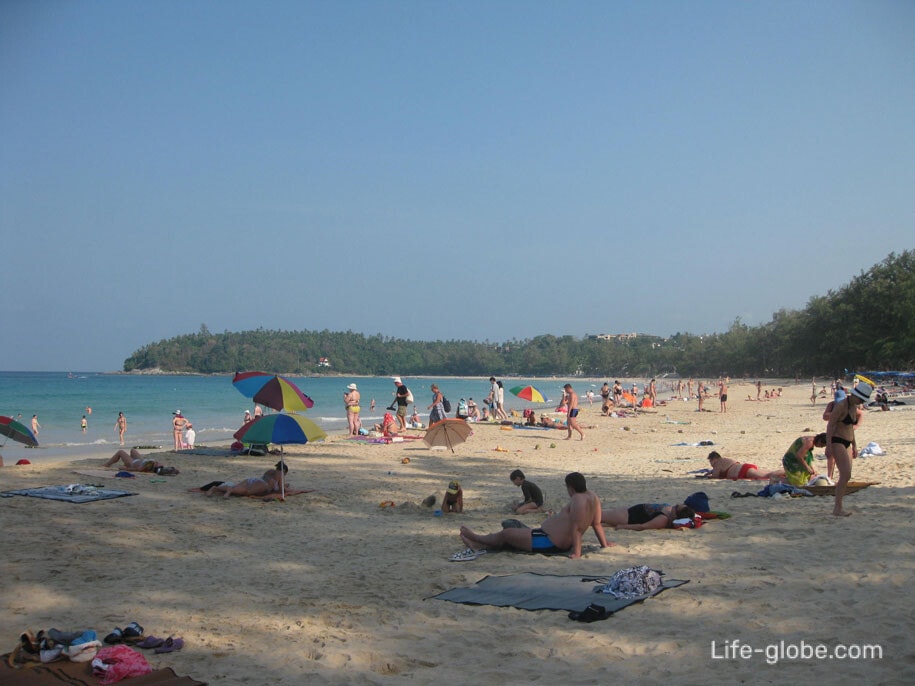 On both sides, Kata Beach is framed by hills with lush tropical vegetation protruding into the sea waters.
This creates a natural barrier to the wind. In high season, there are practically no big waves on the sea.
In search of shade on the beach, you can rent sun loungers and umbrellas from the sun.
There is not much natural shade on Kata Beach, and it comes from vegetation near the road that runs along the beach line. In the morning, the crowns of the trees cast a good shadow on most of the beach, and after lunch, when the sun's rays begin to fall on the beach from the sea, in search of natural shade, you need to walk along the beach.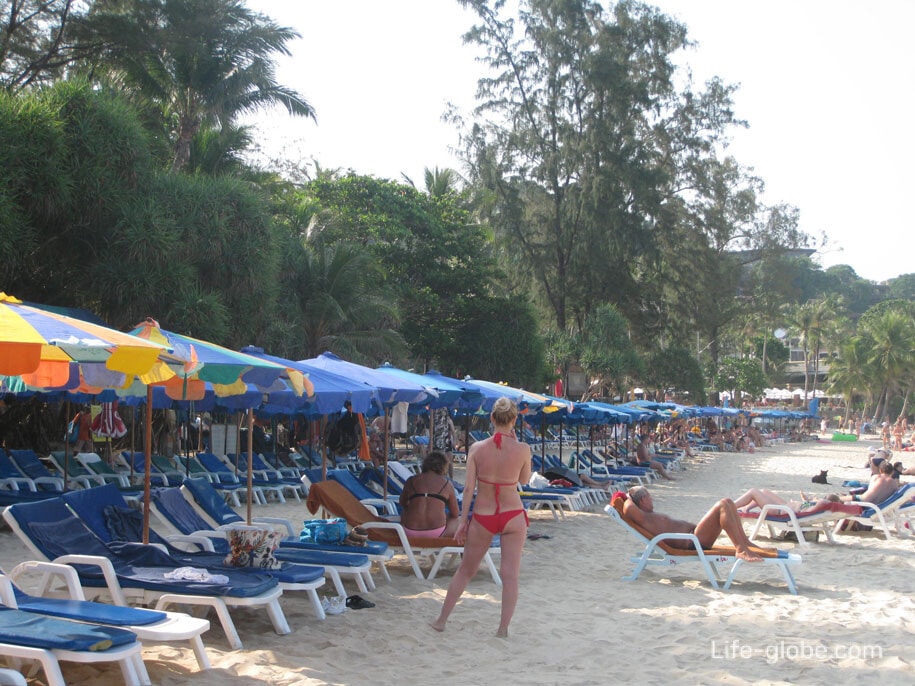 On the outskirts of the beach, fishing boats can sometimes be seen in the sea. They are colorful and very cute.
On the south side of the beach, almost at the hill, there are several cafes overlooking the sea and the beach.
Beach and water activities are also developed on Kata Beach: riding a banana or a tablet on the sea waves, you can ride a jet ski or fly over the sea surface on a parachute.
Near the southern part of the beach there is a surf school "Super Surf Kata", where surfing classes are held for everyone on wave simulators with artificial waves. The school has a beach club with sun loungers and a restaurant. Various events, parties and DJ sessions with dancing are organized here. Surf House Website: supersurfkata.com.
The small island of Pu (Koh Pu) is clearly visible from the beach. The island can be reached by boat. There is an opportunity to sunbathe and get acquainted with marine life by scuba diving.
Kata Embankment
As such, there is no embankment with a developed tourist infrastructure near Kata beach.
But, above the sea line there is a road along which a pedestrian sidewalk runs.
Closer to the southern part of the beach, by the embankment, there is a green park Community Park.
In the park: places for recreation and walking, sports and playgrounds, treadmills.
Streets, cafes, restaurants and shops on Katya
In the area of Kata, above the sea line, passing three parallel streets, they are also carriageways.
The first one we talked about is the embankment. The second, most developed and lively is Kata Rd, along which the bulk of cafes and restaurants, street food, shops and souvenir shops, as well as massage parlors, tour desks, exchangers and hotels are concentrated.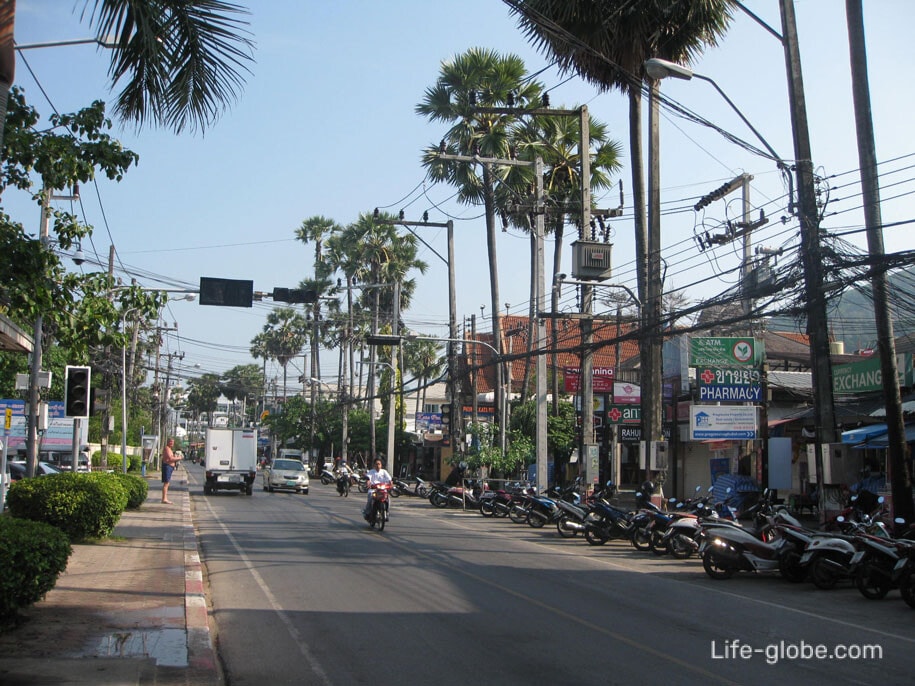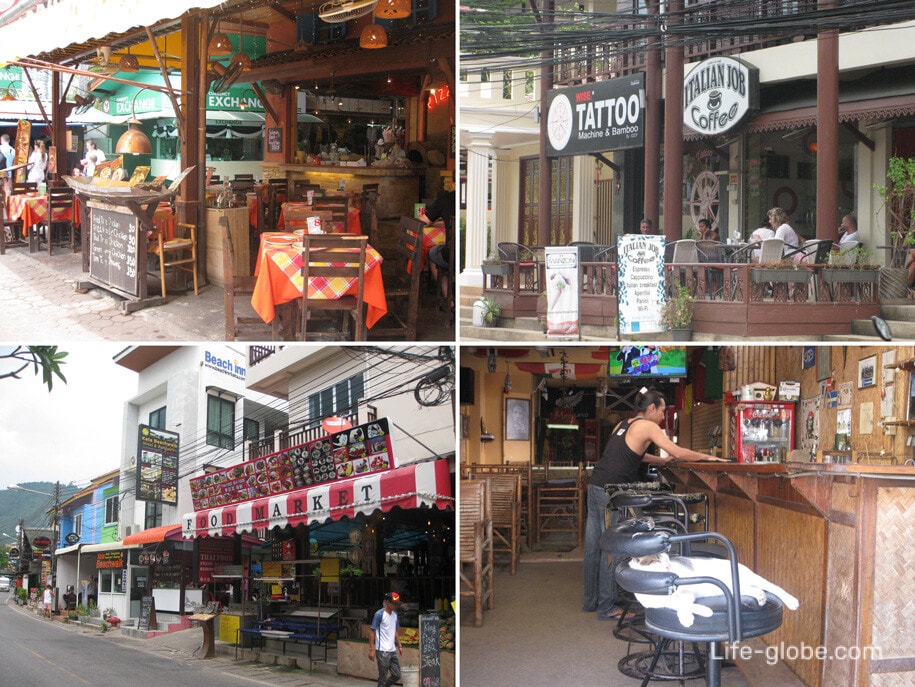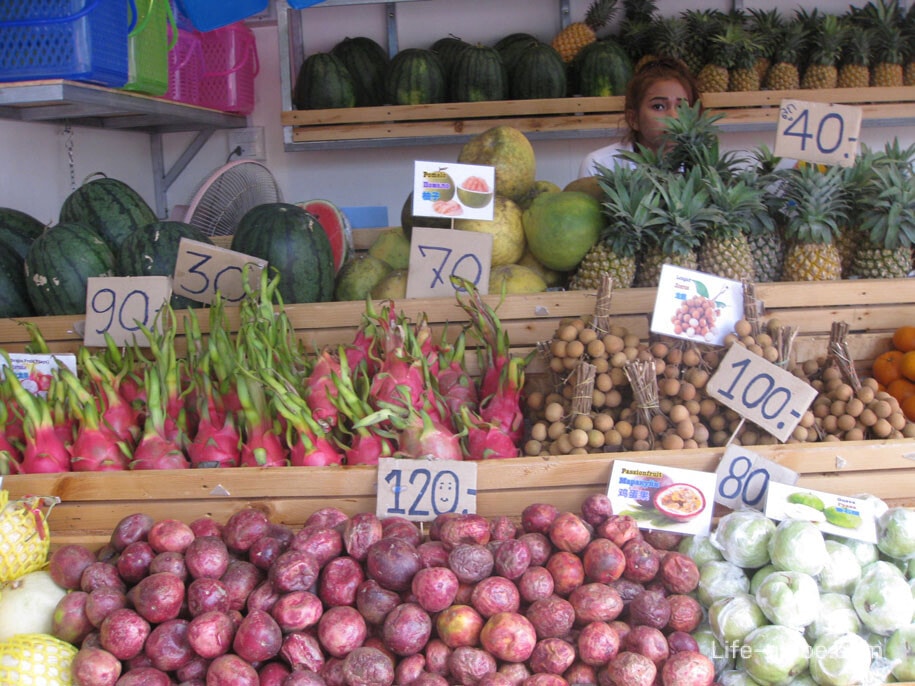 Following Kata Rd in a southerly direction, you can reach Kata Noi Beach.
And heading north - to Karon Beach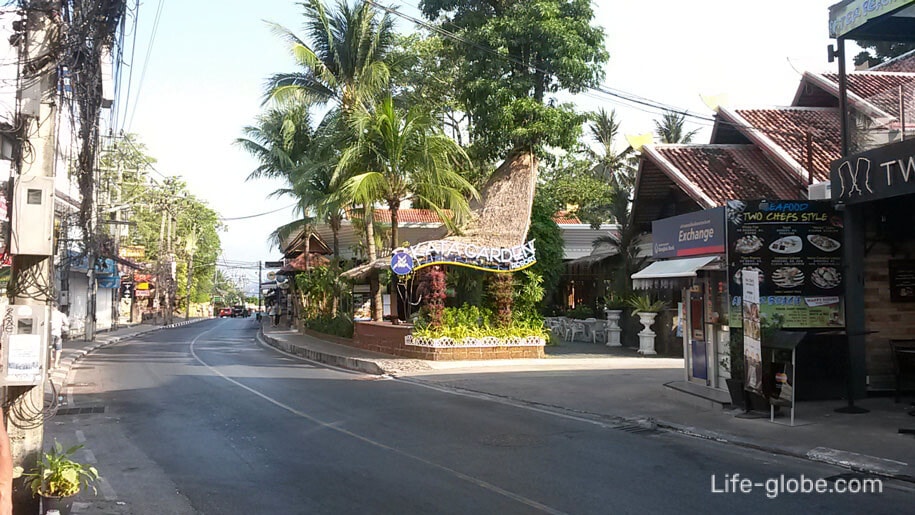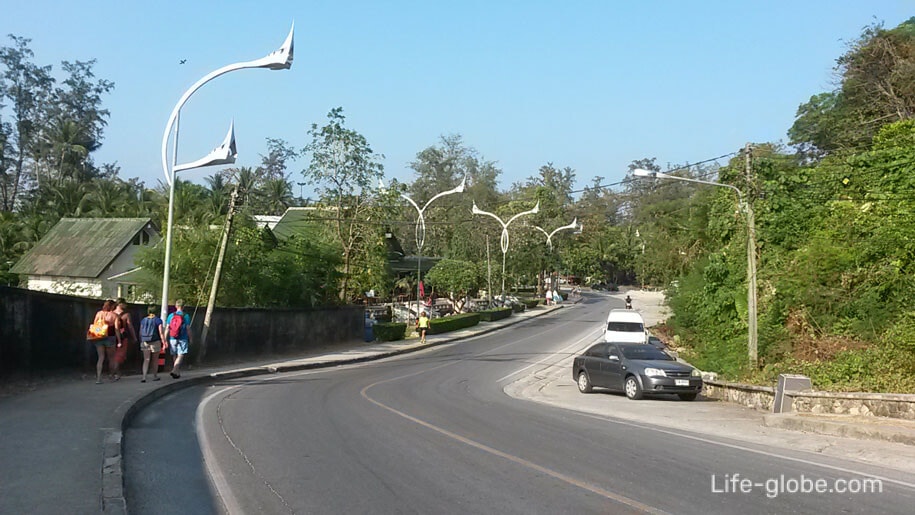 The third street, it is also the most remote from the beach - Patak Rd. There are also shops on both sides of the road, there is a gas station, cafes and hotels.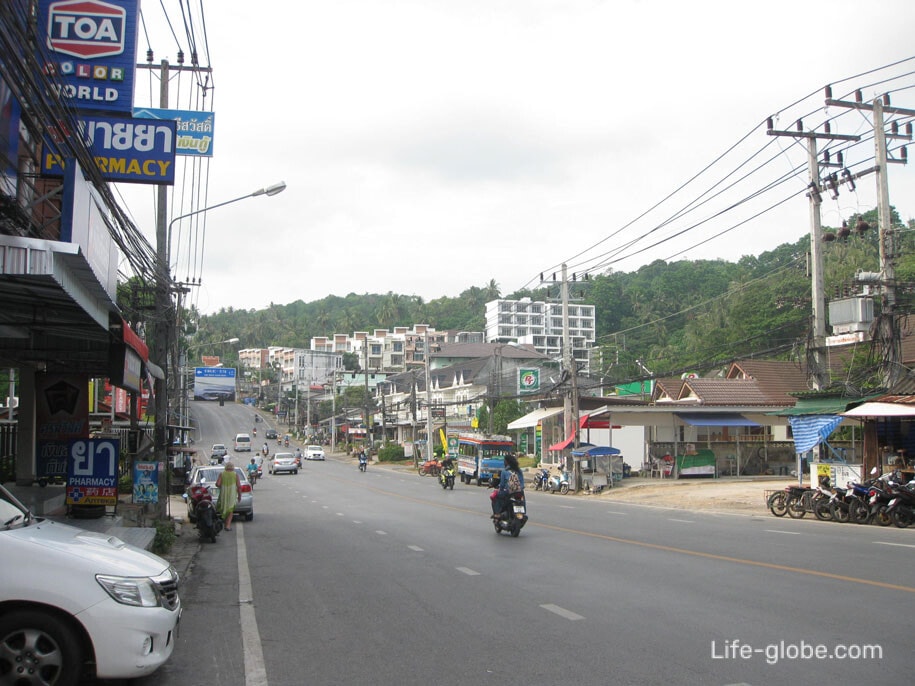 On the street there is a large wholesale supermarket Makro food service, where you can buy products, both retail and wholesale. Something like a Subway, only more modest in size.
Markets near Kata Beach
Kata is also rich in markets, there are three of them here.
The markets are located close to each other. Landmark - Patak Rd 3 and 4-star Wekata Luxury Hotel
The Large Kata Night Market (Grand Kata Night Plaza) is open to visitors daily, where they sell clothes, tourist equipment and there is a large food court.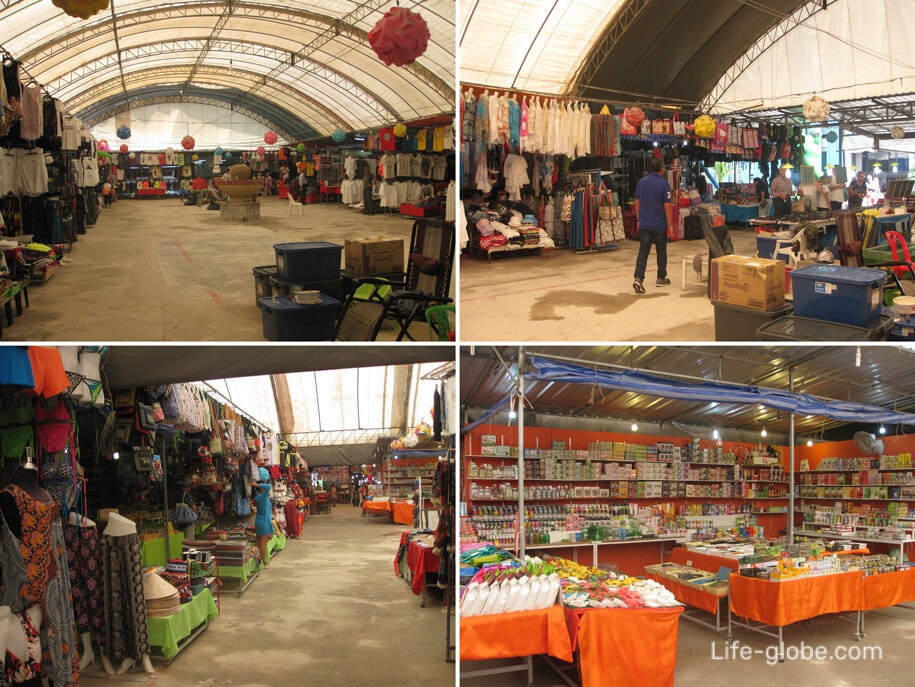 This market is difficult to pass by, even from afar the big figure of the Hulk catches the eye.
Next to the market, the Kata Night Market is open on Mondays and Thursdays.
It is better to come after 16:00 hours, it is at this time that all outlets will already be open. At the market you can buy clothes, oils, soap, bags, shoes and other everyday goods, as well as fresh food, fruits, vegetables, drinks and ready-made food.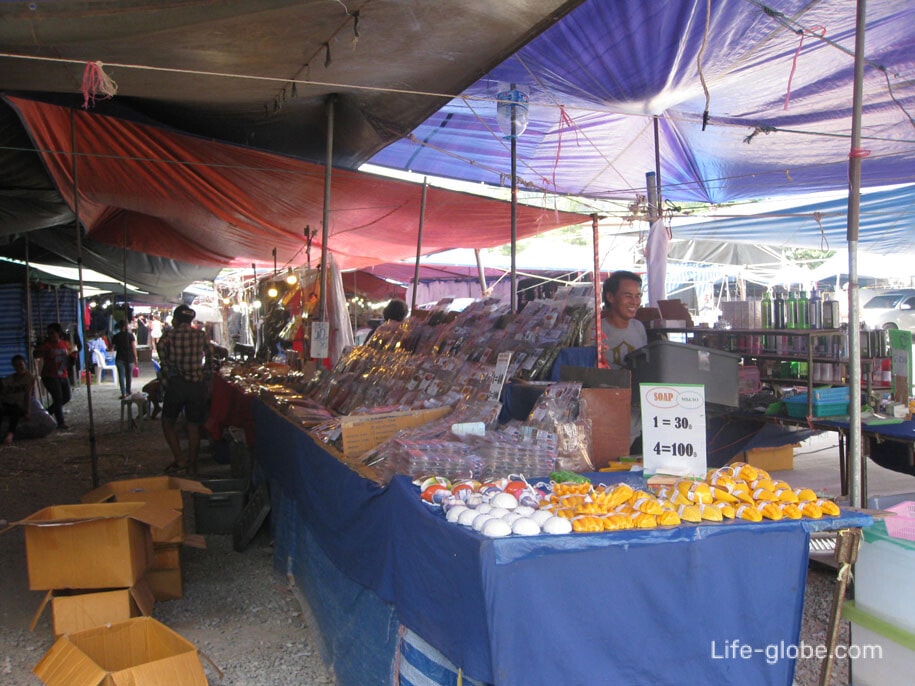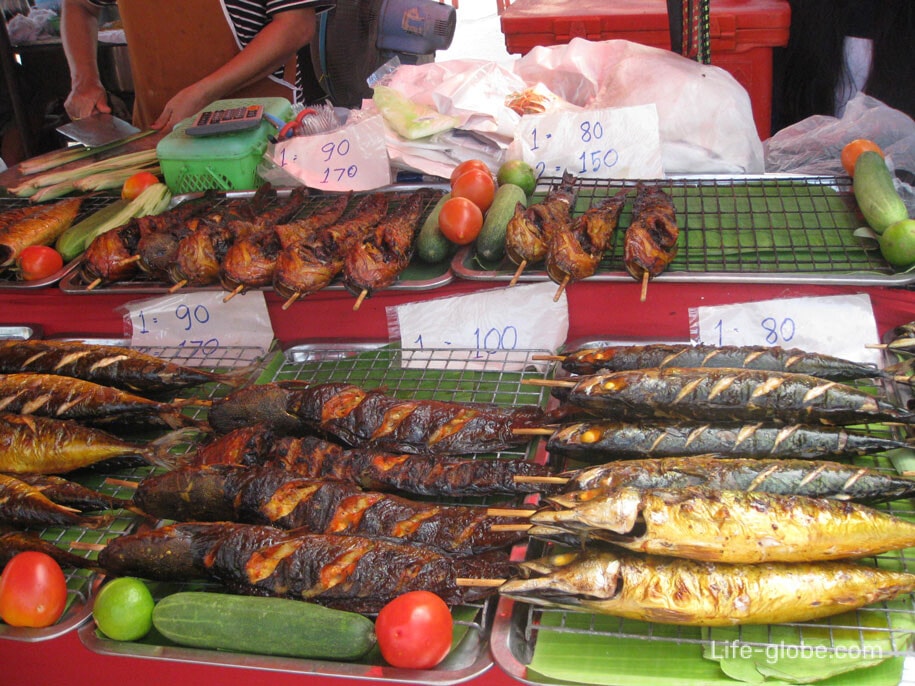 There is another small outdoor night market on Kata - the New Night Market (New Kata Night Market), which is open on Mondays and Thursdays from 16 - 17:00 hours.
The grocery fruit market "Mae Somchit Kata Fresh Market" is located nearby, just above the first two markets - on Patak Rd. Fruits and vegetables are sold in this market.
Sights and things to do on Katya
As such, there are few attractions within the beach.
A small Buddhist temple Po Seng Tai Te Kata (Po Seng Tai Te Shrine), located near the night market.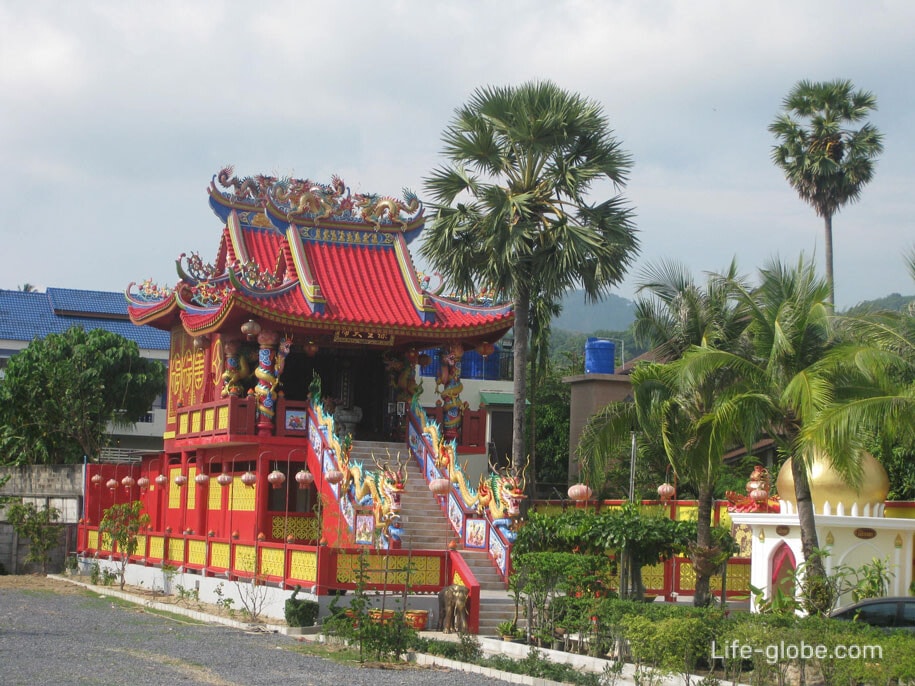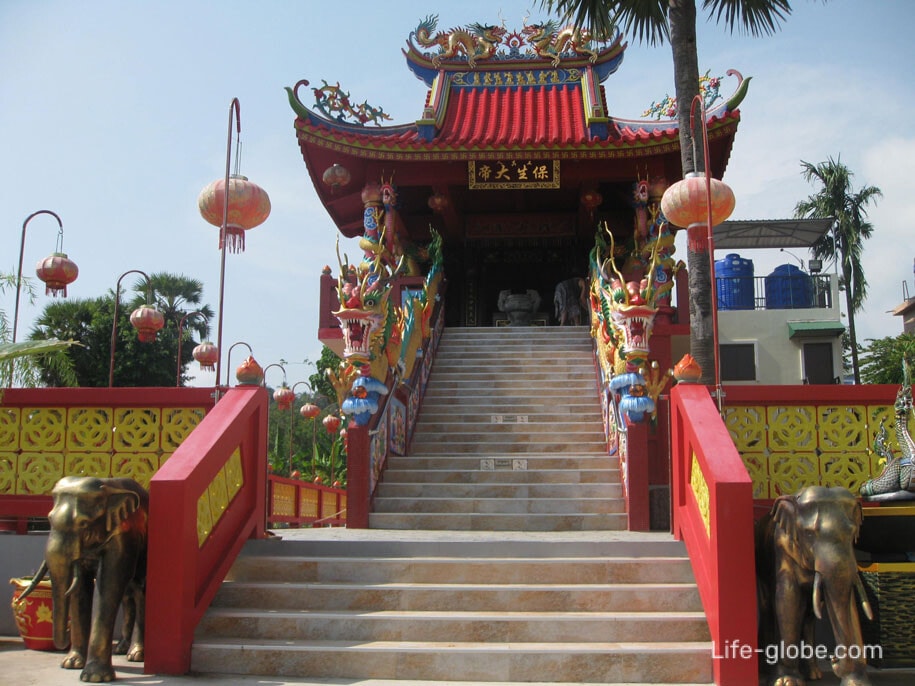 Wat Kitti Sangkharam Buddhist Temple (Wat Kitti Sangkharam), located at the foot of the mountain, on Patak Soi 8 Street.
This temple occupies a fairly large territory and has bright colors, which gives an impressive appearance.
On the territory of the temple there are: Buddha statue, monastery pavilion, monks' dormitories and primary children's school.
If you move towards Karon Beach, you can visit the Dino Park Mini Golf.
The main activity in the park is, of course, a game of mini golf. However, the park itself is stylized as a Jurassic jungle and on its territory there are several artificial caves, a volcano, a waterfall and a stream, as well as models of dinosaurs, there is a stylized bar and restaurant. The distance from the center of Kata Beach to Dino Park is 1 kilometer.
In the vicinity of Kata, you can visit several attractions that are among the top ten in Phuket.
1. Karon observation deck, which offers a picturesque view of three beaches - Karon, Kata and Kata Noi.
You can get to the observation deck by taxi, rented bike or on foot from Kata Beach, having overcome almost 4 kilometers.
From Kata Beach, you need to go to the wide road Kata-Sai Yuan Rd and follow it to the observation deck. But we'll have to make a small detour.
It is more convenient and faster to go through Kata Noi Beach. First you need to walk to Kata Noi Beach, then climb uphill along the street that departs from the center of the beach.
Street photo
Following this road, you will go uphill, first along a concrete road, after which the road will become unpaved. Without turning off, in 10 minutes you can go to the wide Kata-Sai Yuan Rd roadway, after which, turning right, you will find yourself almost at the elephant farm "Khok Chang Kata Safari". The farm will be located on the left side of the road. On the farm, you can ride elephants through the jungle. From the farm, without turning anywhere, after 850 meters you will find yourself at the Karon View Point observation deck.
2. From Kata Beach, if you go towards the neighboring Karon Beach, you can walk to the Big Buddha (Big Buddha Phuket).
It's a long way, it's about 6 kilometers, but it's quite realistic to walk. To do this, from Kata Beach, you need to go to the wide roadway Patak Rd and follow towards Karon, then there will be a Big Buddha sign on the right side of the road, then turn right onto Patak Soi 12 (you can also walk along Patak Soi 10 and Patak Soi 14, bypassing Patak Soi 12) and follow the signs, climb all up the mountain. In this way you will come to the Big Buddha.
Turn and sign "BIG BUDDHA" on Patak Rd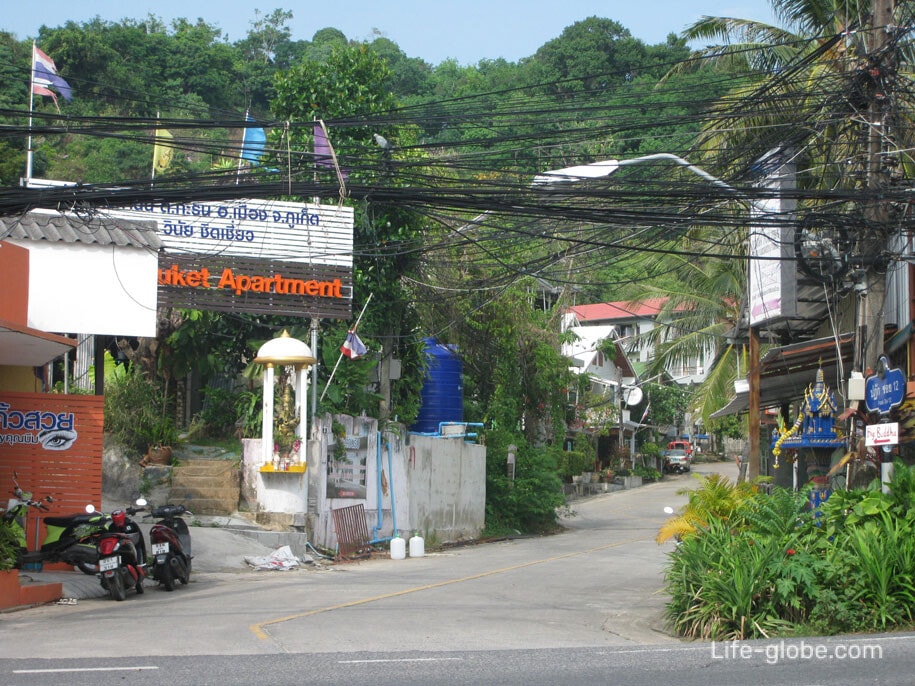 Currency exchange at Kata Beach
There are enough currency exchangers near Kata Beach. The exchange rate differs from exchanger to exchanger, but only slightly. As a rule, there is no commission. The most favorable exchange rate is for the dollar, with a face value of 50 and 100 units, banknotes with a face value of 5 and 20 dollars are exchanged at a lower rate.
At Phuket airport, the course is less profitable than on the beaches.
Where to stay on Kata Beach
The choice of accommodation facilities on Katya is very large and diverse, ranging from hotels and resort complexes, ending with villas and apartments.
Accommodation facilities near Kata Beach
The Boathouse Phuket - SHA Plus 4-star Hotel
4-star Beyond Resort & Spa Kata - SHA Extra Plus
3 Bedroom Villa Katamanda villa Moon 3 Bed seaview villa
The best hotels and villas, to our taste, are located on a hill between the beaches of Kata and Kata Noi. Here the complexes of luxury hotels and villas are surrounded by greenery, have territories, panoramic outdoor pools and magnificent views of the sea waters, and the absence of a busy tourist life nearby creates peace and quiet. You can also walk to both Kata Beach and Kata Noi Beach in a few minutes.
5-star villa complex Kata Rocks - SHA Extra Plus
5-star complex of suites and villas Impiana Private Villas Kata Noi
Mom Tri's Villa Royale 4-star Suite complex - SHA Plus
4-Bedroom Villa Villa Saleah, Phuket Thailand
8-Bedroom Villa Villa Sunyata - Phuket Oceanfront 8-Bedroom Luxury Villa - 5-Minute Walk to Kata Beach
All accommodation facilities on Kata (hotels, villas, apartments), both directly near the beach and more remotely from it, can be viewed and booked here
How to get to Kata Beach
It is convenient to get to Kata beach, both from the airport - direct bus, and from Phuket Town - direct bus (Phuket Town - Kata - Karon).
From Phuket Airport and Phuket Town
From the airport directly to the beach can be reached by minibuses, which you will find at the exit from the airport.
By public buses first to Phuket Town. From Phuket Town, from Ranong Street by bus "Phuket Town - Kata - Karon", which passes through two streets of Kata, first along the upper Pathak, then goes through Karon Beach and then to Kata Beach.
Also, at any time of the day, from Phuket airport you can get to Kata by taxi, tuk-tuks, rented motorbike or car.
Rent a car in Phuket (all places and airport) →
From Patong Beach
From Patong Beach to Kata can be reached by public buses with transfers. First you need to get to Phuket Town, then take the bus to Kata.
You can get from Patong to Phuket Town, or, which is faster, before reaching Phuket Town, get off at the ring near the Central Phuket shopping center, cross the road and take the bus to Kata.
From Karon Beach
From Karon Beach on foot, or by bus to Kata Beach.
From the beaches of Rawai, Yanui and Nai Harn
Via Phuket Town. Or, which is faster, get off at the first and only ring on this route - Chalong. You can get out in front of the ring, walk a little forward, turn left and wait for the Phuket Town – Karon - Kata bus. Or, go outside the ring, cross the road and also wait for your route.
Photo of the Chalong ring

From other beaches of the island
From other beaches in Phuket, you can get to Kata by bus through Phuket Town.
In the direction of Kata, there is a single bus that starts in Phuket Town, then passes through Karon, and stops at the final stop located near the southern part of Kata Beach.