The Central Phuket Shopping Center is the largest, most visited and, perhaps, the best shopping center on the island of Phuket.
In Central Phuket Shopping Center there are: shops, boutiques, salons, cafes and restaurants, a food court, as well as an aquarium, a 3D museum, an amusement park, a floating market, a cinema and a go-kart center. According to the scale, as well as the variety of places for shopping and leisure located in the center, this shopping center can be attributed to shopping and entertainment complexes.
Central Phuket is located in the center of the southern part of the island (not near the beaches), near the capital of the island of Phuket - the city of Phuket Town.
CENTRAL PHUKET consists of two modern buildings (Festival / Central Phuket Festival and Forest / Central Phuket Floresta), located on different sides of the road and connected by a covered ground crossing and moving paths.

Central Phuket is a world-class shopping center.
Here you can buy almost anything, from small trinkets and jewelry, to clothes, shoes, groceries and household goods.
Golf carts and a children's steam train drive around the complex, and there is an E-Gokart go-karting track on the open area (roof) of the Les shopping center.
In the Central Phuket Shopping Center
The shopping center features 15 luxury brands, 500 lifestyle stores, both global and local firms and brands; 300 food and beverage outlets, including restaurants, cafes and a food court, as well as salons that provide various services; there is underground parking, luggage storage, exchangers and gym.
The shopping center sells: clothes, shoes, accessories, perfumes, jewelry, souvenirs, products of local craftsmen, children's and sports goods, household goods and handicrafts, books and electronics.
In addition to shopping, recreation areas are allocated in the shopping center, there is a fountain with fish.
The shopping center has an abundance of catering places, ranging from small coffee shops with pastries and sweets, snack bars and cafes, ending with restaurants, a grill bar with live music and dance shows and a large food court, mainly Thai dishes.
Of the restaurants, the Japanese cuisine restaurant "Shabushi" is interesting, working according to the "buffet" system.
In the restaurant, for a fixed fee, you can try an unlimited number of various snacks, salads, fruits, soups, sauces, yogurt, meat, fish, seafood, etc. Plates with sushi, rolls and other dishes need to be "grabbed" from a moving conveyor.
In addition to the buffet in the restaurant, it is possible to order other dishes or alcohol for an additional fee.
All the dishes of the buffet can be enjoyed without restrictions for 75 minutes. The buffet fee is fixed; there is a children's and adult price, children up to 100 cm. - free of charge.
You can also highlight the restaurant "SUVANA", located in the Forest area of the shopping center. The restaurant offers Michelin-inspired dishes.
Due to the fact that the restaurant is located near the aquarium, during the meal you can admire the main tank, which contains more than 500 marine life. There is also a mermaid show.
On the ground floor of the Festival shopping center there is a large supermarket "Central Food Hall", where you can buy groceries and groceries.
In the supermarket: salad bar, fruits and vegetables, meat and poultry, sausages and cheeses, dairy products and cereals, pastries and ready meals, canned goods and sweets, alcohol and snacks. In general, everything is like in any other large supermarket in most countries of the world.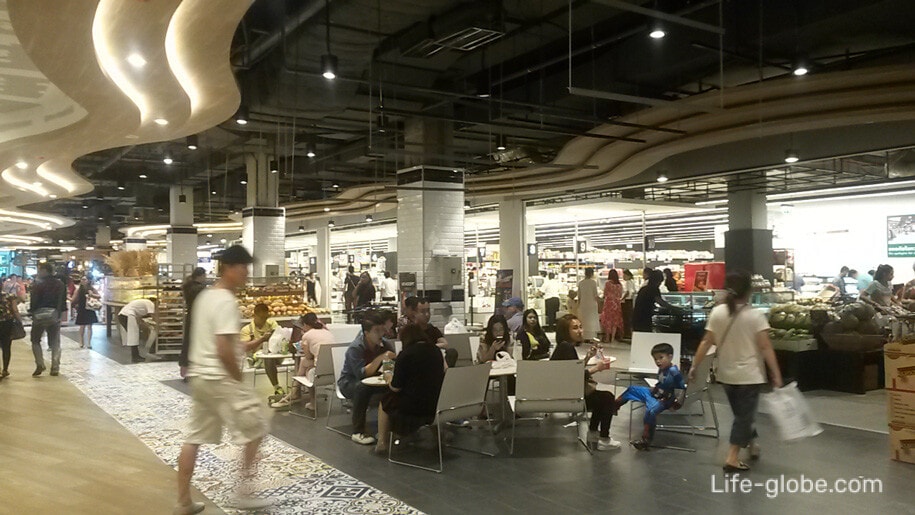 A world-class multiplex cinema SFX Cinema Central Phuket.
Another interesting area in the Central Phuket Shopping Center is the "Tale of Thailand" water zone, consisting of a traditional Thai floating market decorated with Thai architecture in various styles of regions, such as Northern, Southern, Northeast, Central and Modern style. There are products reflecting Thai culture, such as food, souvenirs, handicrafts, perfumes, carvings and popular goods from all over the country.
One of the most visited places in the Central Phuket shopping center is the Phuket Aquarium (Aquaria Phuket) - this is the largest aquarium in Thailand, which is home to more than 25,000 marine life and animals living on the border of water and land.
The aquarium has several thematic zones: a forest with freshwater fish, a jungle with reptiles, caves with otters, a coastal harbor with penguins and sharks, a bay with corals and rays, the South China Sea with a sea tunnel and a large number of inhabitants, a station with an interactive sensory pool and jellyfish, and a bay where you can see the USS ship Largato, which once sank in the Gulf of Thailand.
At certain hours in the aquarium, you can observe the feeding of marine life.
There is a Trick Eye museum at the aquarium. This is a 3D museum of optical illusions that applies AR (Additional Reality) technology to its art exhibits to create vivid and exciting photos and videos. Here visitors can come face to face with a fire-breathing sea dragon, stand on a log bridge, swim with whale sharks or sit with polar bears on icy rocks.
There are both separate and combined tickets to the aquarium and the museum.
Aquarium and Museum website: aquaria-phuket.com.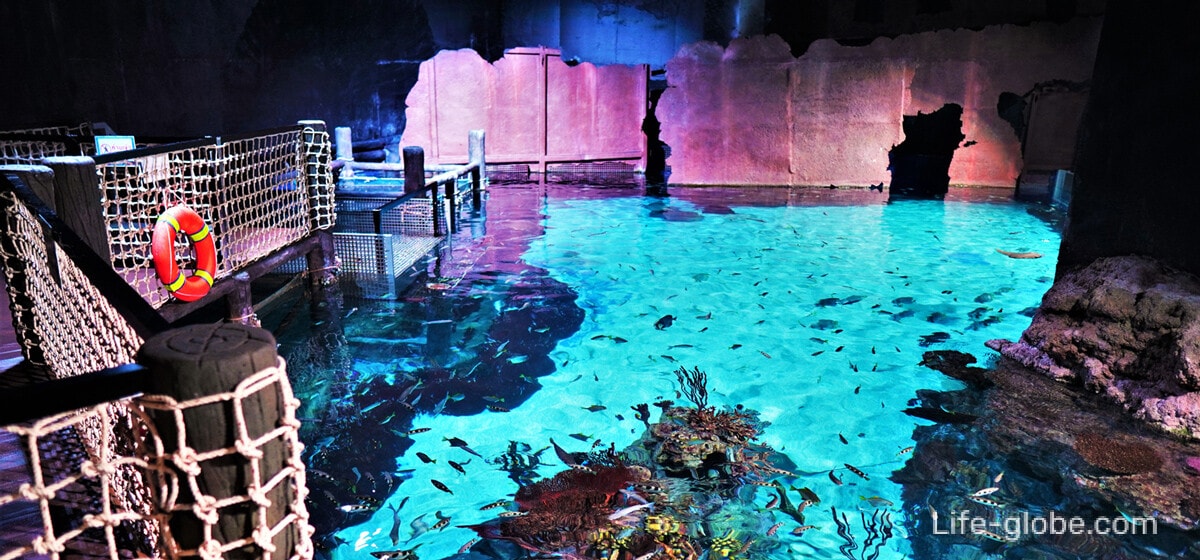 For families with children in Central Phuket, there is a fantasy adventure theme park Tribhum (Three Mystical Worlds, Tribhum Theme Park), which has a Magical Forest zone with a "Tree of Truth" and magical animals.
In the park there are shows with performances and dances of the inhabitants of the Magical Forest.
Central Phuket Mall hosts exhibitions, festivals, theater performances and other events.
Practical information
The Central Phuket Shopping Center is open to the public daily, from 10:00 to 22:00 hours.
The address of the Central Phuket Shopping Center: 199 หมู่ที่ 4 Vichitsongkram Rd, Wichit, Mueang Phuket District, Phuket 83000, Thailand.
Central Phuket Shopping Center website: centralphuket.com.
You can get to the Central Phuket Shopping center by taxi, tuk-tuks, rented car or bike, as well as songteo buses.
Free transfers run from Patong Beach to the mall and back.
By songteo (local blue buses without windows and doors) you can get
- from Patong Beach and Phuket Town to songteo "Phuket Town - Patong"
- from the beaches of Karon, Kata and from Phuket Town to songteo "Phuket Town - Kata - Karon"
Buses from these beaches and from Phuket Town pass just near the shopping center. From other beaches of the island you can get through Phuket Town.
All accommodation facilities in Phuket (hotels, villas, houses, apartments), both near beaches and more remotely from those, can be viewed and booked here