Shopping Mall Central Festival (Central Festival Phuket) is the largest, most visited and probably the best shopping center in Phuket.
If you're relaxing in Phuket, decided poshopitsya, you should definitely visit this Mall.
There is a Shopping and entertainment centre Festival in the island's capital Phuket town, at 74-75 Wichitsongkran Road, Phuket City, 83000.
To get to the Mall by bus (songteo) from the beaches:
- Patong bus "Phuket town - Patong"
- Karon and Kata, the bus "Phuket town - Kata - Karon"
Buses to these beaches, passing right by the shopping center. With other beaches of the island can be reached via Phuket town.
Central Festival attracts both locals and many tourists. In the Mall you can buy almost anything, ranging from small trinkets and jewelry, to clothes, shoes, food and goods for the home.
Central Festival Phuket consists of two buildings located on different sides of the road and connected by an outdoor pedestrian bridge. In one case there is a home goods store HomeWorks, toy shops and a supermarket. The second case is the most visited part of the shopping center - a shopping Mall, and has four floors.
On four floors of the Mall is underground Parking, banks, exchange offices, boutiques, beauty salons and Wellness center, jewelry departments, shops accessories, perfumes, children's and sports goods, clothes and shoes of famous brands and so on.
Prices in the shopping center Festival low only on local goods, food and groceries, everything else the same as we have above.
In the shopping centre there is a small tent with a variety of small things: jewelry, Souvenirs, soft toys, purses, crafts, t-shirts, caps, pareos, etc.
On the second floor is a large electronics store and Playboy by Chic Club
Besides shopping in the Mall dedicated relaxation area, small but nicely decorated with a fountain with fish
Multiplex cinema SFX Coliseum Multiplex
And for the little ones (and not only, optional) visitors can ride on the Mall on the merry small train
Also in the Shopping center Festival many different catering places. Here is a small coffee shop with cakes and sweets, Diners, cafes and full restaurants.
There are restaurants KFC and McDonald's
Separately want to mention two places
The first is a large area of the food court, mainly Thai dishes, located on the third floor of the Mall. This is the most budget place catering in a shopping center that is perfect for lovers of Thai dishes.
Payment in food-the crust is made with special cards. At the entrance to the food court there is a stand where necessary to give a certain amount of money (any, optional) instead of receiving a card, which account will be the full amount. Pay this card in any cafe, and the output is returned back to the card and receive the remaining amount of money on hand.
The second is located on the ground floor there is a restaurant Shabushi, running on the system "buffet". In this restaurant for a fixed price you can try unlimited variety of snacks, salads, fruit, soups, sauces, yogurt, etc. Plates of sushi and rolls you can catch from a moving conveyor. In addition to the buffet in the restaurant is possible to order other meals or alcohol for an additional fee. All the meats of the buffet can be enjoyed for 1 hour and 15 minutes.
On the first floor of the shopping center Festival is a large Supermarket where you can buy products and food products. Here: salad bar, fruit and vegetables, meat and poultry, sausage and cheeses, dairy products and cereals, pastries and ready meals, canned food and sweets, alcohol and snacks. In General, as in any other major supermarket most of the world.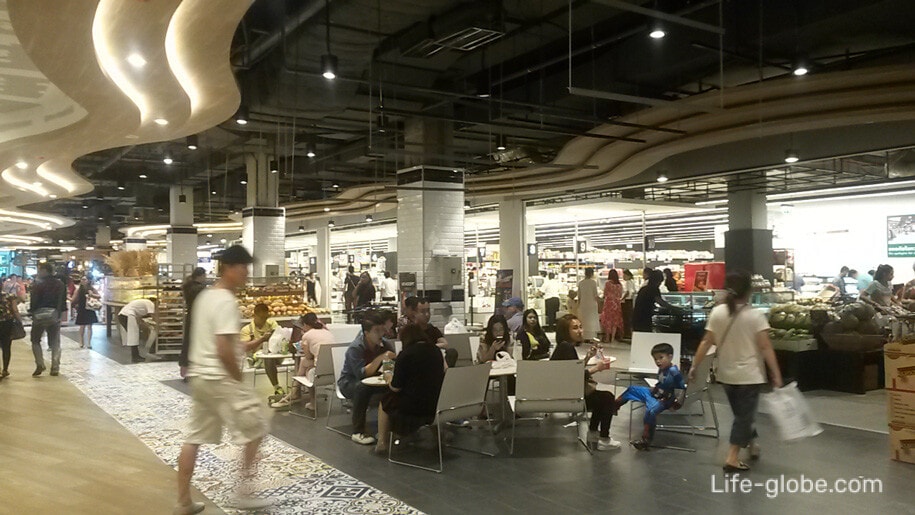 The Mall is open seven days a week, working hours from 10:30 to 22:00 hours.
The official website of Central Festival Phuket: www.centralphuket.com.