The Umberto gallery (Galleria Umberto I) is a complex of historical shopping gallery of Naples is the public shopping gallery, Naples, passage - an architectural masterpiece, "bound" within its walls the shops and cafés.
The gallery was built between 1887 - 1891 years of the project Emanuele Rocco, who used modern architectural elements. In appearance, Galleria Umberto is reminiscent of the Galleria Vittorio Emanuele II in Milan.
The passage was named in honor of the king of Italy Umberto I. After the construction of the gallery was to combine in the walls of the enterprise, shops, cafes and public space with private apartments on the third floor.
Galleria Umberto is a high and spacious cross-shaped structure topped by a glass dome, mounted 16 metal ribs.
The interior space of the gallery has four corridors (of the wing), along which shops, cafes and restaurants.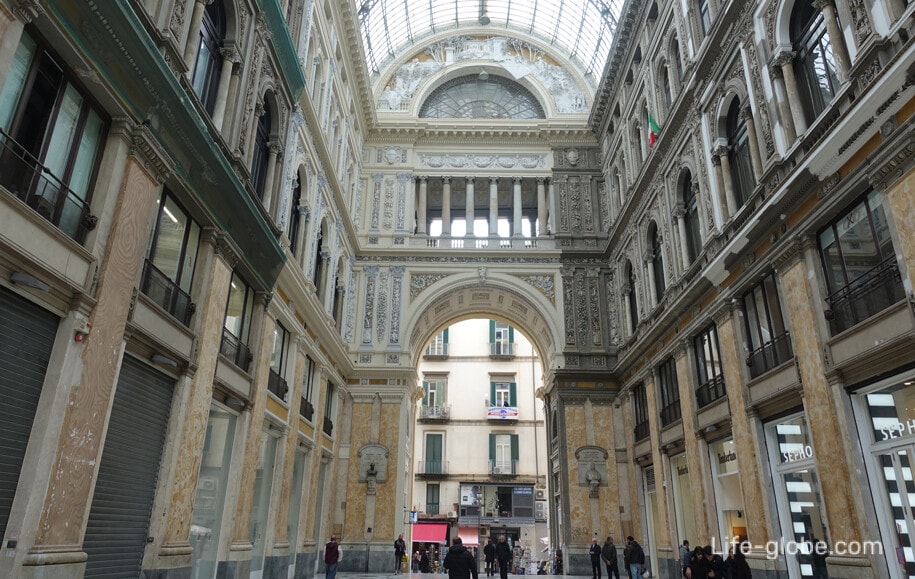 The gallery also houses a tourist center, a Museum and several hotels, from which you can select 4-star resort hotel Art resort Galleria Umberto (Hotel Art Resort Galleria Umberto) with stylized spacious rooms.
The Gallery building is part of the object "Historic centre of Naples" in the world heritage list of UNESCO.
Located Galleria Umberto I in the heart of Naples, between the streets of San Carlo and Toledo (one of the main tourist arteries of the city), Brigida and Giuseppe Verdi. Has multiple inputs/outputs, the main street of San Carlo (Via San Carlo).
Opposite the main entrance is another famous object - the Opera house San Carlo (Teatro di San Carlo).
Teatro San Carlo is the oldest Opera theatres in Europe, built by order of Charles III, to replace the previously erected and already crumbling theatre "San Bartolomeo".
The opening of the Teatro di San Carlo on 4 November 1737, the Opera Neapolitan composer Domenico Sarro "Achilles on Skyros".
The theatre is connected with the Royal Palace façade facing the square Plebiscito.