Vrysoudia B Beach or Vrysoudia II Beach - public town beach, located in the heart of the tourist area of Kato Paphos, near the main road - Avenue of the Posidonos.
The beach has been awarded the "Blue flag" - a sign of purity and quality of the beach and sea water.
Vrysoudia B beach is small and narrow, on the beach mostly dense gray sand, sometimes mixed with pebbles. The beach is cleaned regularly. On the beach there are algae.
On both sides of the beach are the breakwaters, making the beach look like small semi-circular Bay. Thanks to these breakwaters sea water is quite calm. The entrance to the sea is flat, the bottom is mostly sandy.
In the high tourist season on the beach there is all necessary infrastructure: sunbeds and umbrellas, toilets and showers, rubbish bins and changing rooms, rescue towers. Lifeguards with lifesaving equipment and first aid are on the beaches from April 15 to October 31, from 11:00 to 17:30 hours.
The beach is situated below a small cliff, down to the beach, one side has steps and the other has direct access to the beach down the hill.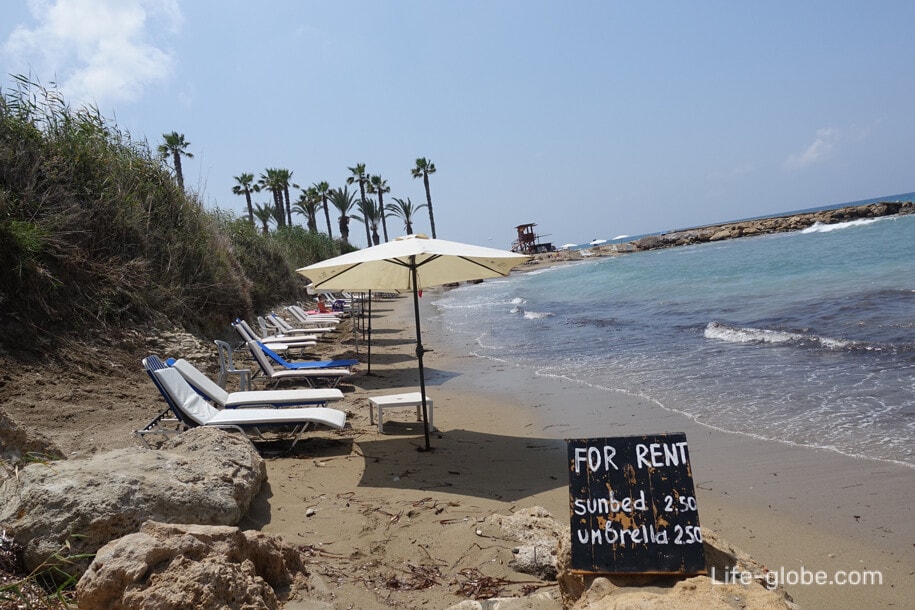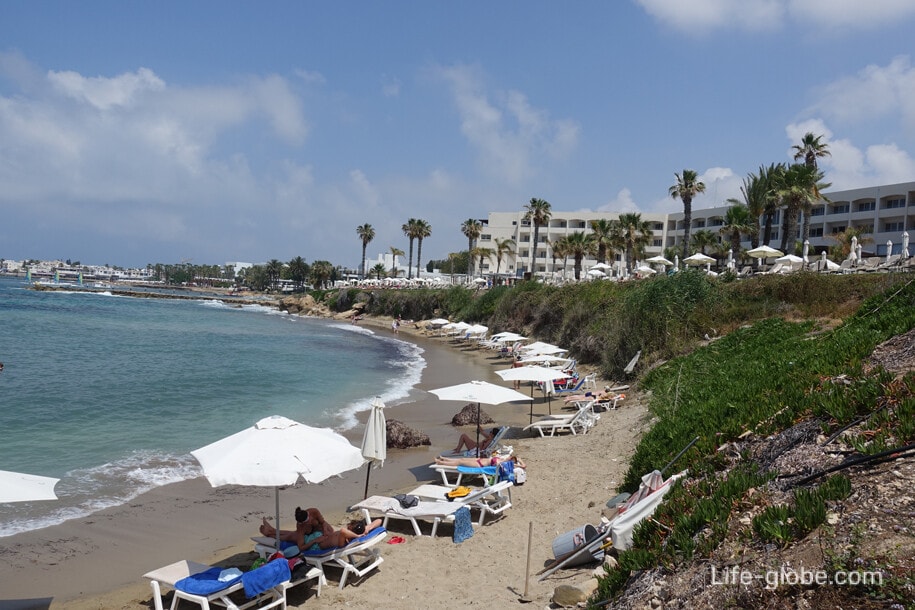 Close to the beach, a dedicated area for water activities, there are also cafes and restaurants.
Above the line of the beach promenade - Coastal Broadwalk. Here is a 4-star Alexander The Great Beach Hotel with landscaped grounds, 2 pools and direct beach access Vrysoudia B. Some of the rooms have a view of the beach and the Mediterranean sea. This hotel can be an excellent option for accommodation in Paphos, if you attractive a beach holiday and the proximity of recreational areas, attractions, cafes and restaurants.
Where is the Vrysoudia B beach
Beach Vrysoudia In situated between the beaches of Alykes and Sodap, at a distance of approximately 1.3 kilometres from the Harbour and Paphos castle.
You can get to the beach Vrysoudia:
1. On foot, walking along the promenade of Kato Paphos.
2. On taxi, a rented car (GPS Coordinates: Lat: Lon 34.751496: 32.420236) or public buses. The nearest bus stop is on the street Poseidonos called "Alexander Beach Hotel". Buses:
- 611 (bus station Harbour - promenade Geroskipou, the beach and water Park);
- 612 (bus station Harbour - airport Paphos);
- 631 (Harbour station - the rock of Aphrodite);
- 606 (bus station Harbour - centre Geroskipou). The bus stops a little further from the beach, at bus stops: Spyrou Kyprianou Av. (4), Amathus Hotel and Veronica Hotel. Distance from the hotel to the beach is about a kilometer.