The Alykes Beach is one of the main beaches of Paphos, located in the tourist area of Kato Paphos, between the beaches of the Municipal Baths and Vrysoudia B.
The beach of Alykes has been awarded the "Blue flag" - a sign of purity and quality of the beach and sea water.
The length of the Alykes beach is 200 metres away. The beach is a narrow strip, which runs along the waterfront - Coastal Broadwalk. Rare places on the Alykes beach, there are small areas of coarse sand of a dark color mixed with pebbles.
The beach is surrounded by breakwaters that protect swimmers from strong waves and currents. At the bottom of a lot of big rocky stones.
In the high tourist season on the beach, but rather along such, there is all necessary infrastructure: sunbeds and umbrellas, toilets and showers, rubbish bins and changing rooms, rescue tower. Lifeguards with lifesaving equipment and first aid are on the beaches from April 15 to October 31, from 11:00 to 17:30 hours. The cost of renting a sunbed or parasol - € 2.50.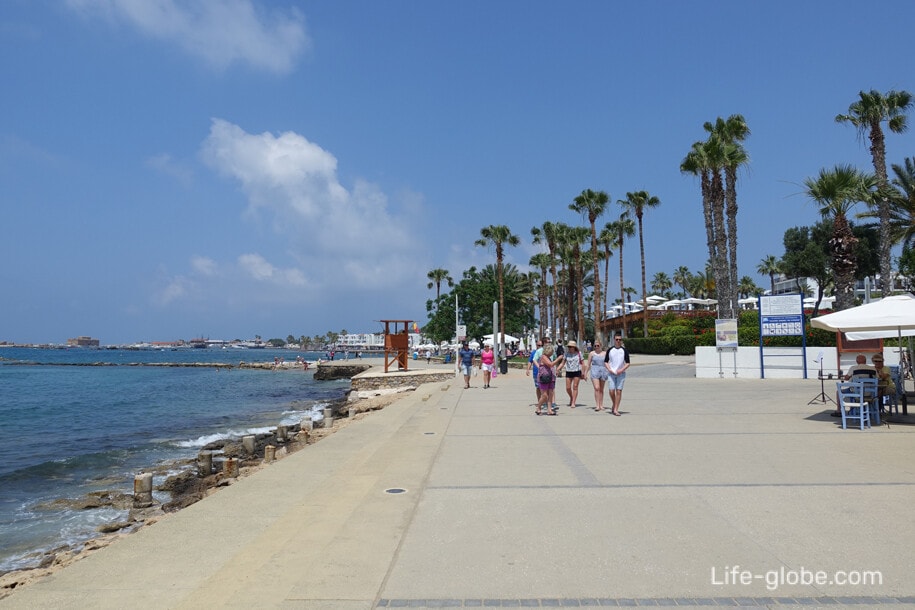 In the southern part of the beach of Alykes selected location for water sports and entertainment, and close to the beach - abundance of cafés, bars and restaurants.
Where to stay near Alykes beach
- 5-star Annabelle Hotel with tropical landscaped gardens surrounding a large pool with caves and waterfall. Each room has a Minibar and free Wi-Fi, bathrobes and Slippers. The room price includes Breakfast or Breakfast and dinner.
- 5-star resort hotel Almyra located in tropical gardens overlooking the Mediterranean sea. It offers rooms with a balcony or terrace, a Minibar and a safety Deposit box, free Wi-Fi, 4 freshwater pools, a Spa, a sauna and a gym. The room price includes Breakfast or Breakfast and dinner.