Faros beach another name for the lighthouse beach (Lighthause beach) - public town beach, located in the northwestern part of the coast of Paphos.
The name Faros beach and lighthouse means "lighthouse". Given the name the beach received because it is located on the territory of the Archaeological Park Paphos - lighthouse. Paphos lighthouse is clearly visible from the beach and surrounding areas.
Faros beach has obtained "Blue flag" - a sign of the purity and quality of the beach and sea water.
It's pretty wide and spacious beach. The length of the beach of Faros are 400 metres away. On the beach the sand is light gray, sometimes mixed with pebbles and stones.
The beach is cleaned regularly. However, algae on the beach are present in large numbers, but quarry debris we were found.
Sea water is clean, the bottom is not very convenient - sandy-stony, also in the water is the abundance of algae. For a more comfortable entry into the sea the beach has a concrete pier with a ladder leading into the sea water.
In the high tourist season on the beach there is all necessary infrastructure: sunbeds and umbrellas, toilet and shower box and dressing room, a rescue tower. Lifeguards with lifesaving equipment and first aid are on the beaches from April 15 to October 31, from 11:00 to 17:30 hours.
Photos of Faros beach in Paphos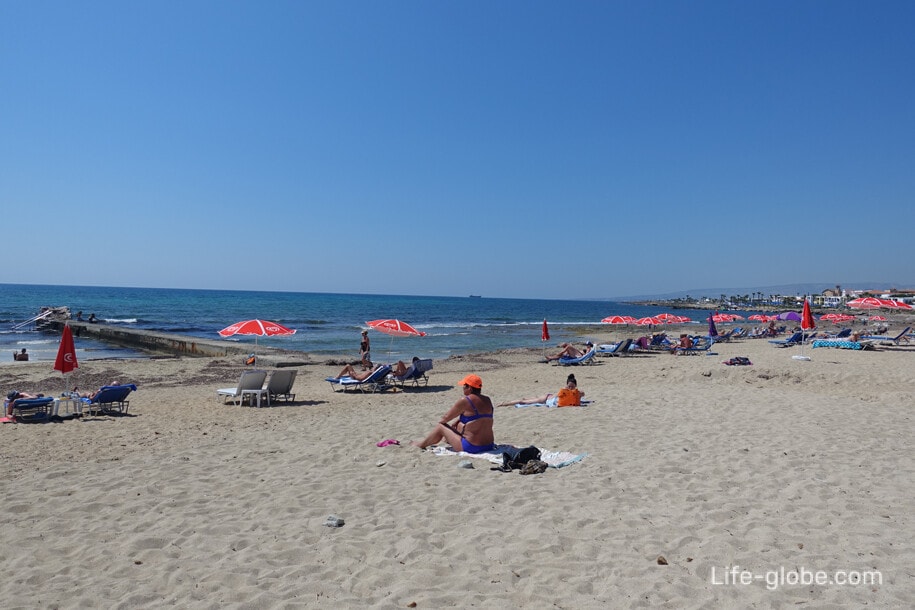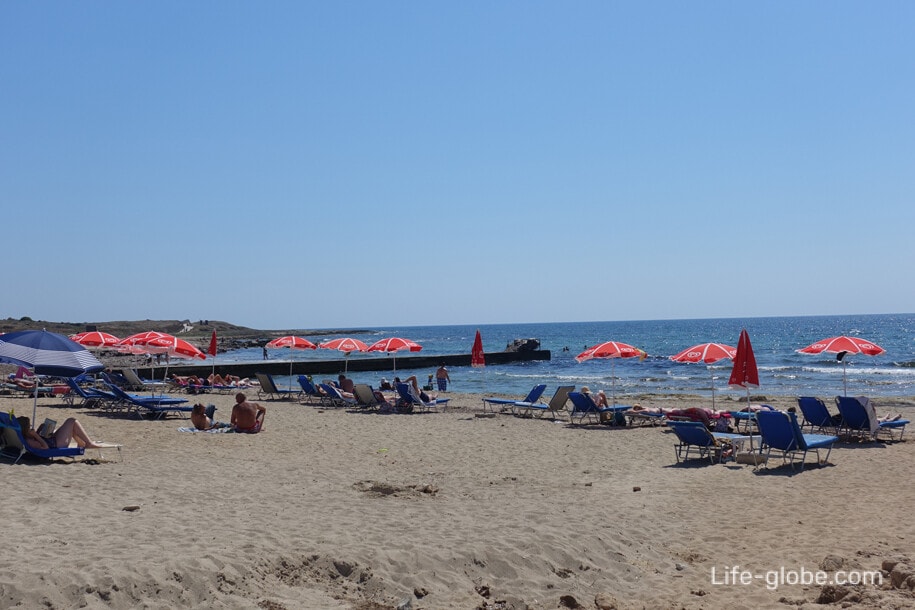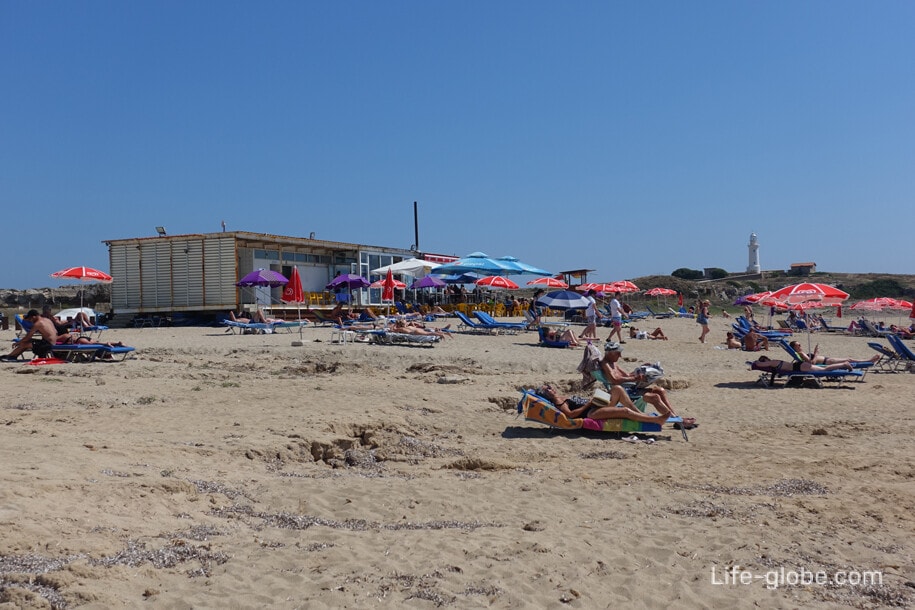 Also on the lighthouse beach are: children's Playground, beach volleyball courts and a beach cafe-bar, and on the North side of the beach there is water-entertaining item.
For a cafe-bar located ample Parking for cars. The Parking from the street of the Tombs of the Kings (Tombs of the Kings Avenue). The road Tombs of the Kings Avenue, turn towards the sea, on the street Eleutheriou Chandrinou and go to the end.
The street of the Tombs of the Kings lies above the beach level. Along the street: cafes and restaurants, tour agencies and bars, hotels and apartments, also have center games quest Lockdown and Paphos Kings Avenue Mall Mall with a large supermarket on the ground floor.
Where is Faros beach
Faros beach is situated between the beach in front of hotel Kefalos Beach Tourist Village, North of the coast and Harbour of Kato Paphos - South along the coast. Distance from the Harbour to the beach of Faros is approximately 2 kilometers. Can be reached on foot walking along the sea Coastal Broadway (Coastal Broadwalk) .
Access to the beach of Faros, you can:
1. On foot, walking along the promenade of Paphos.
2. On taxi, rented car (GPS Coordinates: Lat: Lon 34.76449: 32.40674) or public bus number 615 (harbour bus station - Coral Bay). The nearest to Faros beach, the bus stop is on the street of the Tombs of the Kings Avenue and is called "Roman Park".