Honey Bridge is one of the bridges in the center of Kaliningrad across the Pregolya River, connecting Kanta Island and Oktyabrsky Island.
The bridge has the status of a cultural heritage site of regional significance.
Initially, the Honey Bridge (German name: Honigbrücke) was built in Konigsberg (now the city of Kaliningrad) in 1879-1882 by the project of construction masters Eger and Früling.
The bridge was hydraulically operated and connected the islands of Lomse and Kneiphof.
Subsequently, the bridge was restored and repairs were carried out.
Today, the drawbridge mechanism does not work. The bridge is almost entirely pedestrian, since it leads to the island of Kanta (formerly Kneiphof), on which no transport goes and on which there is a sculpture park and the main attraction of Kaliningrad -The cathedral with the grave of Immanuel Kant, a concert hall, the Kant Museum and chapels.
Only vehicles serving the island and the cathedral can travel over the bridge.
On the opposite side of the bridge from Kant Island, on Oktyabrsky Island (formerly Lomze), there are Fish village and The new synagogue.
View of the former drawbridge of the Honey Bridge
View of the Honey Bridge and the New Synagogue
View of Honey Bridge and Kanta Island with Cathedral
View from the Honey Bridge to the Pregolya River, Kant Island and the House of Soviets - the most famous Soviet unfinished building in Kaliningrad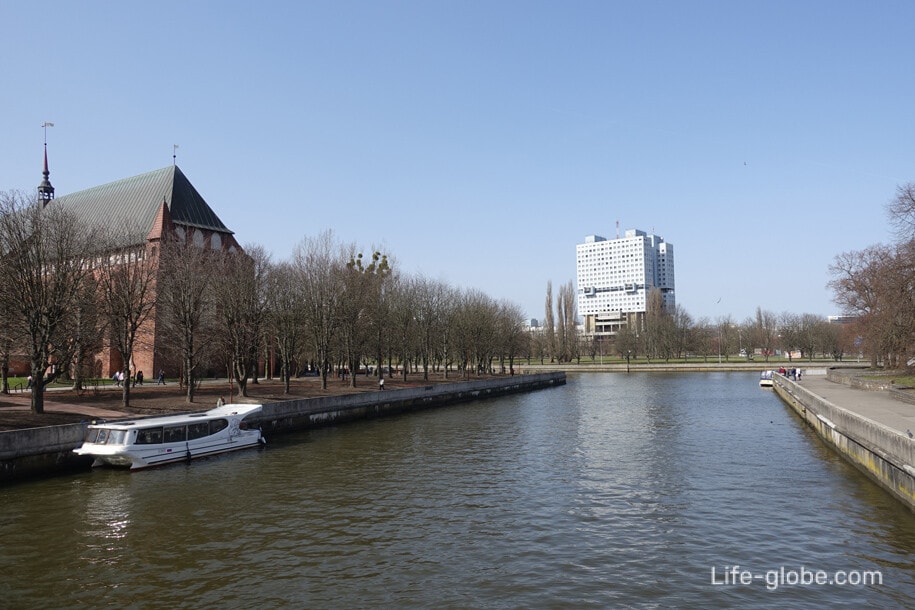 View of Honey Bridge, Pregolya river and Fish village
View of the Fish Village, Honey Bridge and Kanta Island with the Cathedral
On the railing of the Honey Bridge, on its northern side, there is an interesting miniature sculpture - Homlin grandfather Karl, also known as Grandfather on the bridge.
Homlin is a local interpretation of the brownie, they have lived next to people for many years and create amber products. According to legend, homlin brings happiness and goodness, so do not pass by and take a picture with this funny little house boy.
In total, there are several homlin sculptures in Kaliningrad, representing members of one large family - from the older generation (grandparents) to the smallest ones, which are installed in iconic places of the city. Learn more about all the homelins in Kaliningrad...
In the Fishing Village, by the Honey Bridge, there is a 3-star hotel by the Honey Bridge with a terrace, family rooms, a 24-hour front desk, luggage storage and free Wi-Fi throughout.
Breakfast is included in the room rate. Link to the hotel
All accommodation facilities in Kaliningrad (hotels, apartments, etc.), including near Kanta Island and in the Fishing Village, can be viewed and booked here