The German National Museum (Germanisches Nationalmuseum) is the largest museum of the cultural history of German-speaking regions in Germany.
The museum's collections showcase the history, culture and art of the regions where German is spoken or was once spoken, from prehistoric times to the present day.
The museum was founded in 1852 on the initiative of the Franconian nobleman Hans Freiherr von und zu Aufses (also known as Hans Philipp Werner) with the intention of creating "a well-ordered common repertoire of all source materials on German history, literature and art."
In 1857, the King of Bavaria presented the founder of the museum with a former Carthusian monastery on the southern border of the old city of Nuremberg, whose unique ensemble, consisting of a monastery, a church and monastic dwellings of the 14th century, provided enough space for the collection of a Franconian nobleman.
The constant growth of the collection required the expansion of the museum's space. Since the beginning of the 20th century, neo-Gothic and modern extensions have been added to the monastery.
After the large-scale destruction during the Second World War, the appearance of the museum is formed, among other things, by the buildings of architect Sep Ruf, as well as the glass structure of the Museum Forum with today's lobby.
Today, the new and old buildings of the museum themselves are a landmark and an architectural monument, they represent an ensemble, part of which is formed by the former monastery.
The Human Rights Street (Straße der Menschenrechte), created by the Israeli sculptor Dani Karavan, leads directly to the entrance to the museum, creating an important accent in the urban landscape of Nuremberg.
Views of the German National Museum and Human Rights Street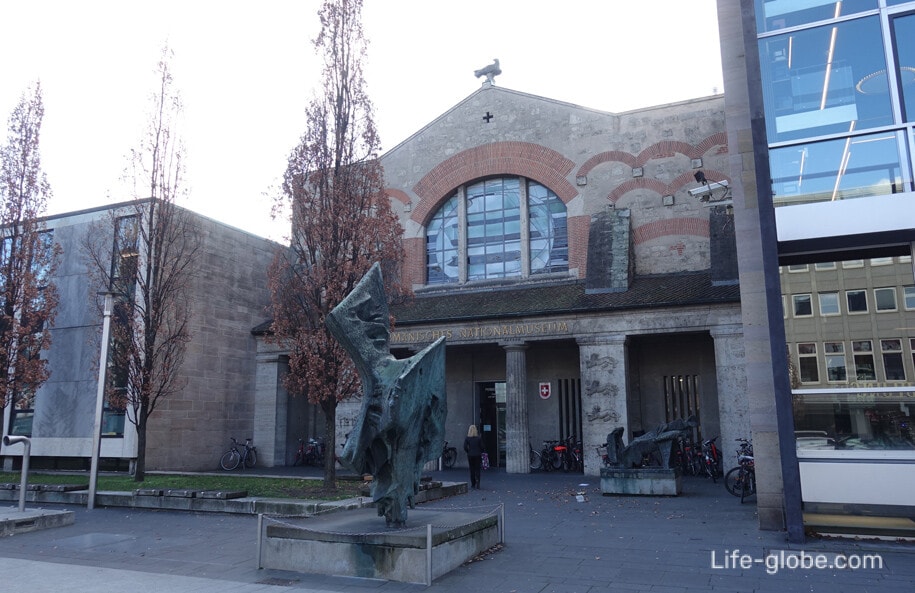 View of the museum from the courtyard
The interior of the former monastery
Today, the collections of the German National Museum number about 1.3 million exhibits, many of which are stored in the storerooms and archives of the museum.
Permanent collections of the museum, from Paleolithic hand axes and works Albrecht Duerer to the art and design of the Bauhaus: a total of about 25,000 exhibits offer visitors a chronological panorama of the art and culture of the German-speaking regions.
The museum's collections are divided into sections, which include: paintings, sculptures, handicrafts, scientific objects and tools, clothing, jewelry, tableware and household items, furniture, pharmacy supplies, musical instruments, toys, weapons and armor.
Significant treasures of the museum are: images of emperors by Albrecht Duerer; the world's oldest preserved globe by Martin Behaim, which is called the "Earthly Apple" (Erdapfel); spherical clock, which is also called the "Nuremberg eggs".
The museum also includes: a library, an archive, a department of prints and drawings and a numismatic collection.
The museum hosts temporary (rotating) exhibitions and special events on holidays.
Practical information
The address of the German National Museum is 1 Kartäusergasse Street (Kartäusergasse).
Website of the German National Museum: gnm.de .
All accommodation facilities in Nuremberg, including in the city center, near the museum and the Human Rights Street, can be viewed and booked here