Hotel San Cristóbal - has three stars and a superb location. The hotel is located in the historic centre of Marbella, opposite Alameda Park and city bus stop. After passing through the Alameda Park, in just three minutes we will find ourselves on the avenue of Avenida del Mar with sculptures of Salvador Dali and near one of the central beaches of Marbella - Venus (playa de la Venus-Bajadilla).
The hotel is also suitable for guests in wheelchairs.
For reviews of tourists, the hotel has earned a rating of "Very good" (8).
The main advantages of the hotel, campers are: the convenient location, good selection of food at Breakfast, daily housekeeping service, reasonable prices for Marbella, is the fact that the hotel has a large selection of cafes and restaurants, and within walking distance of the shops and supermarkets.
Of the minuses vacationers note that some rooms facing the highway are quite noisy. Booking a room at the hotel, we as a special request had specified a quiet room, so our room was facing the alley in the old town, with the result that the room was quiet and peaceful.
The view from the balcony of our room at hotel San Cristobal
We booked the hotel in advance 4 months before the trip. Double room with Breakfast buffet for 6 nights cost us € 367,20. Link to the hotel.
The rooms of hotel San Cristóbal in Marbella
The hotel offers rooms of different categories: standard, premium and triple rooms. Our economy double room was small (other rooms are more spacious), even a bit cramped, but for an "overnight stay" for two it was quite acceptable. Room could do with a refresh, the room itself was clean and comfortable, cleaning is carried out daily with change of towels, and here the bathroom removed so-so - peculiar minus.
In the room: double bed, high and comfortable mattress, new bedding, two bedside tables with lamps, two chairs and a Desk; refrigerator mini bar; TV (Pro TV know, TV was never turned on); quite a spacious wardrobe, mirror and a split system. The closet has a safe, you can use for an additional fee.
Free Wi-Fi fished very well throughout the hotel, without interruption.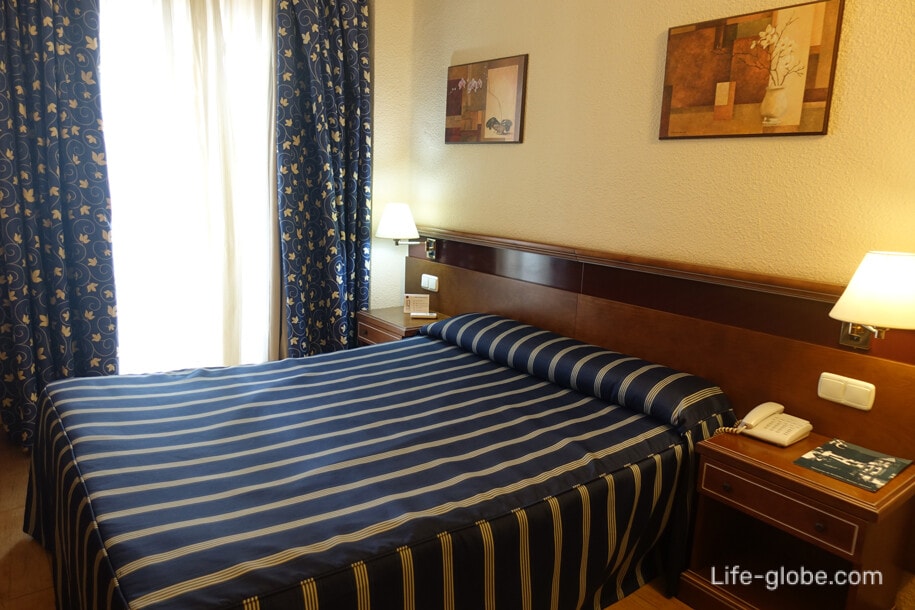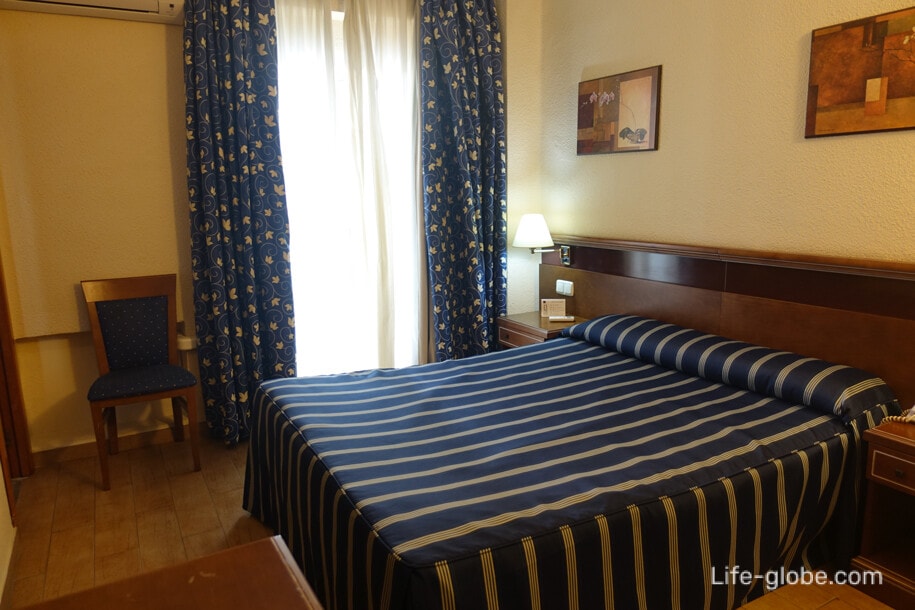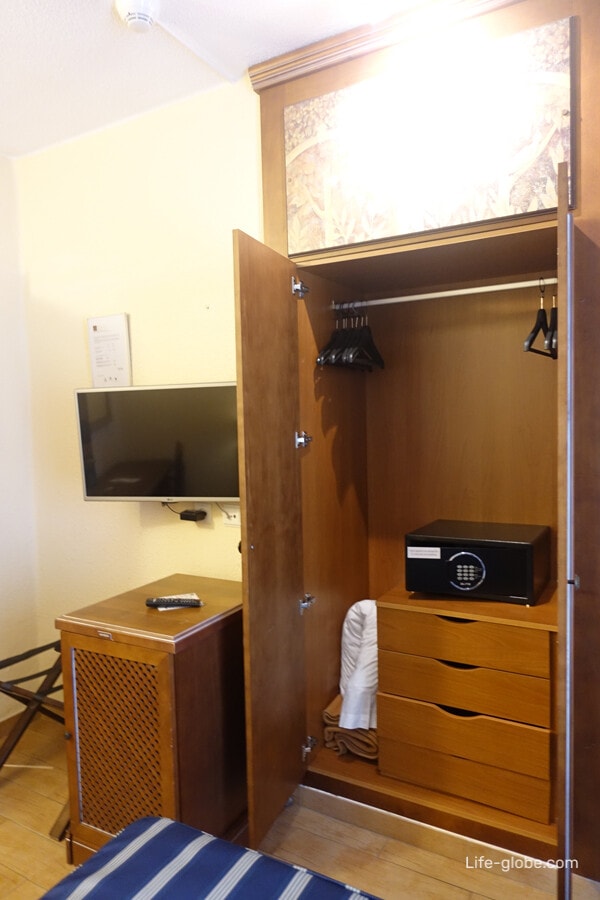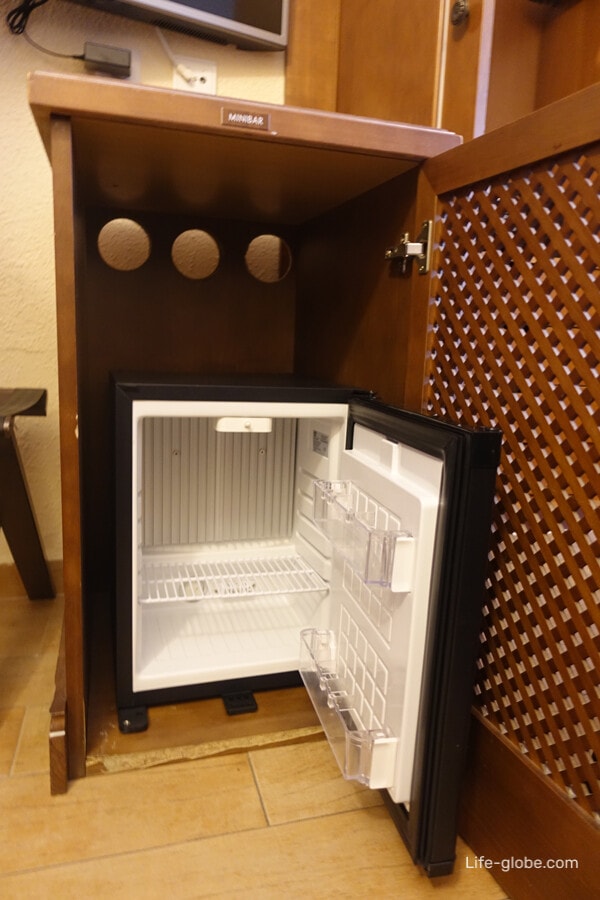 The balcony is narrow, on the balcony are two plastic chairs.
In the private bathroom: bathtub (small), toilet, bidet, sink and mirror, two sets of towels, as well as free toiletries: shampoo, soap, shower cap, two combs and a washcloth.
Breakfast at hotel San Cristóbal, Marbella
When selecting rooms you can book a room with Breakfast already included, or one in which cost did not include Breakfast. Also there is a possibility to book a room with Breakfast and lunch.
If you wish, Breakfast can be purchased directly at the restaurant at any time, which is also very convenient. You can also buy lunch and dinner for 13.50 - 15 euros per person.
A buffet breakfast is served in the restaurant on the second floor of the hotel. The breakfast is tasty, the choice of dishes is not bad, the only minus is that breakfast does not change every day, it is always the same, and for several days we were tired of it. Coffee from a coffee machine is so-so, but compared to some other hotels of this category it is quite decent, which, personally, was a plus for us.
Interior of hotel San Сristóbal, Marbella
The hotel entrance is a little peculiar - through the second floor of the building. One entrance exits onto the main street, and the other directly into the old city.
Reception the reception area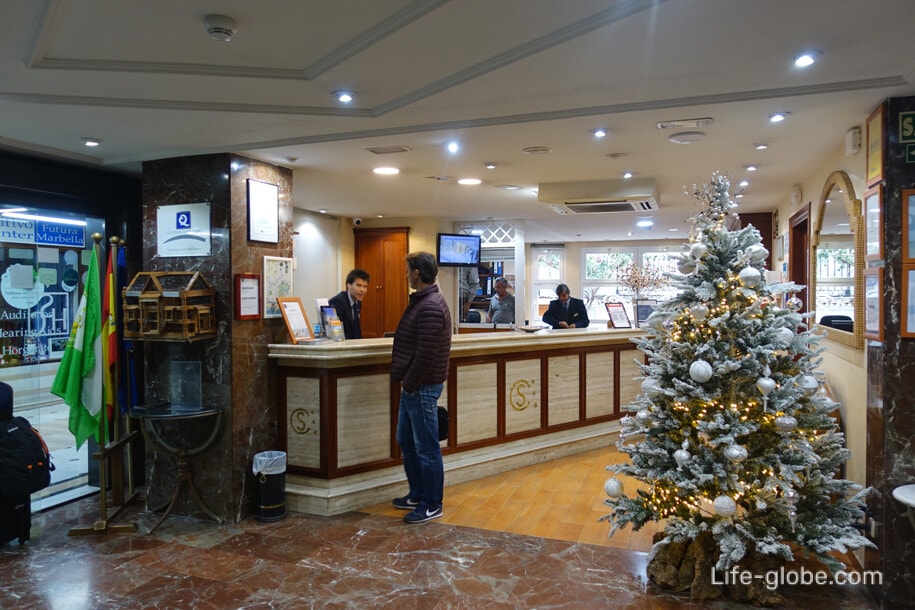 Stairs, Elevator
Corridors
On floors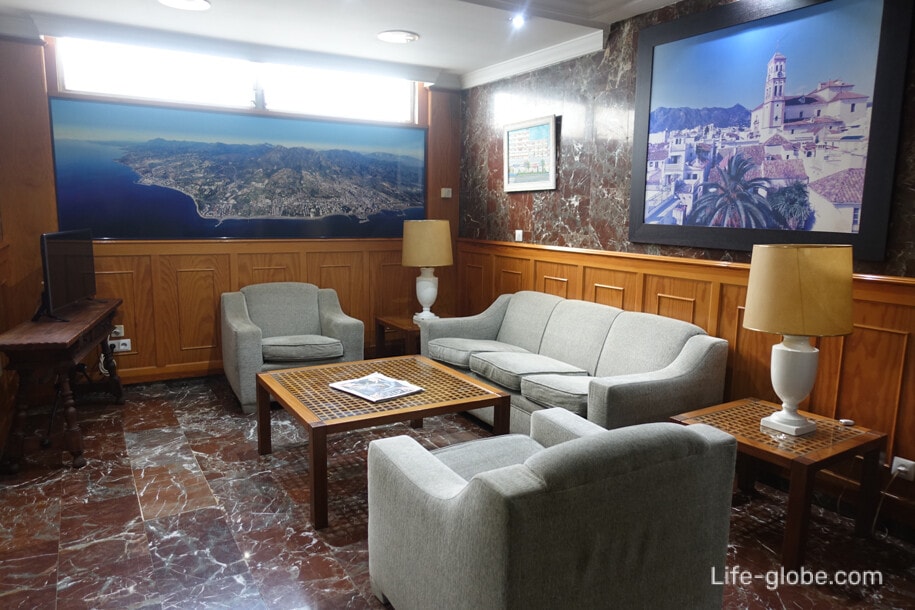 On the ground floor from the courtyard, there is access to a tiny garden, mostly used by guests as a Smoking area
Additional services in hotel San cristóbal, Marbella
Children from 0 to 2 years free of charge and on request baby cots. The maximum number of baby cots depends on room type.
Public Parking is possible at a location nearby (reservation is needed). This service can be paid.
There is an ATM on site, Luggage storage service, ticket service, tour Desk, Shuttle service, car hire, vending machine, currency exchange and Bicycle rental (to be paid separately). Ironing, dry cleaning and laundry services are paid separately.
Insights about the hotel San Cristobal in Marbella, Spain
This hotel is very good and deserves the assigned evaluation. Great location, within walking distance to all major attractions, supermarkets and restaurants, close to public transport, unobtrusive and courteous staff, delicious hot breakfasts, Newspapers and a sufficient volume of toiletries are the main advantages that have been so important to us when choosing a hotel.
Also important fixed room rate, no extra fees in the form of city taxes, interest, liens and so on.
This hotel can be a good choice, if you are interested in the old town, the promenade and the beach.
From our point of view, Hotel San Cristóbal - a worthy option for a pleasant and budget holiday in Marbella in terms of "Price / Quality" ratio and taking into account the fact that Marbella is far from cheap resorts.