Karetnik (building of the commandant's office service) is a historical building located on the territory of the Peter and Paul Fortress (Zayachy Island) in St. Petersburg.
The carriage house was built in 1846, presumably by the military engineer Alexander Grigoryevich Batorsky.
The building had one floor and was used as a building of the commandant's office service. It also included a stable with six stalls, two carriage sheds for storing carriages and carriages, a covered courtyard with a manure pit, and a glacier. Hence the name of the entire structure - "Karetnik".
The structure consisted of a central part with a pediment with a semicircular window in the tympanum. In the western facade of the central part of the carriage house there was a gate passage. In the wings of the building there were two gate openings with arch lintels and keystones. This architectural form of the building has today.
After the revolution of 1917, the building housed warehouses of the Leningrad Military District and a stable.
The building was damaged during the Second World War. From 1994 to 2003, it was completely renovated.
Currently, the Karetnik houses the exposition rooms of the State Museum of the History of St. Petersburg.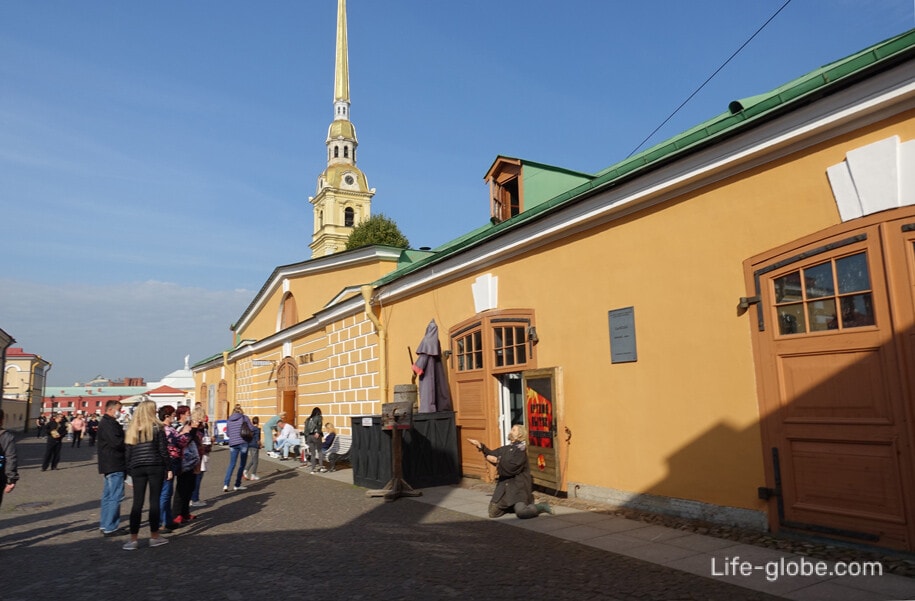 A sign on the wall of the building
In the building of the carriage house there are rooms for temporary exhibitions and the exhibition " Inquisition. Medieval instruments of torture", which presents a number of models of medieval instruments of torture: the Nuremberg maiden, the witch's chair, the rack, the iron gag (mouth expander), the iron boot, the heretic's fork, etc.
Including devices used as instruments of punishment under the sentence of the court: a shameful mask, a blasphemer's mask, penitential shirts, shackles, a muzzle, a noisy flute, a gossip girl's violin; and also used directly for the execution of the death penalty: a wheel, a hand saw, a stake.
An unexpected exhibit of the exhibition is the chastity belt, which, according to the organizers of the exhibition, was also a kind of instrument of torture, which women subjected themselves to at their own will or at the will of men.
Entrance to the exhibition is paid: 350 rubles, children under 7 years old-free of charge.
Practical information
Karetnik is located on the territory of the Peter and Paul Fortress, between Naryshkin bastion and The commandant's house.
Coordinates of the carriagehouse : 59°56'56.0" N 30°18'59.0" E (59.948889, 30.316389).
The entrance to the territory of the Peter and Paul Fortress is free (free of charge).
You can also visit the Peter and Paul Fortress with one of the excursions
Nearest metro stations: "Gorkovskaya" and "Sportivnaya".
All accommodation facilities in Saint Petersburg, including in the city center and near the Peter and Paul Fortress, can be viewed and booked here