The Makarovsky Bridge is a pedestrian suspension bridge in the Kronstadt of St. Petersburg, which is a monument of history and architecture of the 20th century.
The Makarovsky Bridge is located in the center of Kronstadt, is part of the ensemble of the main square of the city - Anchor Square and connects the square with Krasnaya Street through Petrovsky Ravine.
The length of the bridge is 91.4 meters, and its width is 2.1 meters. The height of the bridge is 10 meters.
The bridge is completely pedestrian. It consists of three spans, the middle of which is hanging, of an original design. The spans stand on high granite faced supports.
The side spans and the passageway of the bridge have a metal flooring with asphalt concrete coating.
View from the bridge to the ravine of Petrovsky dock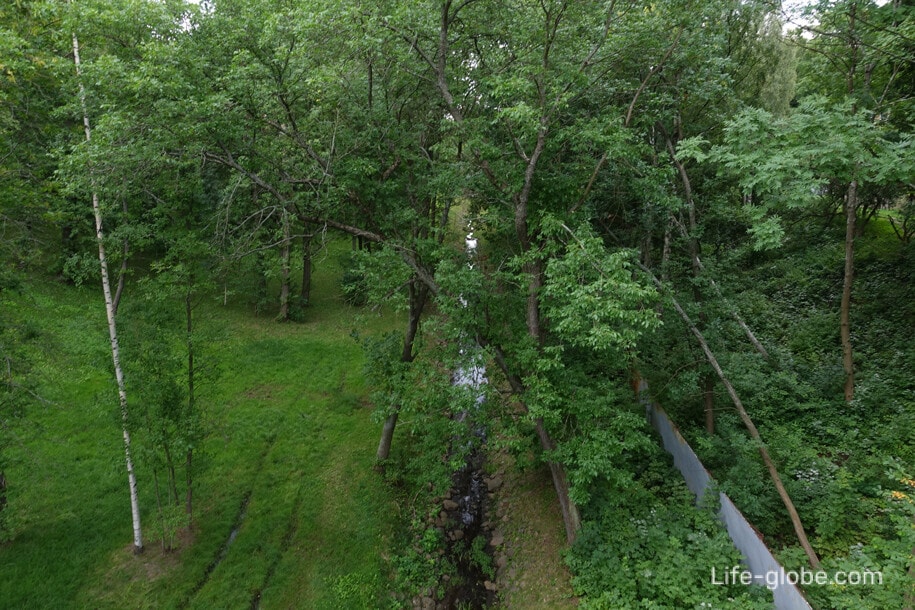 The name "Makarovsky" bridge was named after Admiral Stepan Osipovich Makarov, who died during the Russian-Japanese War in 1904. Makarov was present at the solemn laying of the St. Nicholas Naval Cathedral in 1902, which is located near the bridge. Also near the bridge on the Anchor Square there is a monument to O.S. Makarov.
In Soviet times, the bridge was officially called Red (after the name of the nearest street), but other names were more often used: Hanging, Suspended, Makarovsky.
The history and legend of the Makarovsky Bridge
The bridge was built in 1912-1913, because during the construction of the Naval Cathedral, the question arose - how Emperor Nicholas II could get to the temple from Petrovskaya Pier. For these purposes, the Committee on the construction of the Naval Cathedral decided to build a pedestrian bridge over the ravine.
The bridge was assembled by the workers of the Kronstadt Steamship Plant in 3 months.
Subsequently, the bridge was repaired, including the replacement of spans and pylons, but the appearance and static schemes of the spans were preserved.
There is a legend that Nicholas II, approaching the bridge, did not dare to step on the wooden pavement that was then wooden, because, knowing about the short construction time of the bridge, he was not sure of the strength of the structure. Then one of the young officers accompanying the emperor did not lose his head and quickly walked across the bridge first, proving the strength of the bridge structure. Such an action of the officer dispelled Nikolai's fears, and he began to move across the bridge. After that, for his courage and ingenuity, the officer was awarded the order, which the emperor took off from his chest and handed to the daredevil himself.
Coordinates of the Makarovsky Bridge: 59°59'27.0"N 29°46'32.0"E (59.990833, 29.775556).
You can visit Kronstadt with one of the excursions from the center of St. Petersburg
All accommodation facilities in St. Petersburg, including in the city center, in Kronstadt and more remotely from those, can be viewed and booked here