Places to eat in Alicante are many, but where to eat inexpensively such, alas, is not. In any cafe or restaurant in the city, the average bill for two with food and drink (one glass of wine, beer, Cola or any other beverage each) will be around 30 EUR (Euro). To eat cheaper, you can is that buying food in the supermarket already prepared or foods.
Tip! Going on a budget holiday to Spain, don't hesitate to book the hotel, and guest house with a shared kitchen. Shared kitchen you really help out by buying groceries at a store for 10 euros and getting something simple such as pasta with sauce or vegetable salad with tuna, a couple of days you should not worry about food.
By the way, if you are in a hotel kitchen or not, be sure to visit the Central market (Mercado Central), Alicante. On the market you will find a variety of ripe and delicious fruits, the freshest seafood and meat, ham, various cheeses, olives, snacks, Spanish wines and sweets.
How to choose a quality and delicious Spanish wine we wrote earlier, you can read it here.
About the dishes, which are definitely worth a try, staying in the Spanish city of Alicante, we are told in the previous article, I will tell you where everything is to taste.
The Spanish streets, especially in the historic center of the city, near the Central beach and the promenade of the Esplanade, filled with cafes and restaurants for any taste. Go to any quality and taste of the dishes will be equally good, and the prices are almost the same everywhere, the difference is that in one or two Euro, but to run around town in search of paella, where it is one Euro cheaper does not make sense, yet came to rest.
One of the most famous streets of the city with many restaurants is a Major street (Mayor). From a variety of cafes on this face, just the eyes diverge. Menu with prices hang on the Windows and walls of the establishments.
Many food service establishments are located along the Boulevard of the Esplanade.
The portions in Spain are large, so do not order a lot at once, better then, if not enough, order another. One salad and two would be sufficient. A dish of paella for two people we barely mastered the two of us, even in the morning still felt satiety, so it would be quite enough for three people.
The second dishes at once and includes a side dish and vegetables. So no need to order separate meat and side dish, all will be on the same plate.
Seventy percent of the institutions in the bill include a tip of 10% of the total. So making the order, count the money.
We sat down in one of the cafes on the street and the Mayor ordered the mix paella for two people, three glasses of beer and bread. The expense amounted to € 32,21.
Tip! The menu says the price of paella is per portion for one person, is from 9 to 12 euros, but you need to order at least two servings. So specified in the menu price multiplied by two.
In the city very few institutions where paella can be ordered for one person.
One of such places is a restaurant Cerveceria RTE Bar Luis, on the street Mayor, 27
In this place we ordered the black paella with cuttlefish ink for 10,50 Euro, medallions of pork with fries, egg and bell pepper for 8,80 Euro sangria for 4 euros and a glass of beer for € 4.20. The total expense amounted to EUR 27.50.
Almost any institution of the city you can enjoy a cold Spanish gazpacho soup. Costs € 4.20 per portion.
Tip! In many restaurants, by default, in addition to all of your orders on the table put a basket of bread and other snacks such as salted nuts. Most often it is not free, the cost will be included in the bill. So, if you do not intend to pay for all these treats, please specify whether they are paid or just politely refuse, tell the waiter, "don't. Thank you," and he will take all that is brought.
On the waterfront, which along Postiguet beach, the cafes in which it is possible to pinch the midday sun.
Here is a kiosk with hot dogs and hot sweet waffles.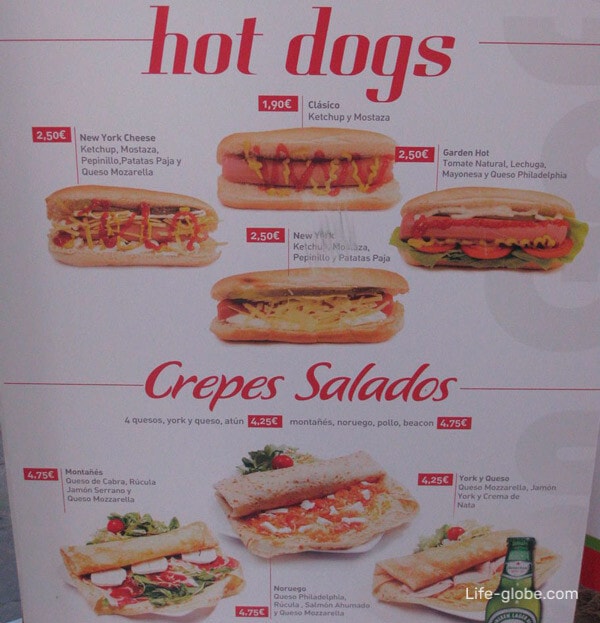 Try delicious Spanish tapas and drink beer or wine in the tapas bar D Tabas
The school is located one street below (which is closer to the waterfront) from the street Major.
This is a truly Spanish institution in which head, you can immerse yourself in the Spanish flavor. After seven, eight in the evening the bar is always crowded, those who do not have enough seats inside the establishment, stand and drink beer in the street out front.
Any tapas/tapas D Tabas costs 0,90 euros, and Kanga/canas (small glasses, with a volume of about 130 milliliters) of beer is 0.60 euros. The waiters carry hot tapas on trays. Tapas go as seeds, do not even notice how ate another and another, and the bill keeps growing and growing. Tapas are served on small wooden plates at the end of the evening the waiter will just count the number of plates on your table and write the bill.
We ate tapas bar and Napili 16 euros.
In the city there are many other tapas bars. Some of the action you can enjoy tapas and beer for just 1 Euro. Or a dish of five different tapas for 5 euros.
We took ten of tapas and two glasses of Coca-Cola. All paid 13 euros.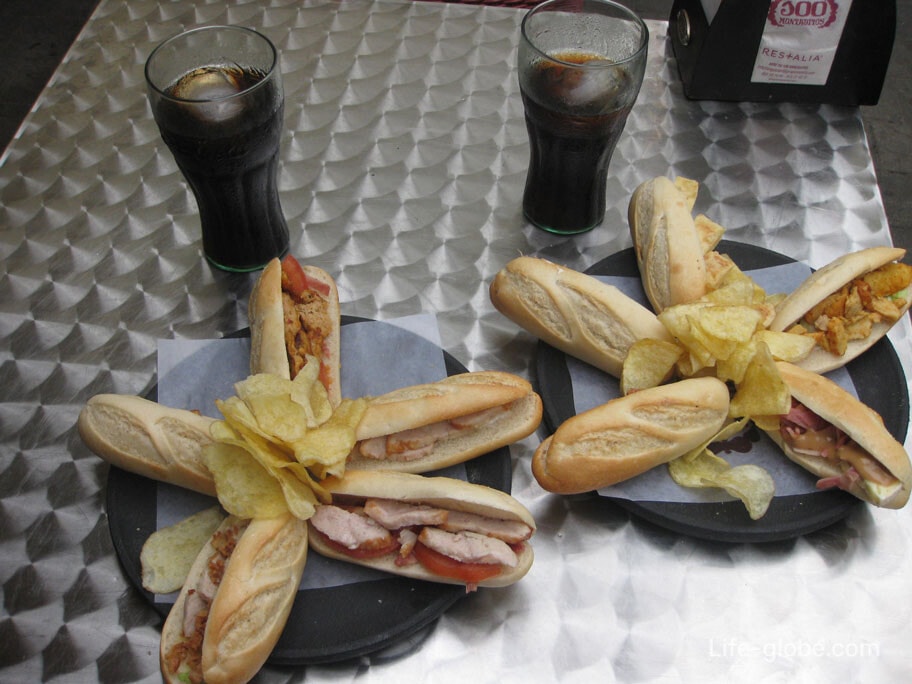 After visiting Spain and you should definitely eat seafood. One of the best places in Benidorm where you can enjoy freshly prepared seafood, is Pesca al Peso,
The restaurant is located at Mayor street, 22, 03002 Alicante
In this restaurant fresh seafood are the showcase on the ice. Come, select your favorite, and you will immediately prepared and served.
In addition, the restaurant has two menus:
Menu No. 1 Consists of fresh vegetable salad, mussels steamed, fried small squids, sardines grilled large shrimp grilled steak of sea fish and a Cup of espresso or desserts.
Costs 12,95 Euro. Ordering a minimum of two persons.
Menu No. 2 Includes: salad of fresh vegetables, steamed mussels, calamari on the grill, grilled steak fish, garlic shrimps, seafood, sea scallops, red prawns on the grill and a Cup of espresso or dessert selection.
Costs 17.50 Euro. Ordering a minimum of two persons.
We ordered the menu for two persons, a coke and a glass of beer. For all gave 29,90 euros. The portions were quite large, we don't even all eaten.
By the way, in Spain beer is a volume of 0.4 liters and not as we used for 0.5.
The next place is the restaurant-pizzeria Pizzeria Sale & Pepe
The pizzeria is located at Teniente Alvarez Soto, 5, 03001 Alicante.
Inside is very cozy and relaxing atmosphere. The restaurant is perfect for family lunch or dinner.
We ordered pizza BBQ - 11,50 Euro, pasta with white wine sauce and clams - € 12, two glasses of beer and 7.60 euros and two cappuccino - 4,60 euros. The expense amounted to € 35,70.
In Alicante and throughout Spain, very tasty pastries. Go to any coffee shop, bakery or cake shop and buy a few freshly baked rolls. We took three each. Was not enough, so it was delicious.
It should be noted that in Spain, cookies are much tastier than the illustrious Italian.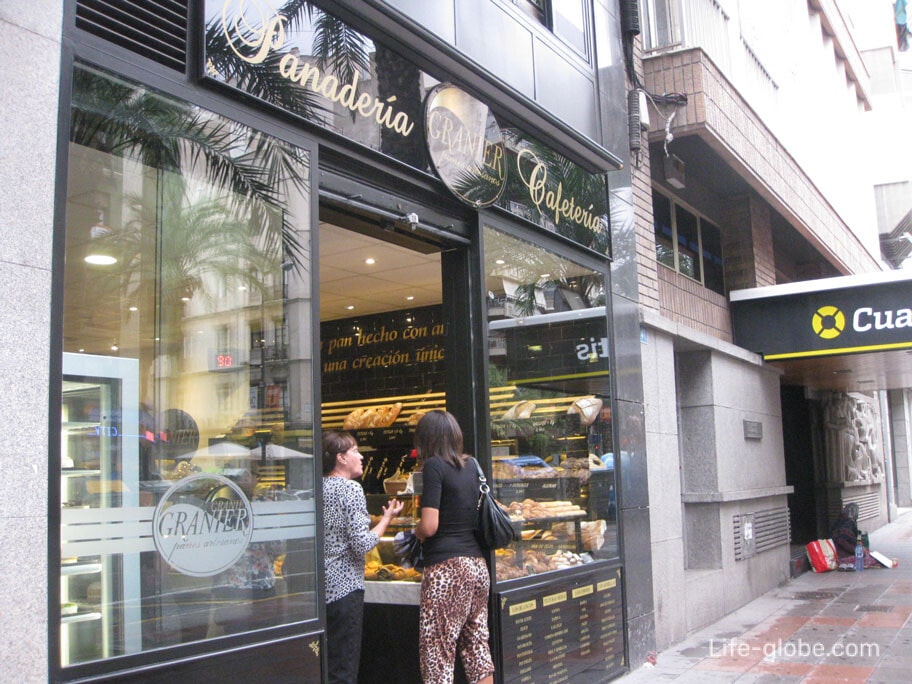 The cost of fifty cents for the bun.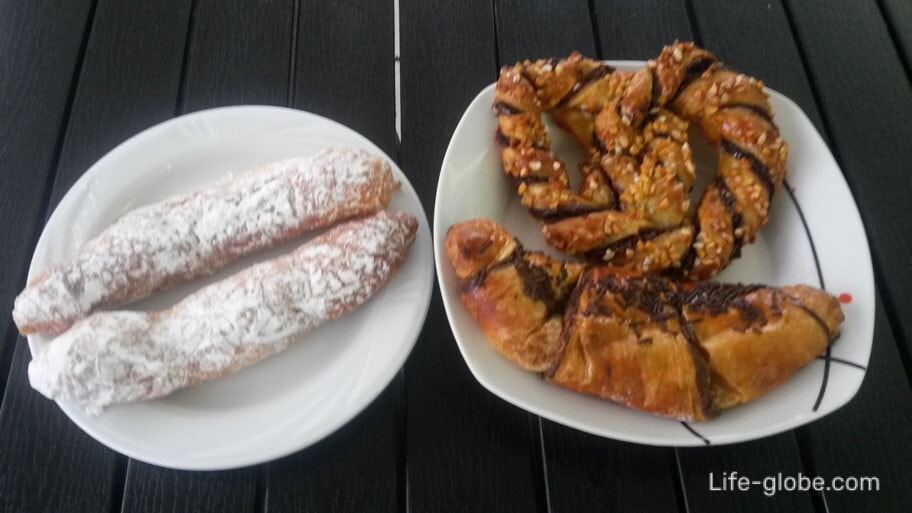 Colonial Restaurante Buffet De Cocina Internacional Alicante (restaurant Colonial buffet)
About this restaurant full of the Internet, telling how good a restaurant with delicious and varied food.
In fact, the lousy restaurant with a small choice of dishes.
This place with a single price, that is, once paying for entrance eat what you want and how much. The entrance is 13,90 euros per person and eat all you like, only eat at the restaurant almost nothing. All the dishes if you say that is not delicious, is an understatement. Rice and noodles are just no, and fried seafood are more like heaps in a heap and steamed stuff.
All drinks in the restaurant for a surcharge, and sell them not at affordable price. Plus the obligatory condition for the establishment is that you have to order at least one drink each. The minimum cost of a glass of Coca-Cola with a volume of 0,4 liters - 4,60 euros.
I wonder how many paid that guy from YouTube (YouTube) that removes and so colorfully painted restaurant.
During our visit to Colonial dined a lot of people, the bulk of it was the Arabs.
Besides, this restaurant is located three kilometers from the city centre.
So we walked three kilometers, paid of 32.56 euros and have not received any pleasure. For the same money you can have dinner much tastier and closer.
To remove the restaurant. And no wonder, if they make what they serve, they just stop going tourists. We still managed to do a few shots before we pulled.