Alicante is a beautiful resort town on the Mediterranean coast of Spain. It is the object of marine recreation, a major trading port and a place with lots of attractions. In fact, this area is very beautiful and interesting. Besides great for shopping tourism. The city has long attracted tourists from all over Europe for a Sunny vacation and shopping.
I must say, and we were in Alicante, knowing little about shopping in this city. But our experience exceeded all expectations. Alcante - large shopping malls and shopping streets, and shopping outlets.
As for prices in Benidorm, they lower prices in the more popular tourist cities such as Madrid, Barcelona or Valencia. Not even in the season of sales in the shopping centers of the city you can always find discounts on previous collections, and not to mention outlets. Outlets prices and even more cheaper. For example, at the end of August - beginning of September you can buy a t-shirt for 1-2 Euro shorts for 3 euros, and a pair of jeans for 5-7 euros.
This article will tell you about popular places for shopping in Alicante:
- shopping centers;
- a shopping street;
- the outlet;
- supermarkets and markets.
But all in good time,
Shopping (shopping) street of Alicante
The shopping streets in many cities of Europe. In Alicante's main shopping street, it is also one of the main streets of the city, is located in the heart of the historic part of the city, close to the Postiguet beach and the port. This Avenue Maisonnave, the Spanish name Avenida de Maisonnave.
The street is wide and quite long. On both sides there are shops of world famous brands of clothes, shoes and underwear. Here are brands such as Zara, Bershka, Stradivarius, Mango, Punto Roma, Massimo Dutti, H&M, Nike, Guess Llongueras, Intimissimi and many other famous brands.
Prices, as said before one and a half times cheaper than in Russian stores, and the selection is huge, especially in new collections.
Shopping centres in Alicante
Just at the beginning and the end of the shopping street Maisonave, with its both ends there are two large Shopping centres -
El Corte Ingl es.
The website shopping malls www.elcorteingles.es.
The shopping centre, the railway station is fully given to the world-famous brands of clothes, shoes, accessories, cosmetics and perfumes. This Supermercado El Corte Ingles. Located at Avenida Maisonnave, 53 SS 03003 Alicante Spain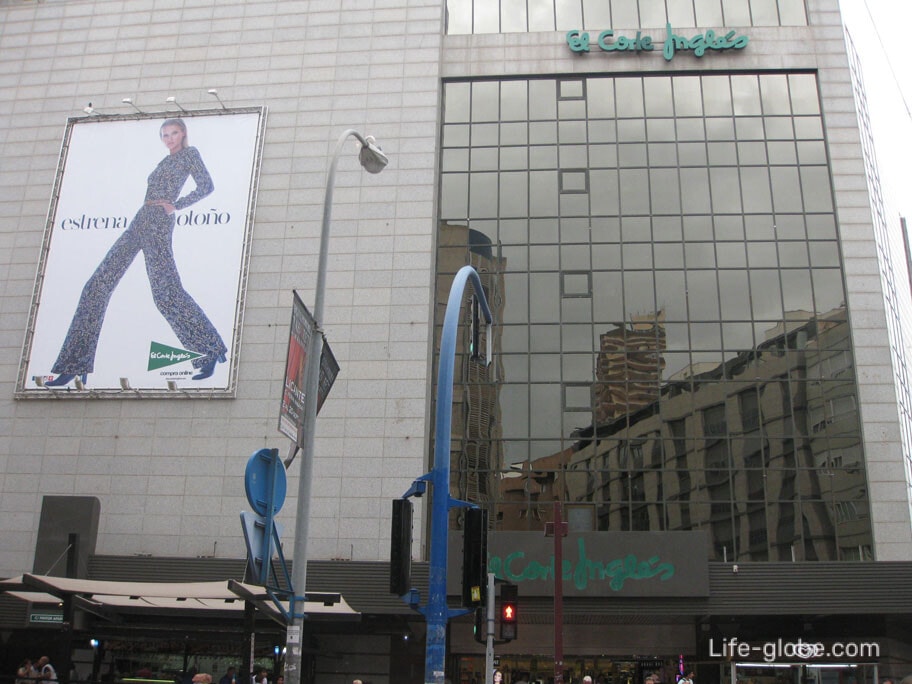 The shopping center that on the other side of the Avenue, closer to the historical center of the city, also called El Corte Ingles. He is completely devoted to home goods and electronics. On the ground floor is a large supermarket.
In the Mall to sell jewelry, toys, linens, bags and cases, electronics, furniture and other goods of daily use.
On the ground floor is a wine shop and a supermarket self-service.
At the entrance to the supermarket installed cameras storage. In order to leave personal belongings in storage, in a cell in the box need to be lowered to 1 Euro. Return and drawer opening is over you will take your euros back. For what it's made of we don't know, perhaps in order not to lose the keys...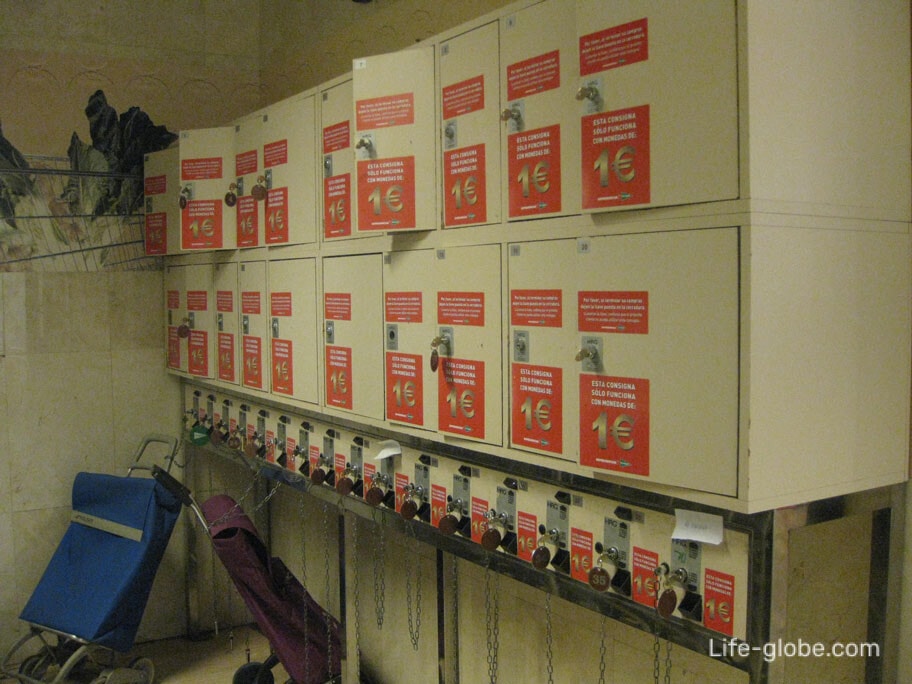 Another huge shopping centre
Centro Comercial Plaza Mar 2
This Mall is on the other side of the city, the mount Benacantil (Benacantil), which is one of the main attractions of the city, the castle of Santa bárbara (Castillo de Santa Barbara).
Address Plaza Mar 2 - Av. de Denia S/N 03016 Alicante Alicante Spain. Official website www.plazamar2.com.
The shopping center is always a lot of people, mostly locals, tourists a bit.
This Mall is much more than the two described above. There are a large number of shops of clothes, shoes, accessories, cosmetics, perfumes and other everyday products.
The Mall features an outdoor and indoor underground Parking. There is an area of public catering and cinemas.
On the ground floor is a huge supermarket, the type of our caravan. Food prices much cheaper than in other supermarkets of the city.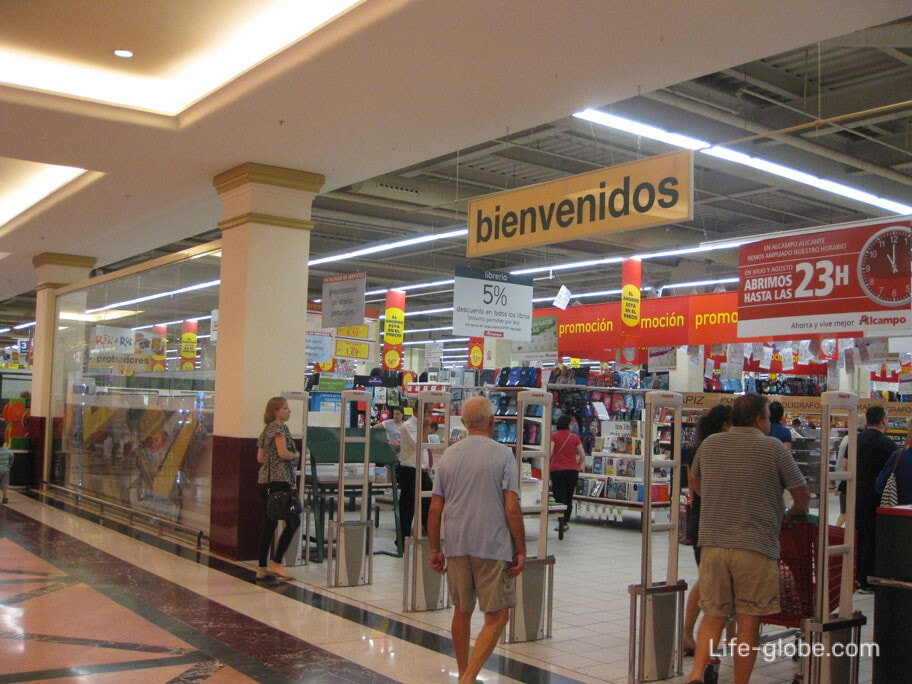 Outlets Alicante
In Benidorm is one big Outlet centre The outlet stores formerly San Vicente Outlet Park.
This outlet is truly a Paradise for shopping lovers. At any time of the year discounts up to 70-80%.
Outlet geographically located not in the city of Alicante, and in the suburbs of San Vincenzo (San Vicent), on Calle Alicante 94, 03690 Sant Vicent del Raspeig, Alicante, Spain. The phone number of the administration center: +34 965 66 44 98. Official website outlet Park www.theoutletstoresalicante.es.
Details about Outlet, we talked in a previous article, read here.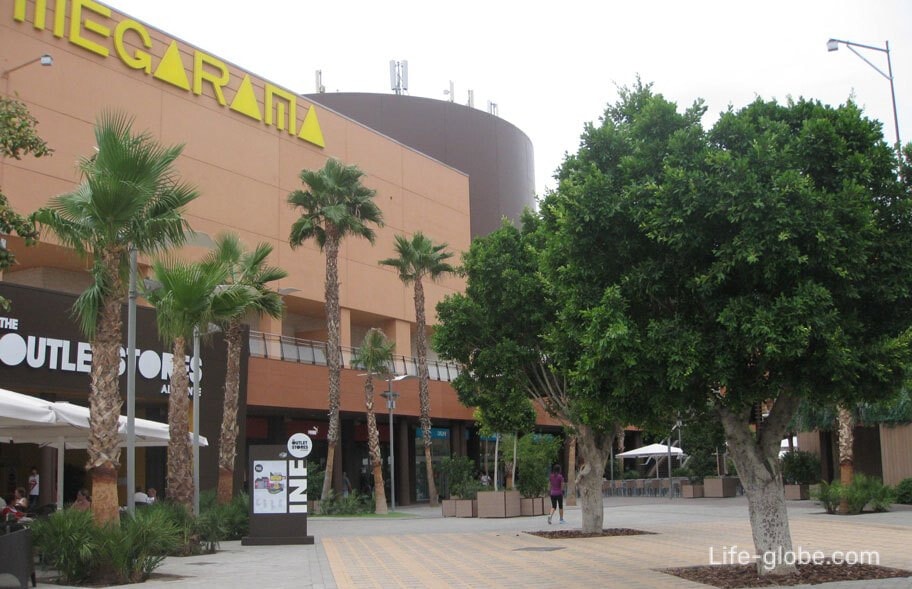 Supermarkets Alicante
In addition to the supermarkets mentioned above in shopping centers El Corte Ingles and Centro Comercial Plaza Mar 2, in the city almost every street there are small grocery stores, convenience stores. Prices in these supermarkets are a bit higher than in large hypermarkets, but to buy Essentials, you can always.
Supermarkets in Spain are called Supermarcado (Supermercado).
Another large supermarket is located on one of the Central streets of the city. Called Assis Supercor Express (Asisa SuperCOR Expres). Open daily from 08:00 a.m. to 02:00 o'clock in the morning. Located at Calle Díaz Moreu, 4 03002 Alacant Alicante Spain. Official website www.supercor.es/supercor/index.jsp.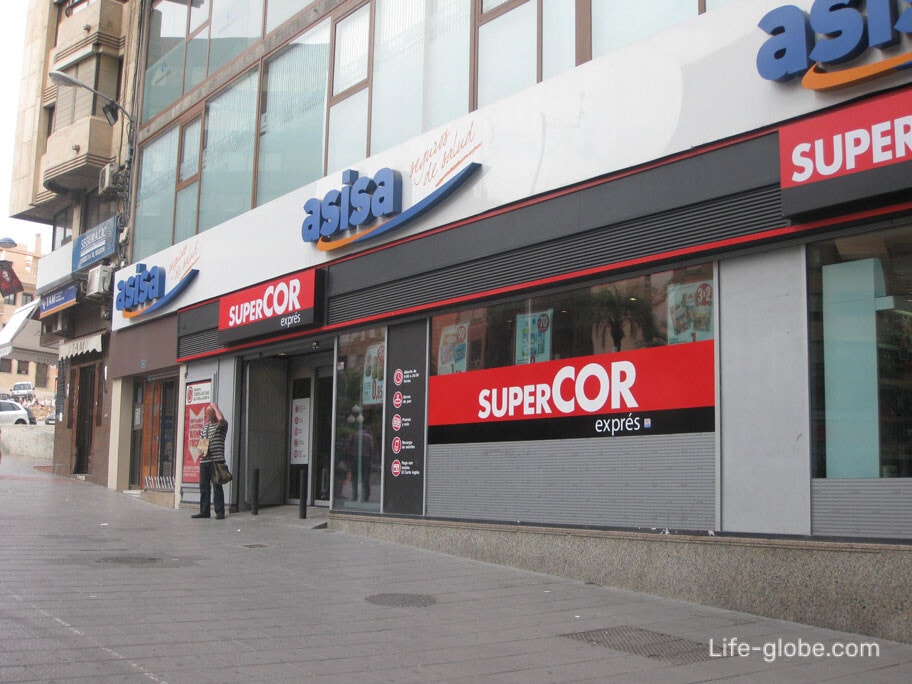 Markets Alicante
In Alicante is a wide variety of small markets and market.
To select among them the one great Central market Mercado Central (Mercado Central).
The market is located on Avenida Alfonso El Sabio (Avenida Alfonso X el Sabio) and occupies an entire block between two streets - Captain Segarra and Carrer Calderon dela Barca. Over its main entrance from the street Captain Segarra seen a big sign Mercado Central, which is difficult not to notice.
The market sells lots of local produce and seafood, fruits, vegetables, ham, wine, sweets, and other delicacies of Spanish cuisine.
Detail about the market we described in the previous article, read here.