Shopping center Zenia Boulevard, the largest shopping center in the province of Alicante, located almost on the coast, in the same resort town (urbanization) La Zenia, 10 mins drive from Torrevieja.
This Mall has a modern architecture and over 160 000 square metres of space, which housed various shops and boutiques, Parking, casino, cafes and restaurants, children's entertainment area, the Central area and places to stay. Shopping center Zenia Boulevard is a shopping Paradise.
The main entrance is from the street jade/calle Jade, there is also a bus stop and a flower bed decorated with a greeting.
For those who own a car, the shopping center has more than 5,000 free Parking spaces. There is underground Parking and two outdoor Parking areas located on both sides of the center.
Going into the main entrance of the shopping center, the first thing that catches the eye is a huge square under the open sky, where is a fountain, places for rest, large screen, a stage on which entertainment, cafes and restaurants.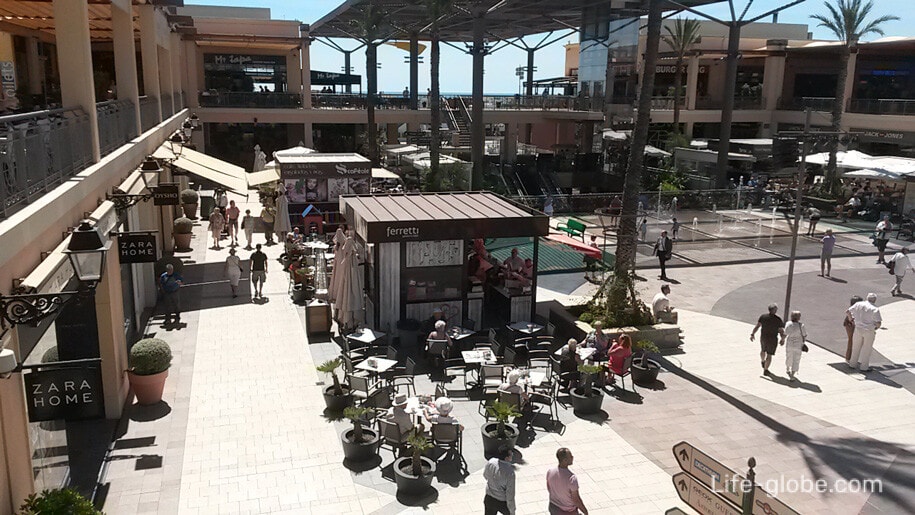 Shopping is part of La Zenia Boulevard is in the form of streets under the open sky, on both sides of which there are various commercial establishments, of which the Mall has about 150. Under the roof of the shopping centre with shops of the famous brands of clothes, shoes and accessories, boutiques, jewelry stores, sports and children's shops, and Department of cosmetics and perfumes.
There is a casino, bowling alley, garage, dry cleaning, Auchan hypermarket (Alcampo), Leroy Merlin, MediaMarkt, pet shop, etc.
For the youngest visitors there is a children's area
Hours of operation Zenia Boulevard
Shopping centre Zenia Boulevard is open 365 days a year. 25 December, 1 and 6 January and 1 may, open only to restaurants and entertainment. On 24 and 31 Dec shopping and entertainment area and restaurants close at 20:00.
Our store hours vary depending on summer and winter time. Entertainment venues and restaurants are open longer than the shops.
As our store hours vary, then such information is better to check before visiting on the official website of Zenia Boulevard - zeniaboulevard.es. Information is on the page "Plan your visit" - "Clock work".
Address Zenia Boulevard
Centro Comercial Zenia Boulevard, C/ Jade 2 - 03189 Orihuela Costa
GPS coordinates Zenia Boulevard
Latitude 37⁰ 55' 45.2274" N
Longitude 0⁰ 44' 4.7034
How to get to Zenia Boulevard on buses from Torrevieja, Playa Flamenca and the urbanisation of La Regia
Large and comfortable bus departs daily from the bus station of Torrevieja 07:50; 10:00; 12:45; 17:15 and 18:30. From Zenia to Torrevieja: 10:23; 15:08; 18:53; 19:51; 22:19. The journey time is approximately 20 minutes. The fare is € 1.35. The Carrier Is Costa Azul. On the bus from Zenia Boulevard in Torrevieja in a queue, at the height of tourist season, those wishing to leave a lot, the buses take many people, only for seats, there is a chance not to get on the bus, so it makes sense to come to a stop beforehand.
Minibuses are also available from the Hospital of Torrevieja.
Vans blue lines ply the route Playa Flamenca - urbanisation La Regia.
The schedule of minibuses depends on the time of year - winter and summer. The schedule and bus routes can be found on the official website of Zenia Boulevard and at the bus stop near the shopping center.
The stop is located directly near the Central entrance to Zenia Boulevard