The most famous object and attraction of the summer capital of Poland - Sopot, is a wooden sea pier (Molo).
Popular with tourists, they Say, did concede that Dancing (curve) home.
Sopot pier is one of the longest in Europe (it is not surprising, because the length of the platform is 515,5 metres) and is a square, from which originates a wide and long, are environmentally friendly, because it consists entirely of wood decking, part of which is on land, and part goes to the Baltic sea (Gdansk Bay).
Like, it's not only walking area, there are also the restaurant "Fregat" and a Marina for passenger ships, a historic fountain and an observation point with telescopes.
Consists Like two parts, land and sea
The ground part of the Mall originates from the Sopot lighthouse and Balneological, representing the resort square (Skwer Kuracyjny).
In this part of the Mall held a public entertainment events and concerts are held, and during the annual International song festival play rock band and representatives of the musical underground.
The ground part of the Mall the Park we liked, without it a visit on a trip to Sopot would not be complete.
Walking around the Park inhaling the fresh sea air, enjoying the cleanliness, tidiness and beauty of the architecture in harmony with the picturesque vegetation.
Here and flower beds with various flowers and ornamental plants, and gift shops with amber products and Souvenirs with symbols of the city, and comfortable benches for rest, sitting on which admire the beauty of the North and a fountain in the middle of it.
We were in Sopot in early June when the tourist season was not yet in full swing, so the city was rather calm and not crowded. We are fully able to enjoy the city and its attractions.
The marine part of the pier is a pier (Pier in Sopot), consisting of a wooden walking bridge crossing a sandy beach and protruding in the sea.
Located at Plac Zdrojowy 2, Sopot 81-723, Poland.
The pier stretches above the beach in the middle of it, as if dividing the beach into two parts and serves as not only a place of walks and rest of citizens and guests of the city, but is a port for sailing ships, yachts and water taxis.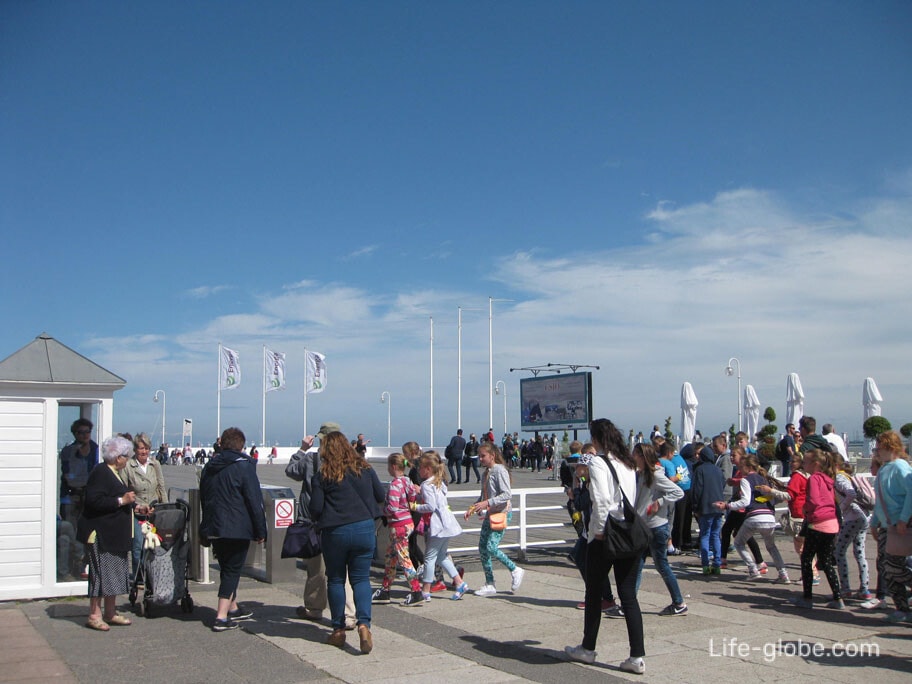 View of the pier from the beach
The entrance to the pier paid the full ticket cost 7,5 PLN (PLN). We decided for him not to go, because the view there is nothing special, a wooden deck, stretching into the sea, and all. Say, from November to April, admission is free, that's when we walk on it and know if this is true.