Resort Park one of the most beautiful Polish cities of Sopot (Polish name of the Skwer Kuracyjny) is a semi-circular area of the radiating pedestrian alleys.
The square is the Central resort city. Walking through the alleys of the Park you can easily reach the coastal line of the Baltic sea with sandy beach.
In General, the square is the ground part of the Mall, the biggest in Europe wooden sea pier.
Resort Park always attracts many tourists, and residents don't mind to pass an hour or two, the other walking in the shadow of the green areas of the Park.
On the territory of the square often hosts public entertainment events and concerts.
In the heart of the Spa Park is one of the architectural landmarks of the city - Grand hotel (Grand Hotel Sopot). The Grand hotel is probably the most luxurious hotel of Sopot, at the very least, the most beautiful, that's for sure.
On the square near the Grand hotel is a fountain, architecture in no way inferior to the hotel itself. Near the fountain lies flower beds, benches and lanterns beautiful shape.
Walking in this part of the Park breathing in the fresh sea air is a pleasure. Go and enjoy the cleanliness, tidiness and beauty of the architecture harmoniously combined with the green vegetation around the perimeter.
Here are also cafes and restaurants.
In the distance is the old Sopot lighthouse. The lighthouse tower is an observation deck.
If you look directly from the fountain towards the sea, you will see the famous Sopot pier. Supposedly open at certain hours, entrance fee. Details on the Mall, opening hours and admission tickets we described earlier.
From the breakwater in both directions diverge semicircular alleys. Along the alleys of the stretches of souvenir shops, selling mostly jewelry made of amber and Souvenirs with symbols of the city.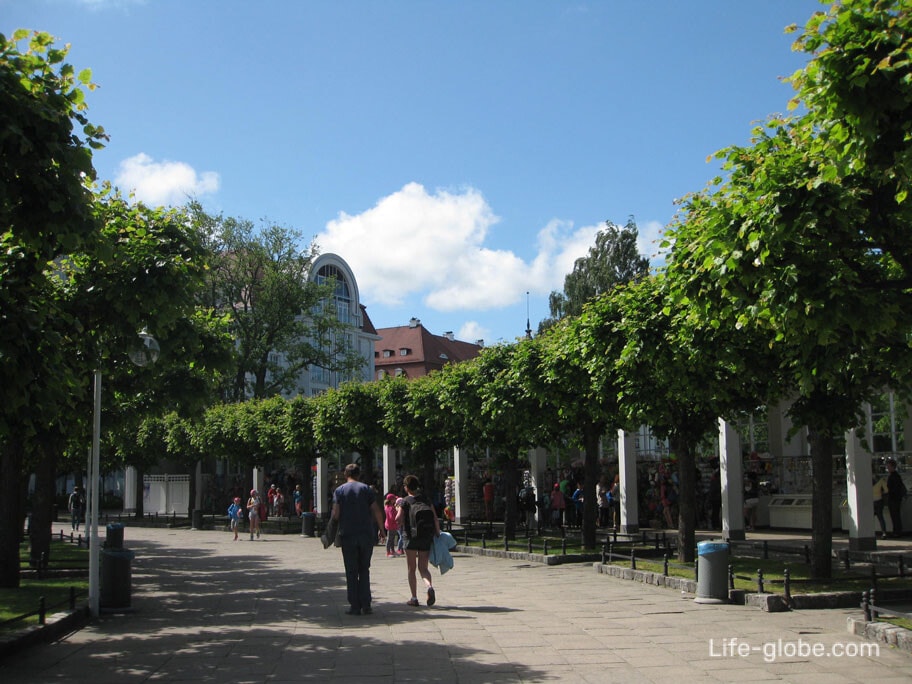 Walking through the alleys, across the square, out to the wide sandy beach.