Many people think that the main life in Riga is just in the Old town, but it is not. In Riga, in addition to the historical center, there are several scenic and authentic places related to the city's main attractions which are worth to see. It's creative quarters of Riga and Riga Spyware!
In the areas of these streets hovers its own special atmosphere. These two quarters are not similar to each other, like anything else in Riga. There, especially in the evenings, warm summer days, full of life, concerts, festivals and exhibitions, and the residents and visitors relaxing in outdoor cafes.
It is about these, the two most famous of Riga's creative neighbourhoods, we will talk in this article.
Creative quarter "Spikeri"
Quarter "Spikeri" (Spiķeri) is home to more than a dozen cultural and creative groups. Near a quarter from the promenade along the river Daugava. Together they are part of the historical centre of Riga, a UNESCO world cultural heritage site by UNESCO.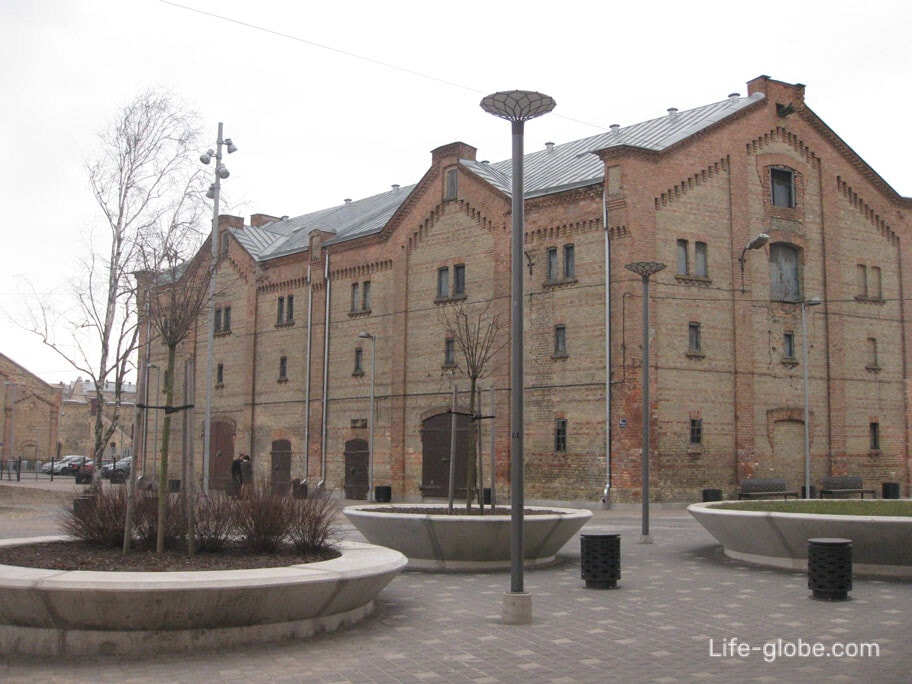 All the structures of the spīķeri quarter is a low building of brick, so-called "Red barns". Although at first glance the buildings look unattractive, but they are historical buildings, which appeared in Riga in 1864 - 1886 and was originally used as warehouses cargo port.
Currently, this small neighborhood is a well-appointed, the public space of the creative industry of all kinds, which brought together independent artists and other individuals who consider themselves creative and extraordinary. Here is also an outdoor concert venue, cafés and restaurants, open art gallery, Museum, center of contemporary culture, there are offices and shops. By the way, in one of the shops of this quarter we have seen the cheapest in the city of Riga balsam.
On the territory of spīķeri quarter regularly hosts art exhibitions, lectures and workshops organized by famous Latvian creative team Kim?, also hosts a variety of concerts, screenings and performances. The variety of art exhibitions and performances, turned spīķeri creative, and brought him such fame.
Immediately obvious, creativity in the quarter on every corner. For example, a quite interesting architecture birdhouse on the wall of one of the houses of the quarter.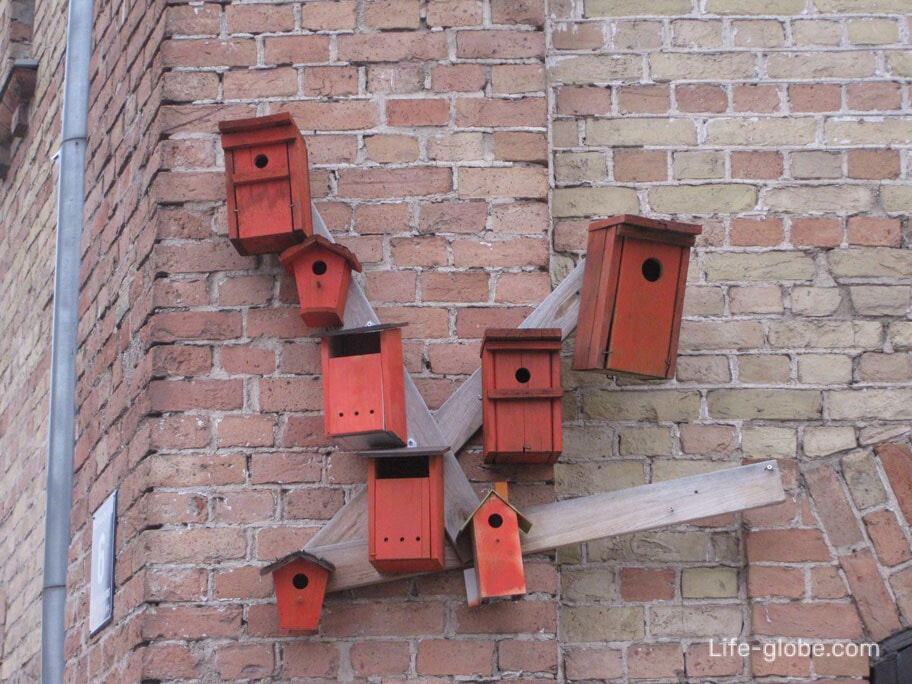 To be honest, nothing special in the quarter no, and if you are fan of modern art and the Bohemian intelligentsia, there you are unlikely to enjoy.
Is the spīķeri quarter is a ten minute walk from the old town and few steps from the Central market, on the right Bank of the Daugava river, at the following address: Maskavas iela 4, 6, 8, 10, 12, 14.
Quarter Kalnciema street
Unlike the spīķeri quarter, quarter, Kalnciema street, it is not collecting the creative mind, and the area of the modern city of wooden houses, also called wooden architecture of Riga.
Kalnciema quarter is located 2.5 kilometers from the old town, on the left Bank of the river Daugava, over the vanšu bridge in Riga (Pardaugava), at the following address: Kalnciema iela 35, 37.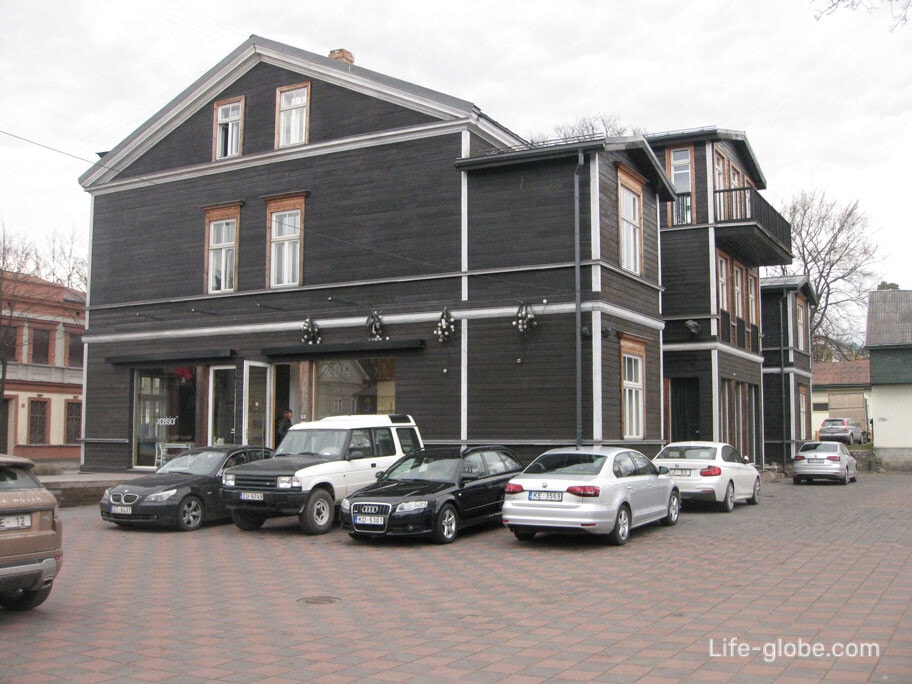 Latvia, like many other countries in Northern Europe, is rich in forest resources. Therefore, a significant part of the buildings of the late 19th and early 20th centuries were built of wood. However, not all wooden buildings withstood the permissive influence of time. But some areas in the suburbs of Riga's historical centre has maintained its unique atmosphere. It is to this district is famous wooden Kalnciema quarter.
Wooden house Kalnciema street was recently renovated, after which it regained its former charm and now look quite presentable. Evaluation of the UNESCO wooden architecture of Riga is a valuable cultural heritage.
Honestly, it's a rare shit. To walk 2.5 kilometers there and the same amount back, in order to see several wooden houses and one restaurant, it's not worth it. In our Russian towns, such architecture is at every step, it will also be older. One thing of course but! Our wooden houses are dilapidated, crooked and ugly, but in Latvia they are well-groomed and colorful, they are taken care of and carefully restored. We still have to learn and learn...
You do come to Riga, go, see if you like it?
Quarter Kalnciema street consists of a number of adjacent wooden houses in the center forming a small courtyard. In homes, restaurants, cafes, shops and souvenir shops.
There is a small children's play area with swings and a children's carousel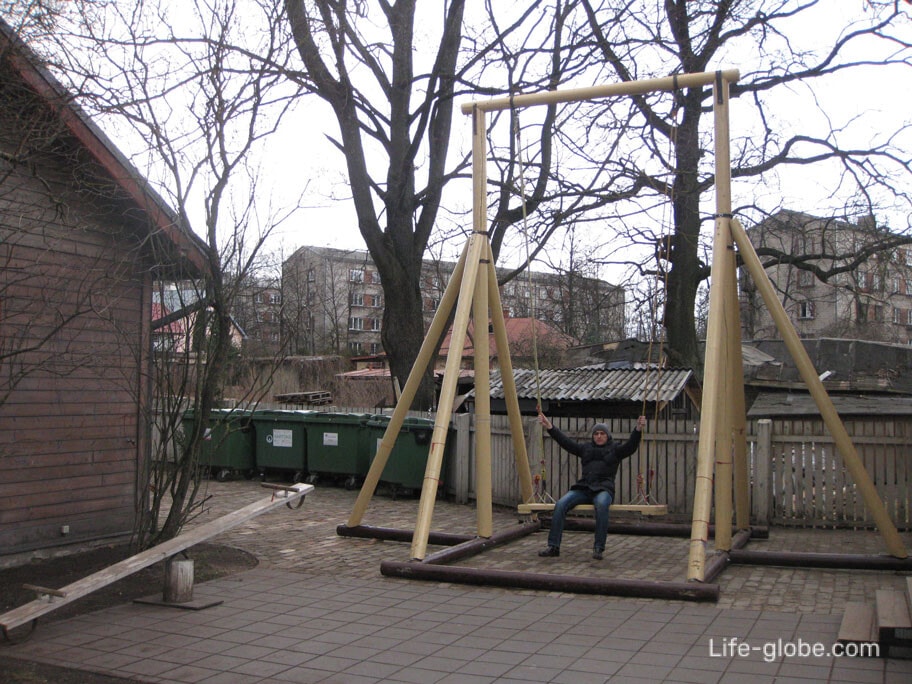 From old town to the Kalnciema quarter can be reached on foot or by public transport. From the stop of the Latvian National theatre on the buses 5, 12, 25 or 53 for 14-16 minutes. From the stop of the street Grecinieku on the 22nd bus in 25-30 minutes.