Valletta - a small city, green areas where you can count on your fingers. Nevertheless, within the Valletta, there are, although very modest in size, but all a few oases where you can walk, while relaxing from the dense buildings and bustle.
The undoubted advantage of the parks in Valletta is their location. All the gardens of the city are located on the heights and in different parts of the capital of Malta, which makes it possible to enjoy the beautiful panoramic views of the Valletta coast and the surrounding area.
Gardens and parks of Valletta, Malta
Upper Barrakka Gardens
The most famous and visited Park of Valletta.
Gardens Barrakka located on the upper level of the Bastion of St Peter and Paul, built in the 1560-ies.
The Park is equipped with walking paths and places for recreation, outdoor cafes and a fountain. Also the Park is decorated with terraced arches, statues and memorials to several prominent people. And from the terraced gardens offer stunning panoramic views of the Grand harbour, including the Three cities (Birgu / Vittoriosa, Bormla, and of Senglea), as well as the Malta shipyard, the waterfront and the surrounding area. Read more about Upper Barrakka Gardens in Valletta...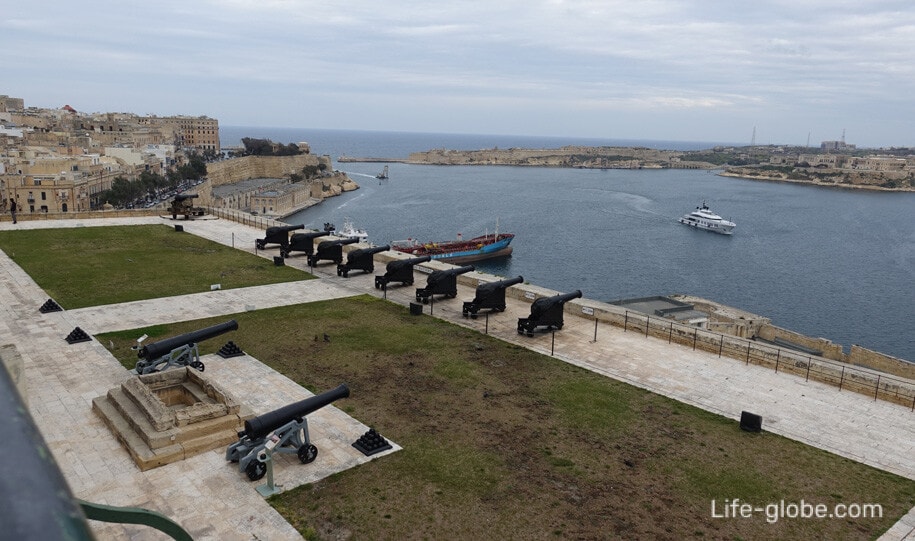 Lower Barrakka Gardens
Lower Barrakka Gardens similar to the Upper Barrakka Gardens, only located on the other end of the coast of Valletta.
The gardens were built on the Bastion of St. Christophe in the 19th century. The gardens are also equipped promenade, places to stay, there is a small fountain, a terraced arches, monuments and statues.
From the terraced gardens offer panoramic views of the entrance to the Grand Harbour, including the Three cities and also on the war memorial Victory Bell, Fort Ricasoli, embankment, breakwater and part of the Maltese shipyards. Read more about gardens of the Lower Barrakka in Valletta...
Hastings Gardens
Hastings gardens is located on top of the bastions of St. John and St. Michael, on the West side (opposite from the gardens Barrakka) side of the coast of Valetta, near the city gates.
The park is equipped with drokas for walking, places for recreation, there is a fountain, old cannons, a memorial, a tomb and a khachkar.
With gardens offering panoramic views, including the forts, the Triton fountain, city gate, city Floriano, Msida, Sliema, and Manoel island and the surrounding area. Read more about the Hastings Gardens in Valletta...
Park of the Bastion near the city gate
Near the city gate, almost on the border of Valletta and Floriana, near Central Bank of Malta, is a small Park (well-kept green area) with walking paths, Seating areas and flowerbeds.
The Park is located on the hill of the Bastion of St James. During our visit to Valletta, the Park was closed. But it can be clearly seen from Plaza de Castilla (Pjazza Kastilja).