Republic square (the Maltese name Misraħ ir-Repubblika) - one of the most popular areas of Valletta, located on the main street of the eponymous city.
Initially the square bore the name of the Treasury or Cavalieri (Piazza Tesoreria / Piazza dei Cavallieri), as the Treasury of the order of St. John was located on the square.
After, in 1887, in honor of the 50th anniversary of the reign of Queen Victoria, a statue of the Queen was erected on the square, the square became known as the Queen Square or Piazza Regina Square (Royal Square). At the moment, the official name of the square is the Republic Square, however, despite this, it is still called Piazza Regina.
The statue of Queen Victoria is located near the main facade of the National Library of Malta. On both sides of the statue are open-air cafes.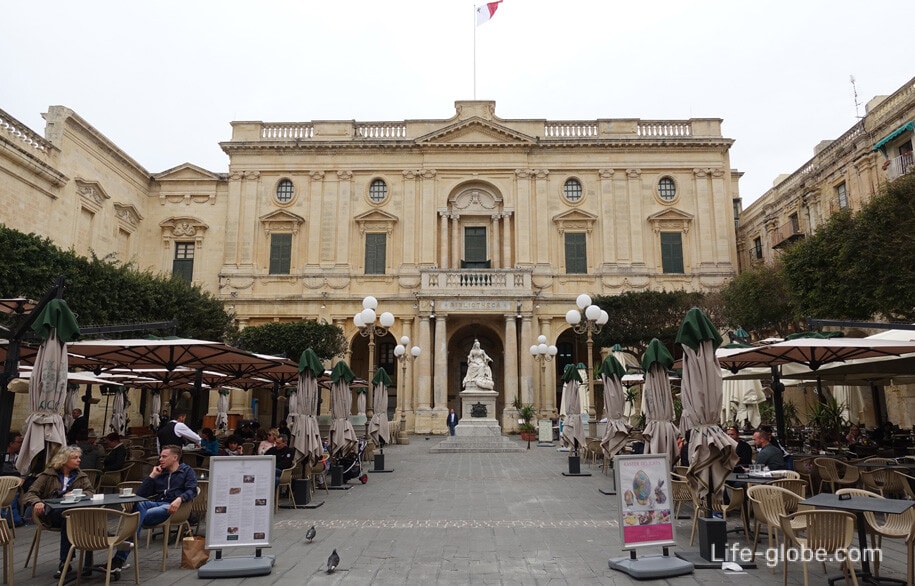 Opposite the library rises the house of the National Treasury (Casa del Commun Tesoro), originally built to house the treasures of the order of St. John. Part of the building had the first post office in Malta and for many years was used as government offices, hotel and cinema. Since the beginning of the 20th century there is a gentlemen's club, known as the maltese casino (Casino Maltese).
Casa-del-Kommin-Tesoro - two-storey structure along the most part of the second floor which is an outdoor balcony. On the ground floor there are several shops, including a café.
The building's interior includes ornate ceiling, Grand staircase and Central courtyard.
The North-Eastern side of Republic square is adjacent to the Palace of the Grandmasters, officially known simply as the Palace, which faces the large open space - the area of St. George. Read more about St. George's square in Valletta...