Menuda beach or de la Mar Menuda beach (Playa de la Mar Menuda) is the second most popular beach after Gran beach in Tossa de Mar.
The beach is located near the city center, is the Central city beach. On the Western side coast of the beach bordered by a rocky beach, del Reig.
Menuda beach awarded "Blue flag".
The length of the beach is 180 meters and its average width is 20 meters.
On the beach of coarse sand of light color. The beach cleanup is done daily. Sea water is clean and clear.
In the high beach season on the beach has all the necessary infrastructure: sunbeds and parasols (cost 7 Euros for a sunbed or umbrella; 19,50 Euro for two sunbeds and an umbrella), toilets and showers, urns, para rescue and first aid, a beachfront café-bar, also a dedicated area for water activities, there is a diving centre.
On the East side of the beach has large rock formations between which there is a small Bay, known as the "women's bath", which, thanks to its shallow depth and calm waters, ideal for bathing the little ones.
On the beach with beautiful views of the rocky promontory on which are located the most iconic landmark in Tossa's medieval old town surrounded by a fortified wall with guard towers (Vila Velha / Vila Vella). Read more about the castle of Tossa de Mar...
Along the beach the sea with direct access and two nearby beaches (Ray and Grand), there's a promenade (boardwalk), which is one of the most popular in those places for walking and recreation.
Along the promenade: cafes and restaurants, places to stay, hotels and a sports court. Nearby car Parking car rental in Spain...
From the Eastern end of the beach Menuda originate Hiking paths (trails) through which it is possible to walk along the Eastern coast of Tossa de Mar, to reach the coves and bona Floor, the distance will be 1.2 km and 1.8 km, respectively.
Where to stay near the beach Menuda
The 4-star Golden hotel Mar Menudais situated on the shore of the sea, direct access from the beach.
In hotel: the pool and sun terrace with direct beach access, free Wi-Fi, a bar and a restaurant.
The room price includes: Breakfast or Breakfast and dinner.
The 4-star Gran hotel Reymar & Spa Superior with an outdoor pool and a sun terrace, a hot tub, a Spa and tennis courts. It offers a panoramic view of the city of Tossa de Mar.
Room rates are included: Breakfast + dinner or Breakfast + lunch + dinner.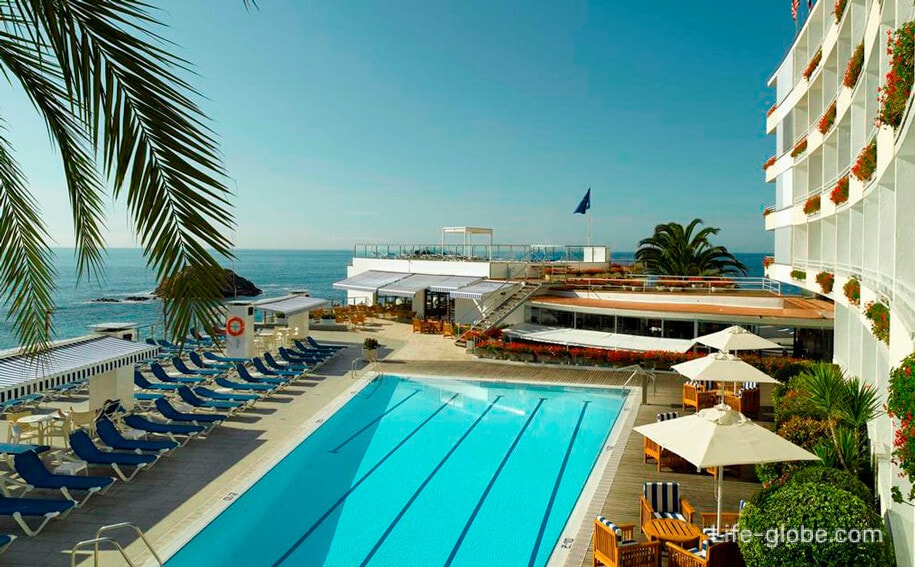 Holiday home Blanca Paloma overlooking the garden and sea, a seasonal outdoor pool, a garden, barbecue facilities and free Wi-Fi.
Features 3 bedrooms, a flat-screen TV, a fully equipped kitchenette with a dishwasher and a microwave, a washing machine and 2 bathrooms.
All accommodation in Tossa de Mar you can view and book here