The promenade of Blanes - long boardwalk, which is one of the main places for walks and recreation among locals and visitors alike.
The length of the promenade of Blanes is more than 3 kilometers. A promenade runs from East of the port of Blanes (beach, Santa Ana), then runs along the Central beach de Blanes and to the Western end of the beach'abanell.
Along the waterfront: places to stay; bars, cafés and restaurants; shops, refreshment stands, ice cream and beverages; children's playgrounds; sculpture and monuments offices, where you can find information and purchase tickets in one of the sea cruises, visiting a nearby resort towns (such as Lloret de Mar, Tossa de Mar, Malgrat de Mar, Calella etc.).
Conventionally, the promenade of Blanes can be divided into three sections:
Part 1 the promenade, runs along the port de Blanes (Port de Blanes), from the beach of Santa Anna and the beach de Blanes.
This part of the waterfront is the most green.
On the waterfront: plenty of cafes and restaurants, a yacht club, rental boat and car Park, a couple of playgrounds, a fountain, places for rest and a few sculptures.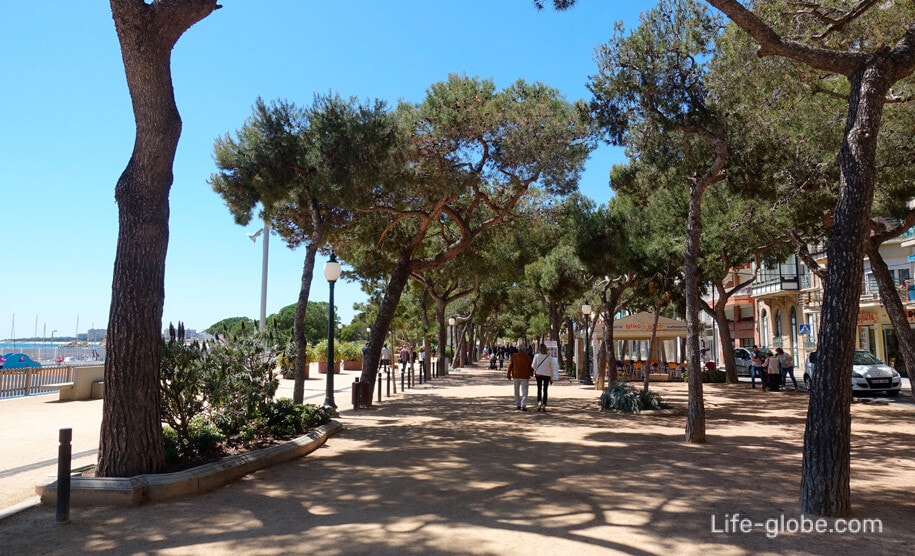 Monument (Monument Joaquim Ruyra), built in 1958 to commemorate the end of the day Ruyra (1858-1939 years), Spanish writer and poet who found in his ancestral home of Blanes, the inspiration for the creation of an extensive literary works.
Part 2 the promenade, runs along the beach of de Blanes, sea port and the rock of Sa Palomera representing natural landmark and symbol of the city of Blanes. On a cliff equipped with an observation deck. Read more about rock Sa Palomera...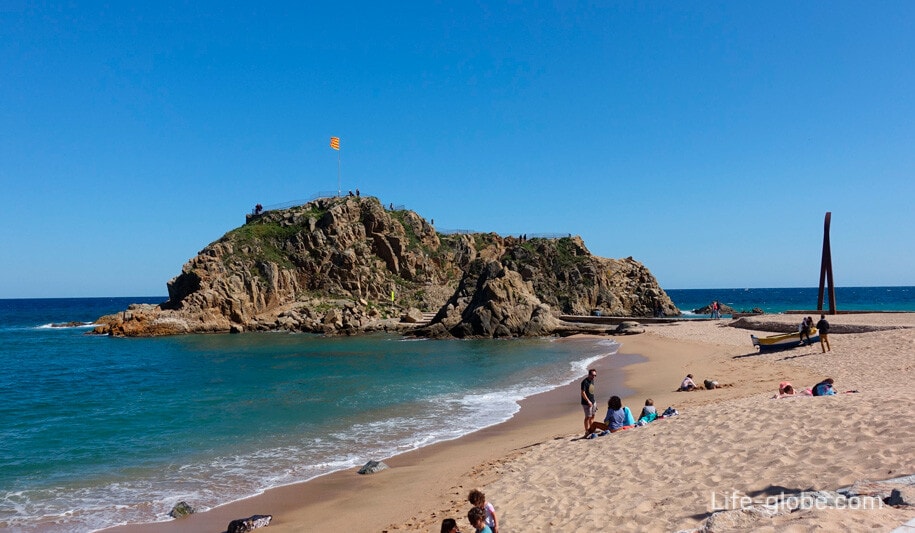 On the waterfront: a decorative fountain, places to stay, cafes and restaurants, play areas, kiosks with snacks and drinks.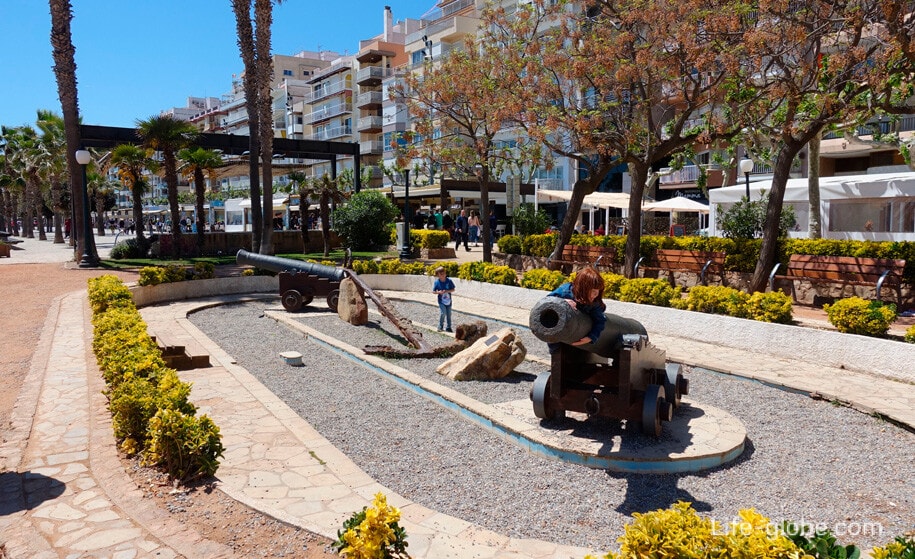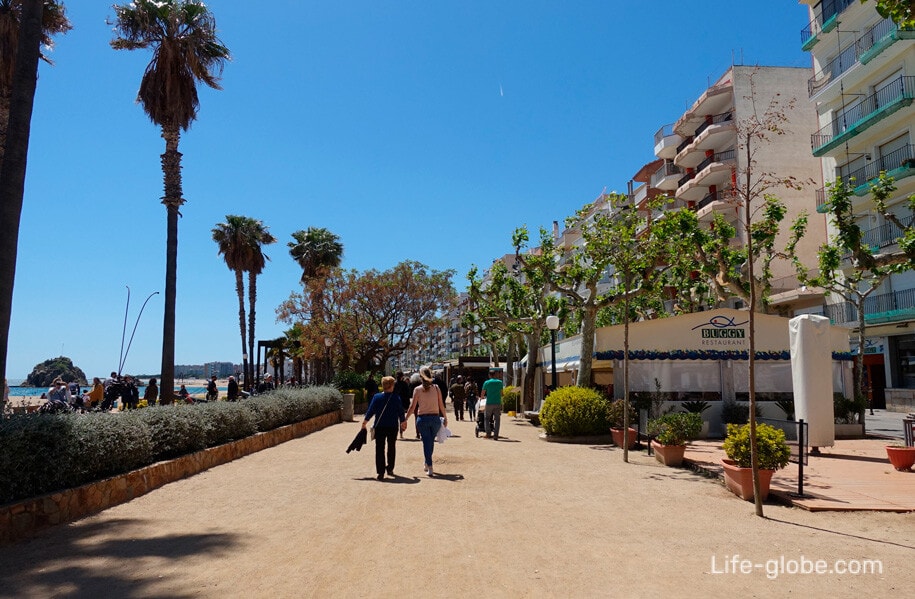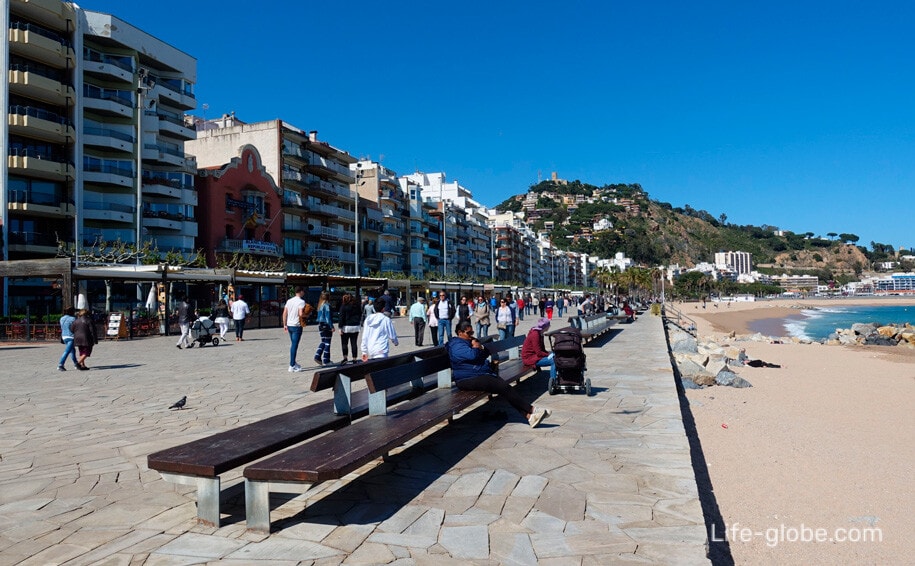 A remarkable sculpture of the Creator of the Marimurtra Botanical garden, Carl Faust (Monument a Carl Faust), who sits on the bench and drew eyes in the deep blue water.
On the West side of the promenade, near the ring road, bus stop. Buses to nearby resort town of Lloret de Mar.
Behind the promenade is a road on the opposite side where you find residential buildings, including apartments, cafes, coffee shops and shops.
The third part of the promenade runs along the beach of Abanel, from the cliffs of Sa Palomera and to the western tip of the city of Blanes.
On the boardwalk: playgrounds, recreational places, cafes, restaurants and retail outlets.
Behind the promenade is a road (there are Parking spaces for cars, car rental in Spain...) and the bike path.
Quite a pleasant place set among the more modern buildings is a small area of the Mare de DEU del Vilar (Plaça Mare de Déu del Vilar).
Area surrounded by low buildings painted in bright colors. On the same square there is a restaurant and cafe, located near the Sagrada Familia parish (Parròquia Sagrada Família).