Poplavok Lake, more precisely, Poplavok Pond is a small pond located in the center of Kaliningrad, in the Oktyabrsky district, between Engels and Chapaev Streets, Mira Avenue and Chestnut Alley.
Among the people, especially among Kaliningrad residents, the name Bread Lake is common. According to the stories of some local residents, the lake began to be called Bread in the early 50s, at that time there was a bread shop across the street from the pond.
You can also find the name - Gemini Lake. This name is rooted in history. The pond was created in the days of the Germans, at the beginning of the 20th century, when a prestigious and respectable area for wealthy residents - Amalienau - was being built in the western suburb of Konigsberg (a suburb earlier, now the city center). The pond served as protection from flooding of mansions. At that time, the pond was called Zwillings-See or Zwillingteich. After its appearance, the pond became one of the favorite places for walks and recreation of residents of the Amalienau district.
The German name Gemini Pond can be explained by the shape of the pond - it consists of two approximately equal halves, which are connected by several channels.
The pond received its current name Poplavok in 1949, after the war.
In 2013-2014, large-scale work was carried out on the reconstruction of the recreation area adjacent to the pond, within which the pond was cleaned, the banks were strengthened and the bridges and the embankment running around the pond were reconstructed.
This is a very picturesque and peaceful place. There is an embankment around the lake, there are places for recreation, a playground, bridges across the channels of the pond are equipped.
Ducks are swimming in the pond, a houseboat is installed in the center. Also on the lake you can see fishermen, they say there is a carp in the pond.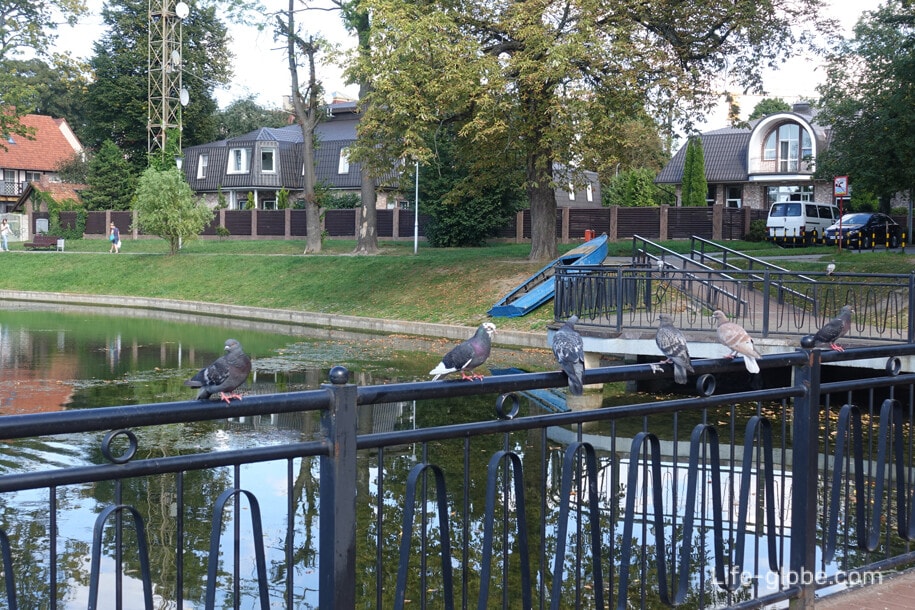 The pond is surrounded by low buildings of German construction, and new houses being built in the same style.
All of the above makes the Float Lake a very interesting and pleasant place for walking and relaxing. Kaliningrad guests have a great opportunity to combine walks around the lake with a tour of the former Konigsberg district of Amalienau - one of the oldest and well-preserved German districts of Kaliningrad.
You can visit the Amalienau area on your own or with one of the excursions from Kaliningrad guides: