Pilate's House (Pilatushaus / Pilatushaus), also known as the "house of the man in armor" (Haus zum geharnischten Mann) is a city house that is an example of half-timbered houses in Nuremberg.
It is one of the few surviving town houses in the late Gothic style and one of the most important architectural monuments of the old city of Nuremberg.
The house is included in the tourist route "Historical Mile of Nuremberg" (Historische Meile Nürnberg).
The house in the late Gothic style was built in 1489 and originally belonged to an armory blacksmith (Plattner) Hans Grunwald, who made knight's armor and equipment.
For this reason, the house was also called the "house of the man in armor". On the southeast corner of the building there is a statue of St. George, dressed in knight's armor and standing on a defeated dragon.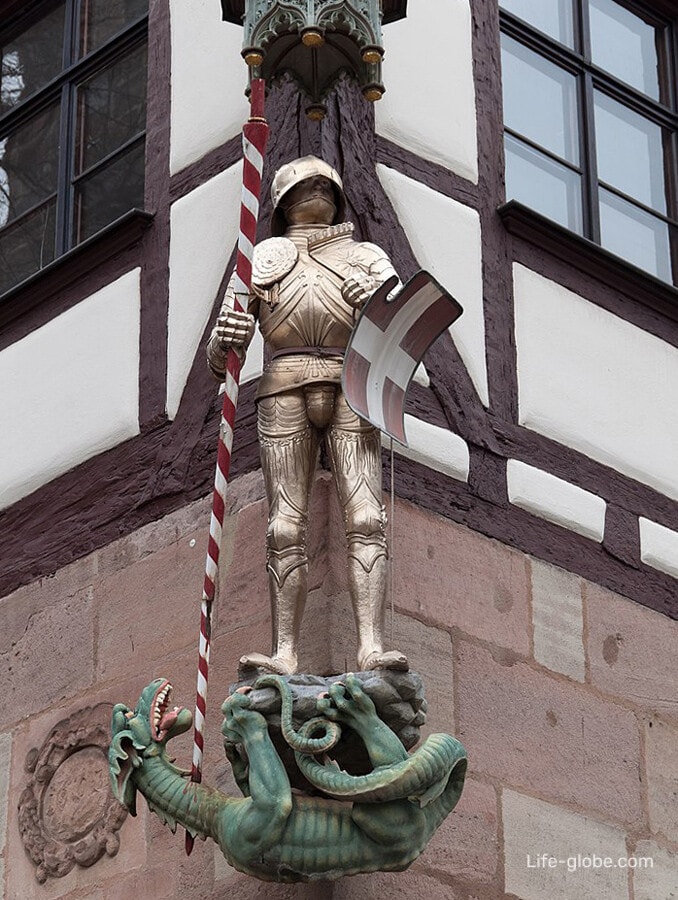 In 1507, the house was bought by the sculptor Veit Wirsberger, after which the building often changed hands.
The building got its name "Pilate's house" in the 17th century, when it was considered the starting point for the "Way of the Cross of Christ" - a series of bas-reliefs created by the German sculptor Adam Kraft and installed along the path leading to the cemetery of St. John (St. Johannisfriedhof).
Hans Freiherr von und zu Aufses, founder The German National Museum in Nuremberg (Germanisches Nationalmuseum), lived in the house from 1852 to 1857. The family coat of arms above the entrance to the house dates back to 1853.
Since 1931, the building belongs to the city of Nuremberg. Today the house is used for temporary exhibitions of contemporary art.
In total, the house has seven floors. The first floor is made of sandstone. Three main and three attic floors of the house were built using half-timbered technology. In the upper part of the pediment, and partly on the gable roof, there is an octagonal bay window with a concave pointed roof-turret.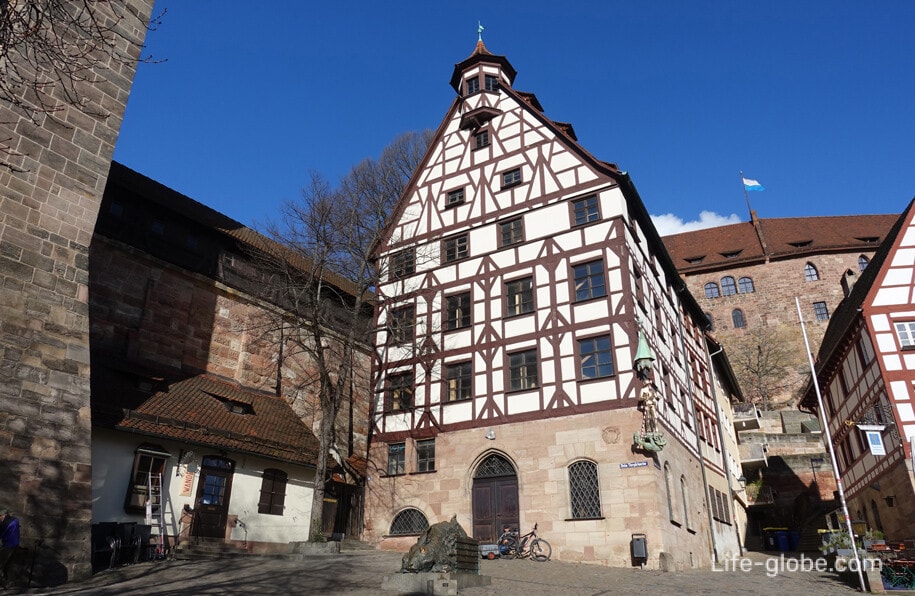 Pilate's House is located on the northwestern outskirts of the historic old town of Nuremberg, on the cozy Tiergärtnertorplatz square, surrounded by old townhouses, together with which it creates the impression of a common building ensemble.
The Tiergartnertorplatz square is also home to: the Tiergartnertor gate and tower (Tiergärtnertor), the Albrecht Durer House Museum (Albrecht-Dürer-Haus) and the sculpture of a huge hare - "Durer's Hare" (Dürer-Hase Skulptur).
Photo of the Tiergertnertorplatz square. Pilate's house is on the left, visible behind the buildings Nuremberg Fortress
Near Pilate's house, you can stay at the Dürer-Hotel with a garden, a bistro bar, free Wi-Fi throughout, parking, a fitness center, a sauna and a steam room.
The rooms are equipped with a minibar, a flat-screen TV and a private bathroom.
A buffet breakfast is included in the room rate. Link to the hotel
All accommodation facilities in Nuremberg, including in the city center and near Pilate's house, can be viewed and booked here