The shooting house, also known as the men's shooting house or shooting range for men (Herrenschießhaus / Herrenschiesshaus) is a historic house in the old town of Nuremberg, which today is a landmark of the city and is part of the tourist route "Historical Mile of Nuremberg" (Historische Meile Nürnberg).
The building was built for the Nuremberg Rifle society by the master builder Hans Dietmayr from Schaffhausen in 1582-1583, above the existing shooting range (which was erected, presumably in 1462), near the moat where the penultimate city fortifications were located.
Shooting societies or shooting clubs were associations engaged in shooting sports, which originate from the late Middle Ages, when local residents had to defend themselves from the attacks of the authorities. St. John's Rifle Company (Büchsengesellschaft zu St. Johannes) was founded in Nuremberg in 1429.
When the penultimate city wall of Nuremberg (whose gate tower, the Laufer Gate Tower, is still visible nearby) was no longer used for its intended purpose, the moat was not filled in, but continued to be used as a shooting range at the shooting house.
The restored shooting house and the former moat-shooting range on the north side of the house have survived to this day.
Typical Renaissance elements are visible in the architecture of the house: a horizontal structure without protruding parts of the building, an arched strict portal with a triangular pediment and pilasters, as well as a side pediment with snail curls.
On the massive pitched roof of the building, windows and two bay windows are distinguished, decorated with patterns and pointed roofs that look like turrets.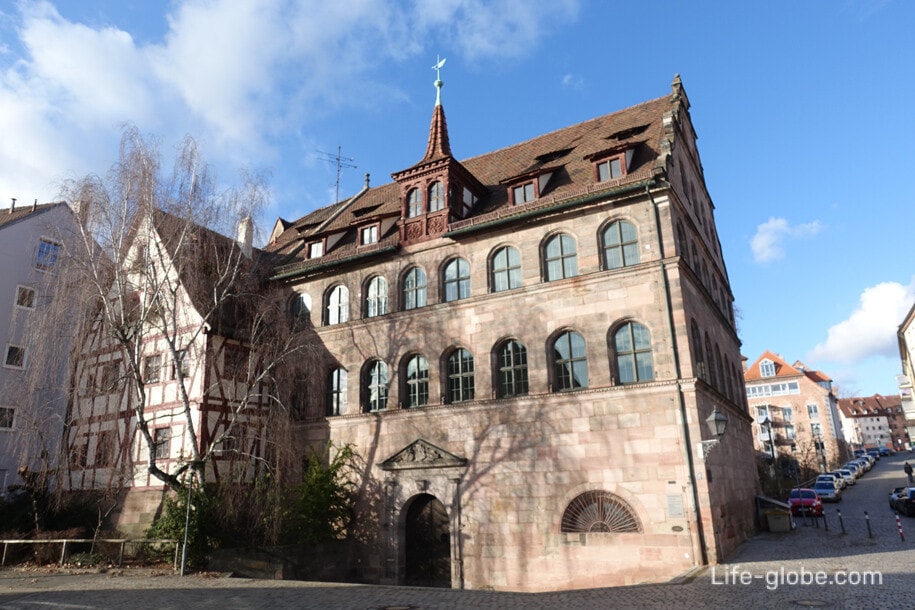 The arched basements (column hall) of the former shooting house, which are visible from Grübelstrasse, overlook a 90-meter-long shooting trench. Excavations of the penultimate city fortifications of Nuremberg.
A sign on the building of the former shooting house
Since 1808, the building of the rifle society has been used as a military hospital, since 1905 - as a school. Today there is a training center, an office of culture and leisure within its walls.
Practical information
The house of the former rifle society is located in the north-eastern part of the historic old town of Nuremberg, on Am Sand Square, at the address: Am Sand, 8.
The sculpture "Blue Riders" (Blauer Reiter) is also notable on the square.
View of the Am Sand Square
All accommodation facilities in Nuremberg, including in the city center and near the former shooting house, can be viewed and booked here