The Anna mine is the former Anna amber mining mine, which was founded in 1883 in the village of Pilmniken (now the village of Yantarny, Kaliningrad region).
The Anna mine became the most productive (the second mine was Henrietta, founded in 1873). The sinking of the mines entailed the construction of a complex of superstructures, including a railway.
Since 1922, due to unprofitability, work began on the conservation of the mine, and soon the production was closed. By the early 1930s, amber mining began to be carried out in an open-pit manner using quarries, some of which have now filled with water and are lakes.
Currently, only very small remnants remain of the Anna mine, including the remains of the Anna mine retaining wall, above which there is a small observation deck - the Anna Mine observation deck. There is a mock-up of the entrance to the Anna Mine in Yantarny, which is located in the complex of the observation platform of the Primorsky open-pit amber mining.
The observation deck above the wall of the mine "Anna" is located near the northern border of the village of Yantarny. Passage to the site along the path from Sovetskaya Street.
The site itself is a small piece of soil.
View of a part of the wall from the observation deck
The site offers panoramic views, including the coast, quarries, part of the beach strip and the Baltic Sea. Read more about beaches in Amber (Blue Flags)…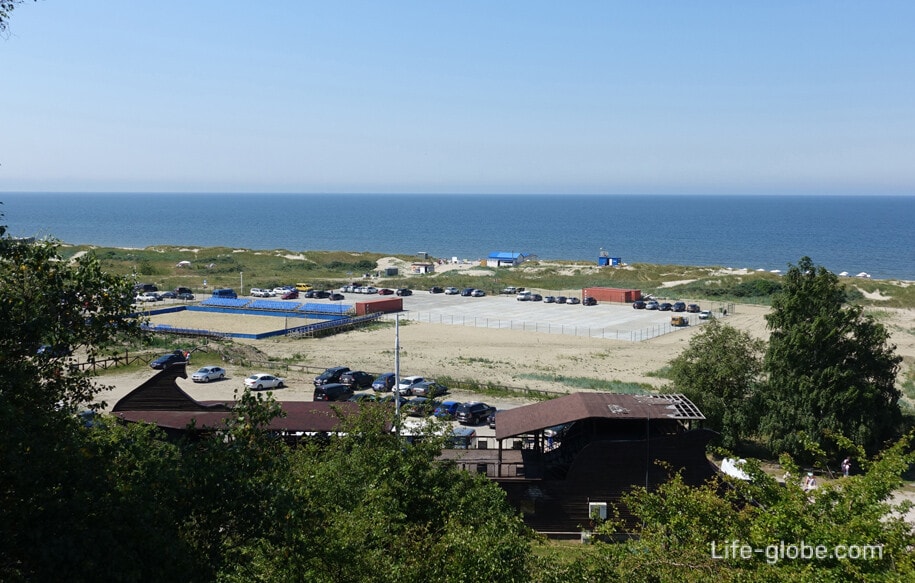 Also visible from the site is a monument to the victims of the Holocaust - a memorial to the victims of the "Death March", which was installed in the village of Yantarny in January 2011.
The monument is designed not to forget about the tragedy that occurred in January 1945, when several thousand people were shot on the shore of the Baltic Sea. Learn more about the monument to the victims of the Holocaust...
All accommodation facilities in Yantarny, including near the beaches and in the center of the village, can be viewed and booked here