The promenade in the village of Yantarny, Kaliningrad region, was opened in August 2014 as an object of tourist infrastructure and since then has been one of the attractions and a popular place for walking and relaxing in Yantarny.
The promenade was built within the framework of the international project "Amber Coast of the Baltic Sea" under the program of cross-border cooperation "Russia-Poland-Lithuania".
The promenade is completely pedestrian, made of Siberian larch, has wooden railings. The promenade is often called the embankment in Amber.
The length of the promenade is just under 2 kilometers. Decorative lanterns are installed on the promenade, there are places to rest and urns.
The amber promenade stretches parallel to the sea line in the south-north direction. On one side of the promenade there is a long sandy beach strip and the Baltic Sea, and on the other - dunes, vegetation and the Becker Park.
The promenade in Yantarny connects two beaches with the Blue Flag award: the Central Beach, from the central descent to the sea from Becker Park, with the Anna Mine beach. More about beaches in Yantarny...
View of the central descent to the sea, the Central beach, the Baltic Sea and the southern end of the promenade (left)
There are playgrounds and summer cafes near the Central beach near the promenade
A ramp-shaped ascent leads from the promenade to Becker Park, convenient for people with disabilities, the elderly and parents with small children in strollers.
From the lift there are views of the promenade itself, the beach and the sea
Promenade next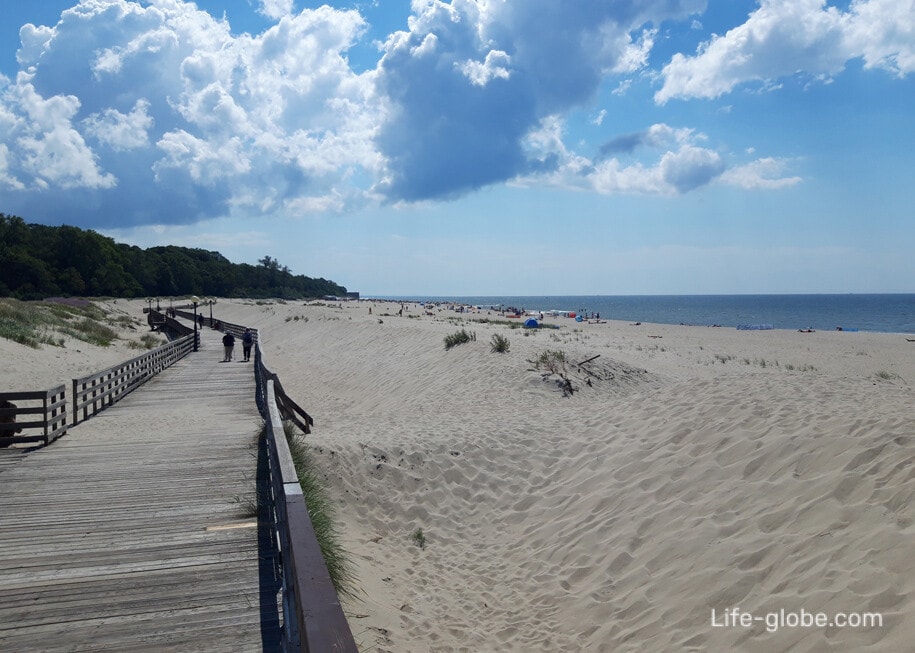 On the hill there are residential houses and cottages, to which stairs lead from the promenade
The 700-meter part of the promenade runs over the lake, which was formed from a spent and flooded quarry for the extraction of amber. There are square ledges with benches on the promenade.
The water surface of the lake runs on both sides of the promenade. Fish are splashing in the lake, ducks and snow-white swans are swimming.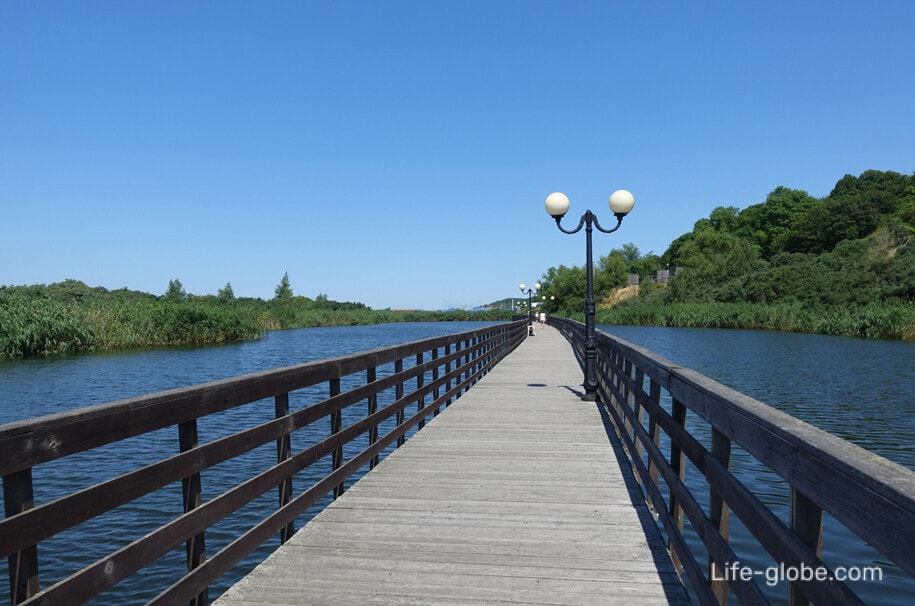 The northern end of the promenade, near the beach "mine Anna"
All accommodation facilities in Yantarny, including near the promenade and beaches, as well as in the center of the village, can be viewed and booked here