Milan is the recognized capital of Italian fashion and style. Many people come to Milan, not only for the sights and exploring the city, but, above all, for the sake of luxury shopping.
And it's true, Milan can become a haven for shopaholics and all those who love beautiful and stylish dress. On the streets of Milan city centre, everywhere you look, the eyes will enjoy the numerous shops, boutiques and salons, with bright and glittering shop Windows so enticing passers-by.
In Milan many places to shop, and shopping is completely different directions - here furniture stores, jewelry stores, boutiques of clothes, shoes and accessories, as well as just plain stalls with various goods and Souvenirs.
However, among this variety there are a couple of places, most of the places where you will find a cluster of the most fashionable and expensive boutiques with the most prestigious brands of clothing, shoes and accessories.
Golden quadrilateral in Milan
Golden quadrilateral of Milan, or as it is called Golden square of Milan (Quadrilatero d'oro) is the most prestigious, most elite and most expensive place for shopping in Central Milan, a 10-minute walk from Milan Cathedral.
The fact they call themselves the Golden square, the prestigious shopping area of via Montenapoleone!
Out of habit, this place called the quadrangle, but it is no longer a quadrilateral, and more.
Now, earlier on, it really was a quadrangle, consisting of the streets: Via Monte Napoleone, Via Borgospesso, Via della Spiga and Via Sant'andrea. However, according to streets, with full confidence, can be attributed to the streets of Santo Spirito and the Gesu, passing just in the center of the quadrangle. And the street Monte Napoleone is not only the main street elite melenkogo shopping, but, most importantly, an elite part of the street ends at the intersection with the street of Sant'andrea, and continues to the street Corso Giacomo Matteotti. So, Golden shopping street in Milan does not have the shape of a quadrilateral, it is rather irregular quadrangle (flag, letter "P"). But, in our opinion, all these details don't matter, because the streets are in scope, and while walking through it, you will not passing any boutique.
On the streets are collected the pearls of world art design as Gucci, Versace, Louis Vuitton, Moschino, Prada, TOD's, Bulgari, Chanel, Dior, VALENTINO and many others.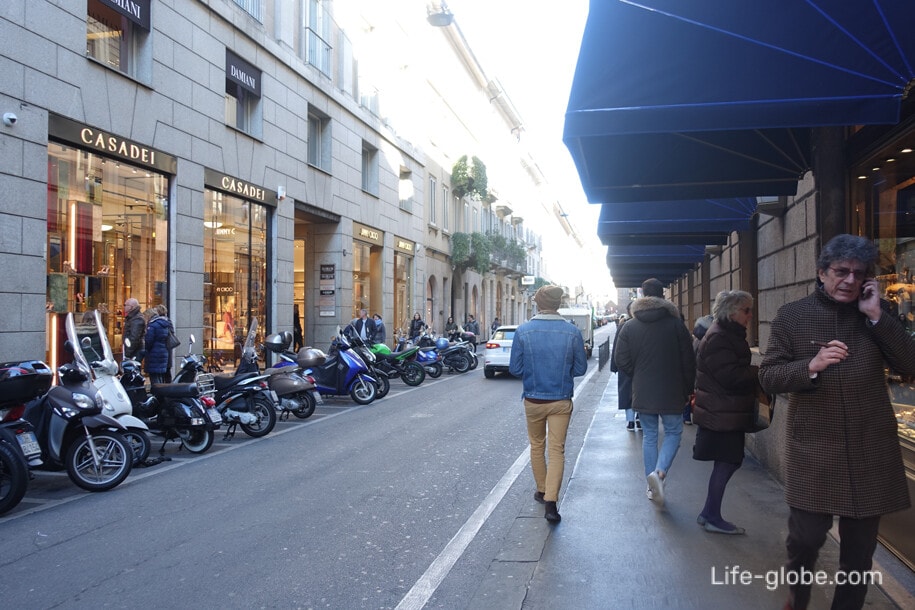 In addition to salons and luxury boutiques in the quadrangle restaurants and hotels.
Luxury hotels in the most exclusive location in Milan, what could be better to host if you come to Milan for shopping:
- 5-star Four Seasons Hotel Milano. It offers luxurious accommodation and free Wi-Fi throughout. Guests can enjoy a Breakfast buffet with sweet and savoury products, including pastries, hot/cold drinks and cold meats. In the hotel's 2 restaurants have Sunday brunches and wine tasting events with fresh local products.
- 4-star Hotel Manzoni. All elegant rooms have an LCD TV, a Minibar and an elegant private bathroom. The floor is made of wood. There is a small restaurant Don Rodrigo restaurant serves Italian and international cuisine. Here you can also order dishes of Milanese cuisine and the best Italian wines. Furthermore, at guests ' disposal a Wellness centre with a modern fitness room, Turkish bath and hot tub.
Near the shops is possible to see cars (and less expensive cars), near which many photographed))
Galleria Vittorio Emanuele II in Milan
Another interesting place for shopping in Milan may be the Galleria Vittorio Emanuele II (Galleria Vittorio Emanuele II), located in close proximity to the main attractions of Milan - Duomo.
The gallery is a passage where, though not such elite boutiques, but the shops of famous brands at more affordable prices. In addition to the shops in the gallery are many cafes, restaurants and eateries. There are luxury 5-star TownHouse Galleria luxury design rooms with a balcony and modern appliances, mini-bar and flat-screen satellite TV with pay-per-view.
In addition, this gallery is beautiful in itself, walk along it, admiring the beautiful architecture and elegance, of course, is everyone who decided to visit Milan.
The building of the passage has the shape of a Latin cross, consists of two glass-vaulted arcades with octagonal center adorned with mosaics depicting the four continents, as well as allegorical images of art, agriculture, science and industry. Milan shopping gallery connects the square in front of the Duomo Cathedral with the square in front of La Scala theatre.
The Golden quadrilateral and the Galleria Vittorio Emanuele II on the map
All accommodation facilities in Milan, including in the city center and more remote from it, can be viewed and booked here