Sicily (Sicilia) is a part of Italy, which includes the eponymous island of Sicily, which accounts for 98% of the territory and the nearby small Islands: the Aeolian Islands, Pantelleria, Pelagie, Ustica and the Egadi.
The island of Sicily is washed by three seas: the Tyrrhenian to the North and North-West; the Mediterranean in the South and South-East, the Ionian in the East. Because Sicily is located at the confluence of three seas, the Tyrrhenian and the Ionian sea are parts of the Mediterranean sea, it is possible to meet a mention of the fact that the coast of Sicily by the Mediterranean sea, which, in principle, to some extent, is also true.
Sicily - an island of contrasts! Currently, Sicily is one of the least economically developed regions of Italy, so on the island, especially major cities, you can see the dirt, garbage and poverty, the homeless dogs and stinking overflowing trash, thereby discerning traveler Sicily might not seem the most impressive place. On the other hand, such a "mess" is based in large cities, such as Palermo, Catania or Trapani, but in a small resort regions is quite clean and well maintained.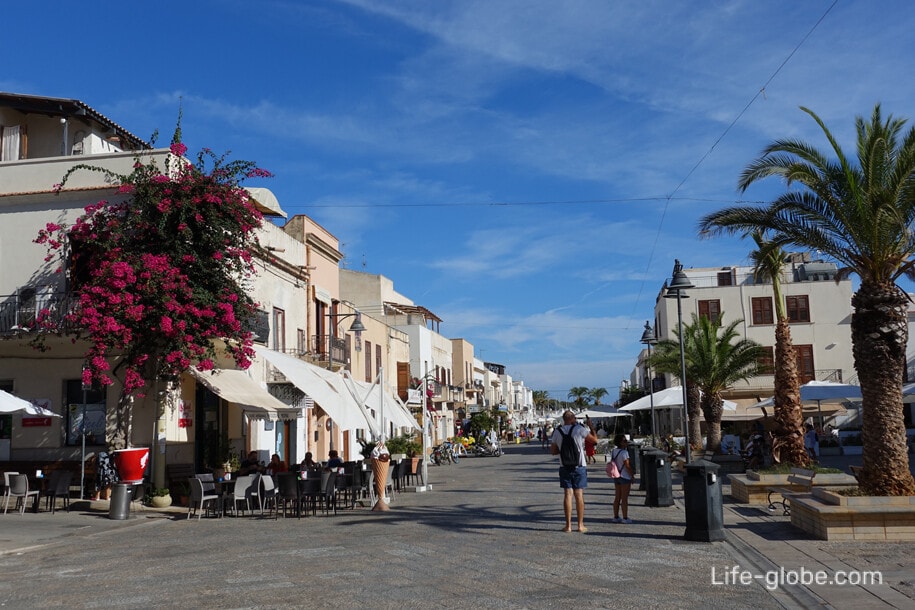 Nevertheless, the majority of tourists travel to Sicily is not it! The island is just a great atmosphere inherent only in Sicily, which is unlikely to enjoy the Italian mainland. Here, carefree and whistling a simple explanation Sicilians into the open and sociable people. Plus beautiful nature, sometimes simply amazes with its power. No, the abundance of greenery in Sicily you will not meet, but lovers of mountainous and hilly reliefs, Sicily is sure to delight.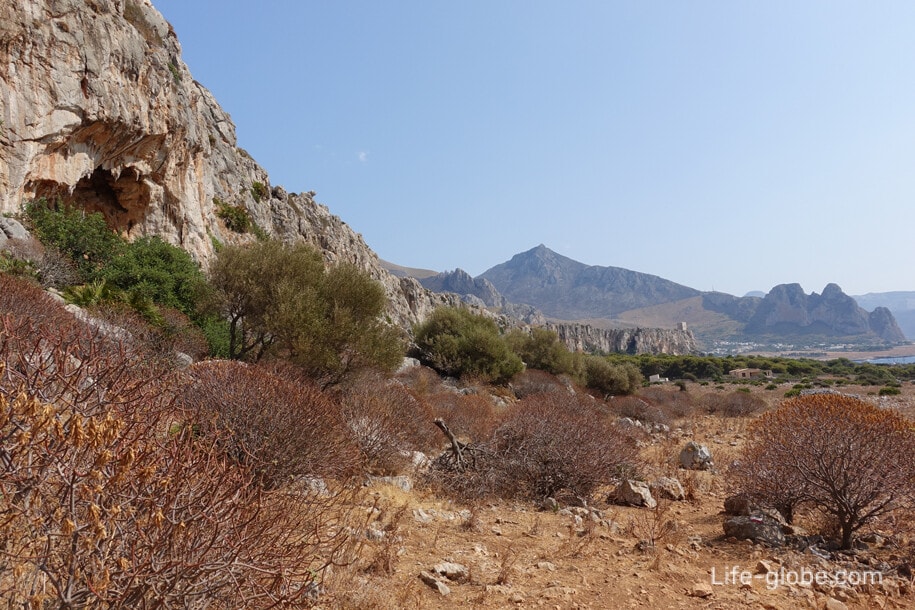 Sicily is also attractive for its rich history and interplay of the many cultures reflected in its architecture and in the cuisine. Besides, it is necessary to note the mild Mediterranean climate, a considerable number of good beaches that are as diverse as Sicily itself. There are beaches with white fine sand and transparent sea water sky blue color (for example, San Vito Lo Capo, Mondello and Marina di Ragusa), as well as pebble, prevailing in Taormina and the beaches with black hardened volcanic rock, which can be in abundance to meet near the Etna volcano, for example, in Catania.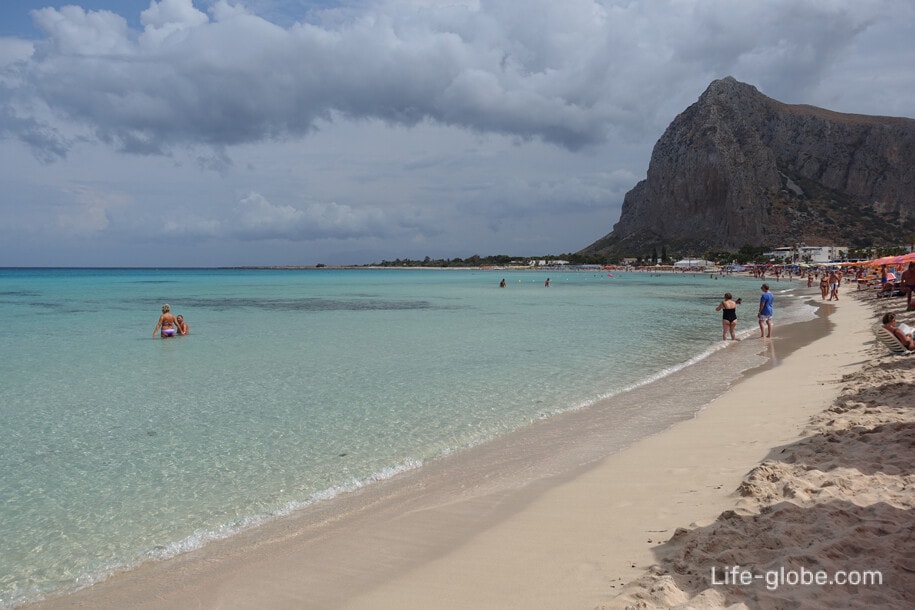 In addition to a beach holiday Sicily offers a huge number of natural and historical sights, has long been included to the top best attractions, not only in Italy but also in Europe. On the island together entwined Greek and Roman amphitheaters, monuments of more recent history, many churches and cathedrals, its impressive interiors and breathtaking panoramic views. Why are only: Siracusa, cefalù, Agrigento pearl of Sicily's most picturesque town of the island - Taormina; the rise of the active and the highest volcano in Europe - Etna; sea walk at Agdscam Islands; visit the medieval town situated on top of a mountain - Erice, and the famous villages of Forza d'agro and Savoca, where they filmed scenes from the movie "the Godfather" or Museum of the dead, where in the clear the remains of more than eight thousand people. To continue indefinitely, but one thing is for sure - Sicily is beautiful in its own way, but inherent in its character it is impossible even to imagine is not personally feel all the disadvantages and externals of this incredible (in the literal sense of the word) of the island!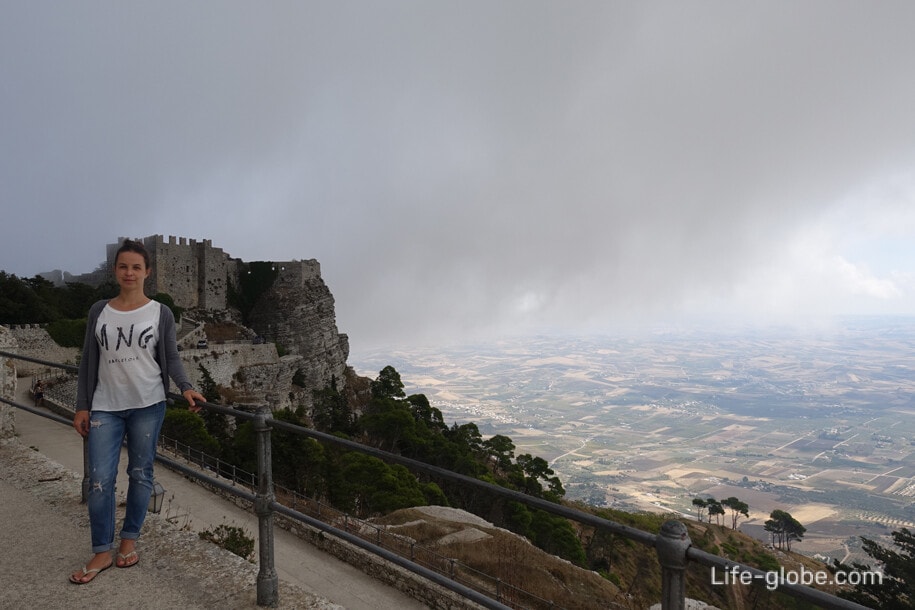 Sicily is among the top most beautiful Islands in the world! We wouldn't say that. Amazing variety - YES! Interesting and unique, too, YES! But not one of the most beautiful.
As for prices in Sicily - they are unjustifiably high. A holiday in Sicily will not consider a budget, advertised in the resort areas the prices are high, whereas in large and maturities places very modest. So, a dinner of fish, two shrimp on each + two glasses of wine, water, pizza and coffee in Mondello a cost of 70 euros. Pasta restaurants in Taormina costs from 10 to 13 euros per serving, a glass of local beer - an average of 4 euros, Paulaner - 10 euros. Sicilian pizza from 5-7 euros. Coffee on average, 2 euros, 2 Euro croissant.
Not in the tourist areas of major cities such as Palermo or Catania, you can find pasta or pizza for 3-6 euros.
You can dine in a local family trattorias, the food in such places will not be served in the restaurant, and will not be as tasty but more affordable and very atmospheric. To go at least once suggest. Here's a lunch + drinks cost 20 euros.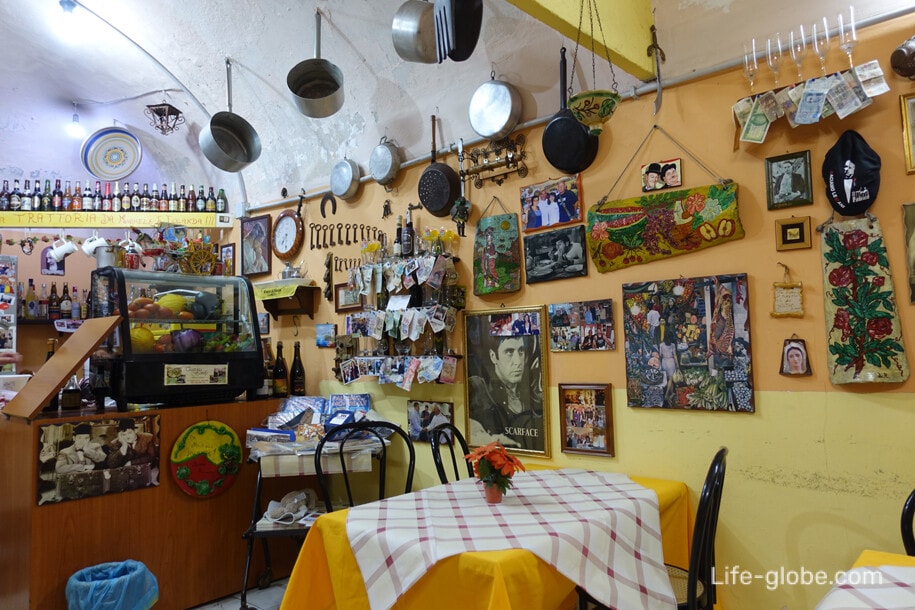 Arancini or rice balls with various fillings, mostly cheese and Bolognese - 2-3 euros per share, Sicilian cannoli - 2-3 euros a piece of pizza for the same price. The street food of Sicily is given special attention, but honestly, we rather not like it. And not too much, mostly sold in small establishments called Pasticeria. We are especially fond of: the Sicilian cheeses and cannoli, ice cream and granite (ground ice with sugar, something similar can be found in many corners of the earth).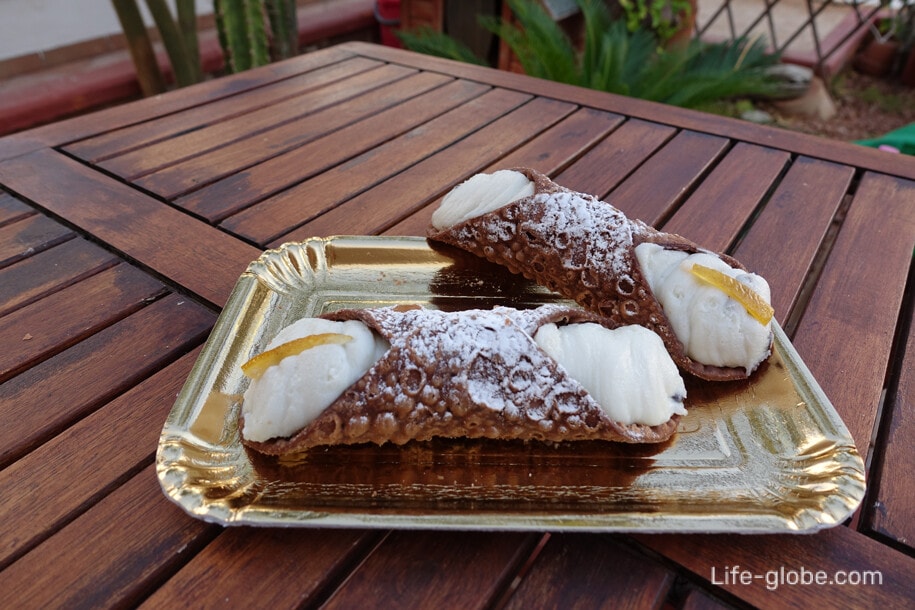 Most food service establishments closed for Siesta, the time is always different, from approximately 13:00 to 17:00 hours. But in tourist areas you can always find places, ready to receive guests at any time of the day. On Sunday some supermarkets and shops do not work, but as with dining, there's always a couple of other open doors.
From the local population English is known to many, though not good, but also to understand each other. And there are those who did not understand English and this applies not just to local residents, as well as those who work in the tourism sector (in hotels, shops, restaurants and cafes). Again, this gives translators that can be downloaded to the gadgets now abound.
To summarize personal views about Sicily,
Sicily in front of us stood a very interesting and diverse island, where probably everyone can find something to their liking, ideally combining beach and rich informative, natural, historical and architectural attractions.
It's best to travel around Sicily by car will appear mobility, and the opportunity to visit many interesting places of the island. To pick up a car to see the rental prices here.
Tickets to Sicily
The fastest and most comfortable way to get to Sicily is, of course, by plane. Airports in Sicily (Palermo, Catania, Trapani, Comiso) accept direct flights from many countries.
There are many options to get to Sicily with transfers in mainland Italy (e.g. Rome, Pisa, Naples) or to arrange flights via European cities (for example, via Kaunas, Amsterdam, Warsaw, Brussels, Prague, Bratislava, Barcelona, Frankfurt, Baden-Baden, etc.). Flights with stopovers, basically, are not only cheaper, but also carried out all year round. Cheap you can look here.
Accommodation facilities (hotels Sicily)
Next, you need to book a hotel or hotels, whichever route across the island you plan. Hotel chains of Sicily presents just fine. Here you can find a variety of options: from budget to quite luxurious. Also a very great choice of accommodation: you can book a room in the hotel, but also the whole holiday home or Villa, guest farm or holiday house; family accommodation; bed in a hostel - the budget accommodation; or the apartment, called apartment, which is very convenient as it offers an equipped kitchen, and Botel, chalets, camping sites, lodges, or maybe tent?
All accommodation facilities in Sicily, you can view and book here
Taxi/Shuttle service
After bought the tickets, built the route and booked the hotels, got to think about how to get from the airport to the first (or only) means of accommodation. It may be, as already mentioned above, your rental car, public transportation or taxi/Shuttle.
Shuttle service from airports to cities and resorts in Sicily - the most comfortable, fast and convenient way to get from the airport to the hotel. Taxi/transfer service can be booked in advance, even from home. When you order a taxi at any time of the day, at the airport, immediately upon arrival, you will meet your driver with a sign, which will be written your name and surname. For taxi is enough to tell us your flight details!
Public transport
As for public transport in Sicily, he developed quite well, and even at such you can comfortably move around the island. However, at weekends and on public holidays, public transport often does not go to small remote resorts.
To see the routes of trains (trains) in Sicily, as well as purchase tickets here.
Currency
Italy is in the Euro zone, so, today, the official currency of Italy (Sicily) is the Euro (€, EUR).