The Upper Dyuden Waterfall (Yukarı Düden şelalesi), also known as Dyudenbashi Waterfall and Iskender Waterfall (Düdenbaşı Şelalesi, İskender Şelalesi) is a picturesque cascade of waterfalls in Antalya, which is located in a shady park with terraces, a grotto and beautiful landscapes.
Duden Waterfall is one of the brightest and most visited attractions of Antalya.
The source of the waterfall are karst springs, united under the names Kyrkgezler (Kırkgözler) and Pynarbashi (Pınarbaşı), which gather in a stream through channels to the turbines of the Kepez hydroelectric power plants, and then, through an artificial channel, reach a place called Dyudenbashi, where the old riverbed originates and the Upper Dyudensky waterfall is located.
The Upper Duden Waterfall is a cascade of several waterfalls that flow into the Duden River from a rocky cliff designed as a grotto (cave), where you can walk behind the waterfall and admire the views of water flows from the back of the waterfall.
The height of the Duden waterfalls is 27.5 meters.
It is said that Alexander the Great, who conquered Pamphylia in 334-333 BC, watered his horses while passing through this place. For this reason, the Upper Dudensky Waterfall is also called the Alexander the Great Waterfalls.
A park with vegetation has been created around the waterfall, there are rocky steps and terraces from which picturesque views of the waterfalls open. There are also places for recreation and picnics, a cafe, a souvenir shop and toilets in the park.
This park with waterfalls is a popular place for recreation and walking among the guests of the city.
P.S. In the southern part of Antalya, 15 kilometers from the Upper Dudensky Waterfall, there is a 40-meter The lower Duden waterfall, which falls into the Mediterranean Sea.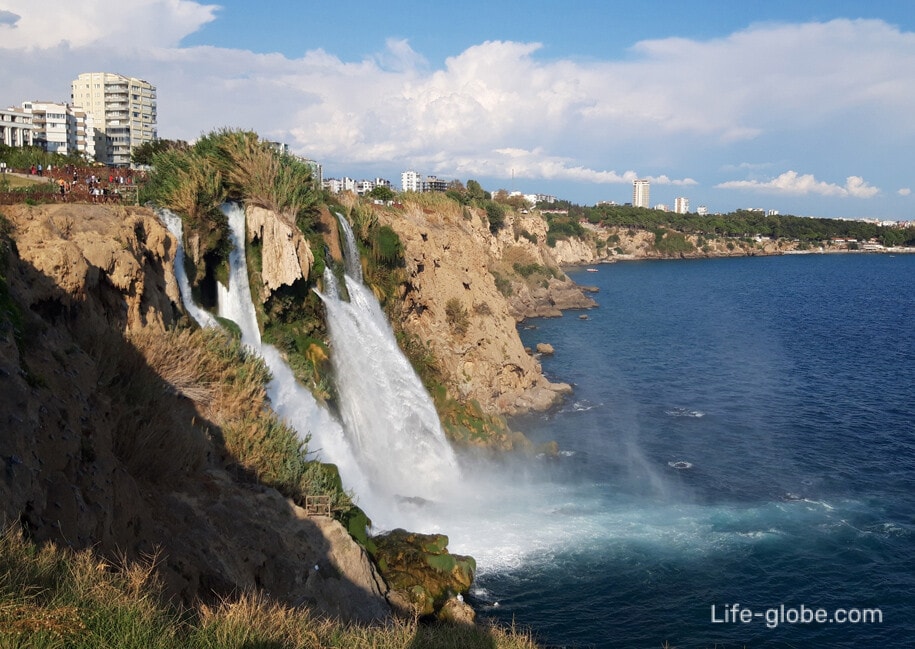 Practical information
Entrance to the park of the Upper Duden Waterfall is paid.
Address of the Upper Duden Waterfalls: Varsak Mahallesi Düden Şelalesi Parkı içi, Kepez/Antalya, Turkey.
When visiting waterfalls, you need to be prepared for slippery wet surfaces, so you need to wear suitable shoes.
From different areas of Antalya to the steam with waterfalls can be reached by public buses, also by tram T3, and then walk one and a half kilometers, taxi or car. Rent a car in Antalya (all places, including the airport and the city center) →
All accommodation facilities in Antalya (hotels, apartments, villas, guest houses, etc.), including near waterfalls, beaches, in the historical center of the city and more remotely from those, can be view and book here