Currently, mineral water is dispensed to the doctor's appointment in the sanatorium book (information for March 2022).
In addition to beaches and beautiful coniferous nature, the resort town of Svetlogorsk is famous for its useful mineral springs. The healing properties of Svetlogorsk springs have long been proven and are widely used by doctors. All mineral waters in the city are different in composition and, accordingly, application.
Many mineral waters of Svetlogorsk belong to the drinking therapeutic canteens. All these waters are used both for drinking for medicinal purposes, and in swimming pools, showers and baths.
Anyone can drink mineral water and improve their health in Svetlogorsk, even if you do not live in any sanatorium, for free. To do this, a drinking pump room with mineral water is installed in the very center of the city, on Lenin Street.
In this pump room, anyone can try table mineral water, warm or cold to choose from.
Water containers must have their own. Mineral water in the pump room is released into dishes with a capacity of no more than 0.5 liters.
Go into the pump room, go to the taps with mineral water, tell the girl what kind of water you want - cold or hot, she opens the right tap, and you type water into your bottle or cup.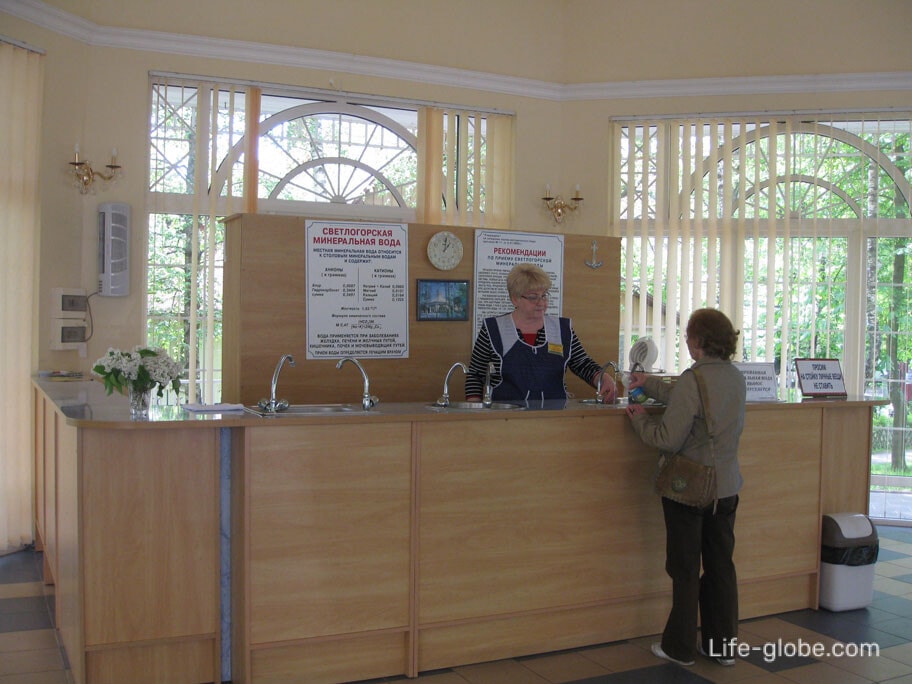 The taste of mineral water from the Svetlogorsk pump room is ordinary, without any smells or tastes, maybe only somewhere very far away there is a slight taste of mineral water. But, despite this, we do not recommend abusing water, nevertheless it is therapeutic, and overkill with any, even the most seemingly harmless medicine, is fraught with adverse consequences.
The water from the pump room in Svetlogorsk is especially useful for people with diseases of the gastrointestinal tract, biliary tract, liver, kidneys and urine excreting pathways. !!!This water is not only curative, but also choleretic, diuretic and laxative!!!
Composition and recommendations for the reception of Svetlogorsk mineral water in the pump room:
These are the signs with instructions hanging in the pump room itself: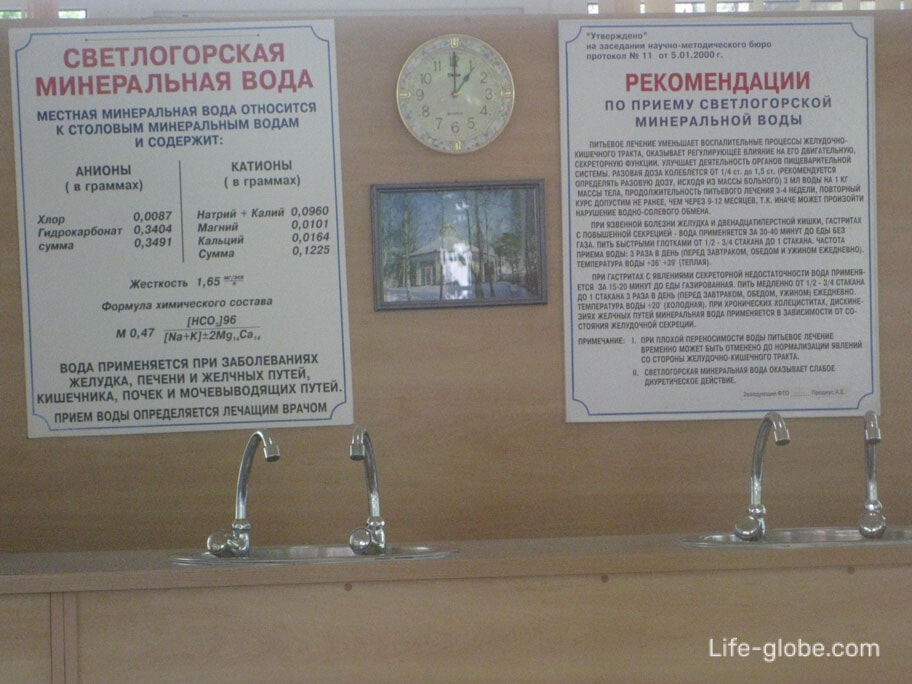 Opening hours of the pump room with mineral water in Svetlogorsk:
The pump room is open to everyone every day. Opening hours: from 08:00 to 10:00, from 13:00 to 15:00 and from 17:30 to 19:30 hours. The time may vary, however, no matter how much we came to Svetlogorsk, the pump room always worked strictly according to the specified schedule.
Location of the Pump Room in Svetlogorsk:
The pump room is located on Lenin Street, just behind house 14, between Oktyabrskaya and Tsentralnaya pl.