The Sackheim Gate in Kaliningrad (German name Sackheimer Tor) is one of the seven surviving city gates of Konigsberg (now Kaliningrad); - an architectural monument of federal significance.
Once the Sackheim Gate led to the inner ring of Konigsberg and was part of the fortification fortification of the fortress city.
Currently, the gate is included in the list of attractions of the city and is one of the objects of the recommended route "Kaliningrad fortification".
The gate is named after the Konigsberg district of Sackheim.
Originally, the Sackheim Gate was an integral part of the First fortification of Koenigsberg, built in the early 17th century.
In 1860-1865, during the modernization of the city fortifications, the Zackheim Gate was rebuilt according to the project of Ernst Ludwig von Aster and entered, along with other city gates of Konigsberg, the Second fortification of the city.
The Sackheim Gate was probably the simplest of all the city gates of Koenigberg. Made in the Neo-Gothic style, from the side of the city were decorated with high reliefs of heroes of the Napoleonic Wars Johann David Ludwig York and Friedrich Wilhelm Bulow, from the outside - the image of a Black Eagle. The Order of the Black Eagle was considered the highest award of the Kingdom of Prussia.
It is noteworthy that in some pre-war images, the roof of the structure was high and had four slopes, and the gates themselves were used as pedestrian ones.
Photo of the Sackheim Gate of Konigsberg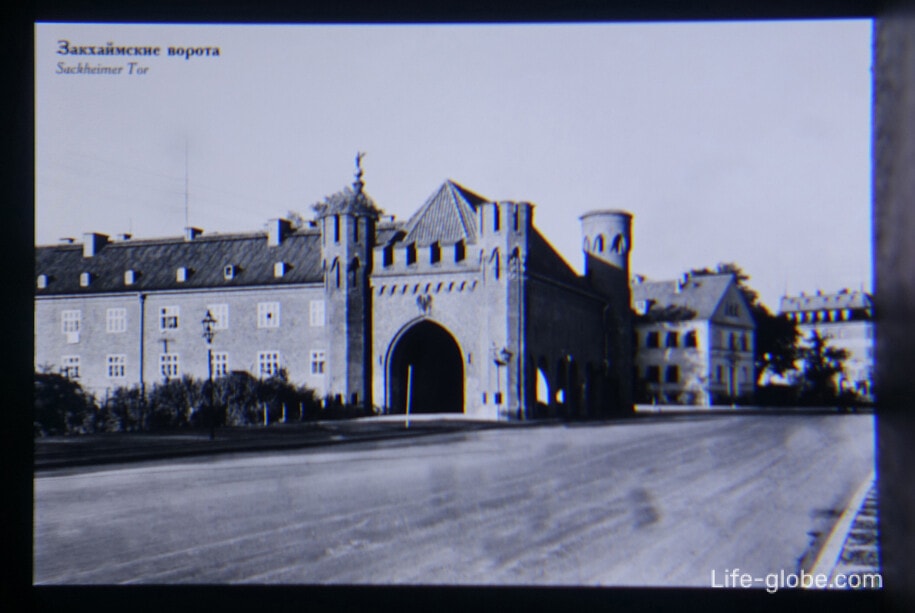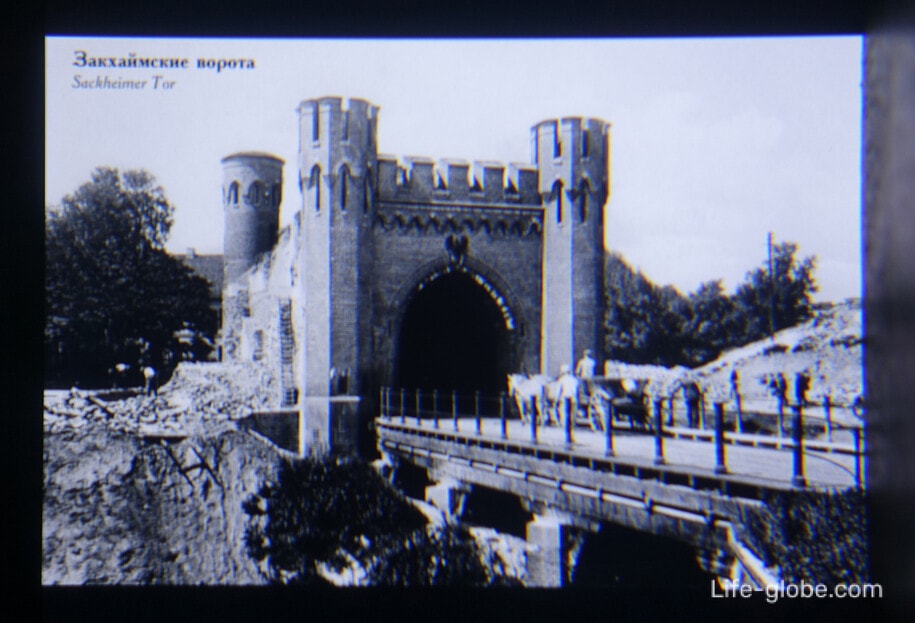 According to its intended purpose, the Sackheim Gate did not last long. The rapid development of military affairs in the 19th century led to the fact that by the end of the century the Second fortification could not protect the city from enemies. In 1910, all the gates were sold by the War Ministry to the city administration.
During the assault on Konigsberg in April 1945, the gates were practically not damaged.
After the war, the Sackheim Gate was used as a warehouse. In 2006, the restoration of the gate began.
There are towers at the four corners of the Sackheim Gate: two have a round shape and are located on the side of the city, and the other two are octagonal, located on the outside of the gate. Hollow towers have narrow lancet windows, decorated with decorative crowns on top. In the upper parts of the gate, between the towers, there is a number of protective teeth. The gates are also decorated with ornaments and flowers made of sandstone.
Inside the Sackheim Gate
Currently, there is a coffee shop and an art space "Gate" in the Sackheim Gate, where exhibitions and various events are held.
Address of the Zakheim Gate in Kaliningrad: Litovsky Val street, 61, Kaliningrad (intersection with Moskovsky Prospekt), near The King's Gate.