Surely everyone who has ever been or just going to visit Rimini, thought about going to San Marino. San Marino is amazing in all respects with the state, also one of the smallest in Europe and the oldest in the world.
The most visited among tourists is the historical centre of San Marino, located on top of Monte Titano. It was there preserved medieval attractions scattered here and there in the weave of narrow streets.
The historic center of San Marino is only 22-24 km from Rimini centre. Such convenient location makes day trips to San Marino so popular among tourists in Rimini.
To get from Rimini to Sam Marino in several ways:
Taxi/transfer from Rimini to San Marino
The most convenient way to get from Rimini to San Marino is by taxi. Book a taxi/Shuttle service in advance, even from home at any time of the day, at a designated place you will have to wait for the driver! Find out the cost and order a taxi here...
By car from Rimini to San Marino
Yourself to get from Rimini to San Marino can be on a rented car.
To rent a car it is best if you, in addition to San Marino, plan to visit other localities or are planning to travel to Italy. Leave the car will have near the historic centre of San Marino, and then walk, good Parking can be found close to and a lot of them there, both paid and free Parking. Parking costs 1.50 Euros per hour, 3-6 hours up to 3.30 - 4 Euros, depending on Parking, from 7 hours to days - 8 Euros.
To choose and order a car in advance, at the appointed time, your car will be waiting for you near the airport or in the centre of Rimini. The rental price starts from 35 Euros per day. View and pick up cars here....
Excursions from Rimini to San Marino
To visit San Marino as part of a group tour. This tour is cheap, from 10 to 25 Euros per person. On a tour of San Marino, this is usually 4 to 6 hours.
In this type of visit San Marino have both pluses and minuses. Plus the fact that all the way you will be accompanied by a guide who will tell you many interesting things about San Marino, besides the tour may include tastings of wines and liquors(or) visit the outlets of San Marino. Minus is that travel time is limited and you simply may not be enough time to enjoy the beauty of San Marino, and will need to go on the bus and return.
The bus from Rimini to San Marino
The budget option to arrange their own transportation from Rimini to San Marino bus firms Bonelli Bus (with Benedettini).
Buses run year-round and daily during the tourist season even more often. Buses are large and comfortable, with air conditioning.
It takes about an hour. The fare one way is 5 Euro. You can immediately buy a return ticket, the price will not change, but the ticket is already in hand, and return at any time (the tickets are not tied to time).
You can buy tickets as ticket sales and drivers. However, the priority for passengers with purchased tickets, the bus takes only seats, and in the high tourist season wanting a lot, during our trip all seats are not enough, so that some tourists were left standing at the bus stop waiting for the next bus.
In Rimini the bus makes three stops:
- start and end located on Piazza Marvelli (Marvelli Alberto Piazza), near the main beaches. Here, near the spot, is a tourist information centre, where you can buy bus tickets and free map of San Marino attractions.
It is best to take the bus at this stop, again, because of the possible option that the other stations will not be available.
Attention! From this stop, buses will start only in the summer period (8 June-14 September), the rest of the year beginning and ending stop is near the railway station of Rimini;
photo information center
- the second stop is in the square near the railway station in Rimini (Piazzale Cesare Battisti), just to the left of the station building, if facing the main entrance. To buy tickets near the station in Tabaccherii located opposite the main entrance of the railway station. Year-round stop;
photo stop
photo Tabaccherii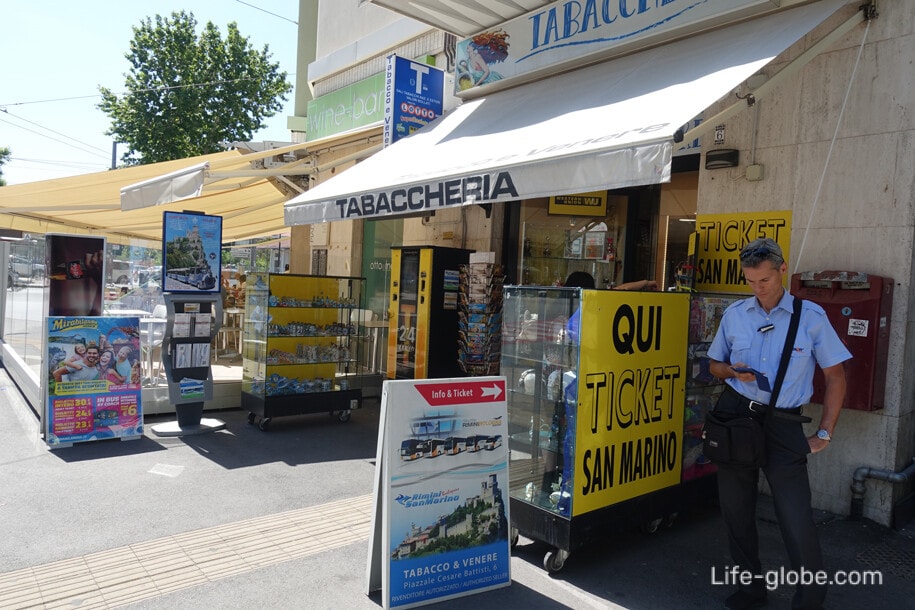 - the third and last stop "Arco D"Augusto" in Largo Unità d'italia. Year-round stop.
Where to go in San Marino
In San Marino the bus makes several stops. End - near the main historic centre, in Piazzale Marino Calcigni, landmark - Parada autobus Rimini-San Marino. From this stop buses start in Rimini.
If you go to shopping then go early near the shopping centers.
The bus timetable Rimini - San Marino
Schedule seasonal (summer and winter).
In summer, from 8 June to mid-September buses run daily from 06:45 to 20:30 PM every 1 hour 15 minutes.
In the winter, from September 15 to June 7, and buses that run depending on the day of the week:
- weekdays: from Rimini to San Marino from 08:10 until 19:25 PM every 1 hour 15 minutes; from San Marino to Rimini from 08:00 hours to 19:15 PM every 1 hour 15 minutes (first flight at 06:45 is performed with the spot Ex Stazione);
- weekends: from Rimini to San Marino from 08:10 until 18:10 PM; from San Marino to Rimini from 08:00 to 18:00 PM.
Attention! The cost of tickets and the bus schedule may change, please check before traveling on the official website of the carrier.
Housing in San Marino
If you plan to stay in San Marino, then you need to book your accommodation (a hotel room). There are hotels located right in the historic centre of San Marino, as well as those that are more distant from the tourist routes.
All accommodation in San Marino, you can view and book here.