4-star hotel Royal Plaza (Hotel Royal Plaza 4*) has a convenient location.
This hotel is on a quiet leafy street in the heart of Marina Centro, in the heart of the touristic part of Rimini. The hotel is situated in 300 metres from the Central beach and one kilometre from Rimini train station and 1.3 km from the historic centre. Hotel address: Viale Trieste 22, 47900 Rimini, Italy.
For reviews of tourists, the hotel has earned a rating of "Good" (7,6).
The main advantages of guests noted: location - walking distance to beaches, cafes and restaurants, and also attractions of Rimini; daily cleaning and change of towels; a nice delicious breakfast buffet included in the room rate and a free safe in the rooms.
As minuses – the small size of the rooms that the hotel already long requires redecoration and partial replacement of furniture. Link to the hotel...
Separately, I would like to note the friendly staff, the 24-hour front desk and the provision of a free iron, you just have to ask at the reception.
Free Wi-Fi had caught on all areas, but intermittent, too, sometimes, provides inconvenience.
The biggest drawback for us, as people working in the travel, steel sockets. All rooms and public areas of the hotel are used sockets contacts diameter 4 mm., ideal for charging phones or tablets, but the plug devices (laptops), the diameter of the contacts which is 4.8 mm. and the outlet has not climbed. Adapters in the hotel was not, had to go to the store for another adapter.
Check-in from 14:30, check-out from 08:00 to 10:30 o'clock.
Rooms at Royal Plaza hotel 4*, Rimini
In number of rooms:
- double room economy class with 1 double or 2 single beds, no balcony;
- double Comfort room with 1 double or 2 single beds and a balcony;
- triple room: 1 double or 2 twin beds + sofa bed, balcony;
- family room: 1 double or 2 single beds + bunk bed.
The rooms are clean, cleaning and change of towels are made daily.
The cost depends on the season and type of room selected. To book a room in hotel Royal Plaza Rimini...
Upon arrival, the mini bar offer you "will meet" low-alcohol and soft drinks. Drinks: the cost indicated in the memo in the room. The calculation is made with the hotel upon departure, but then have to check the mini bar and put the final calculation. During our check-out mini bar was not checked.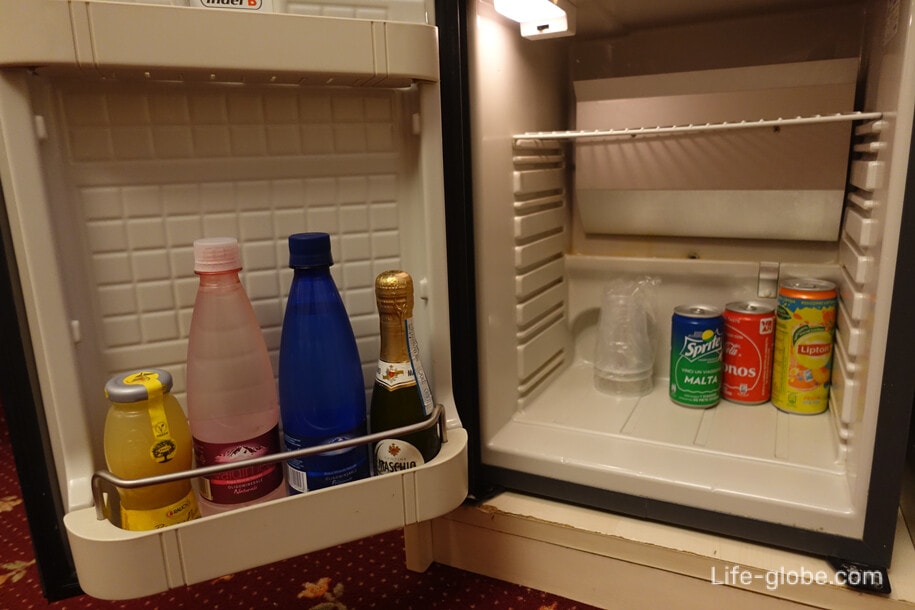 Room for two
In room: double bed (mattress high and comfortable bed linen, pleasant to the body), two bedside tables, a sofa, air conditioning, mirror, Desk, chair, dresser, TV, mini bar fridge and a roomy wardrobe which includes: a safe box, blankets and extra pillows. Carpet on the floor.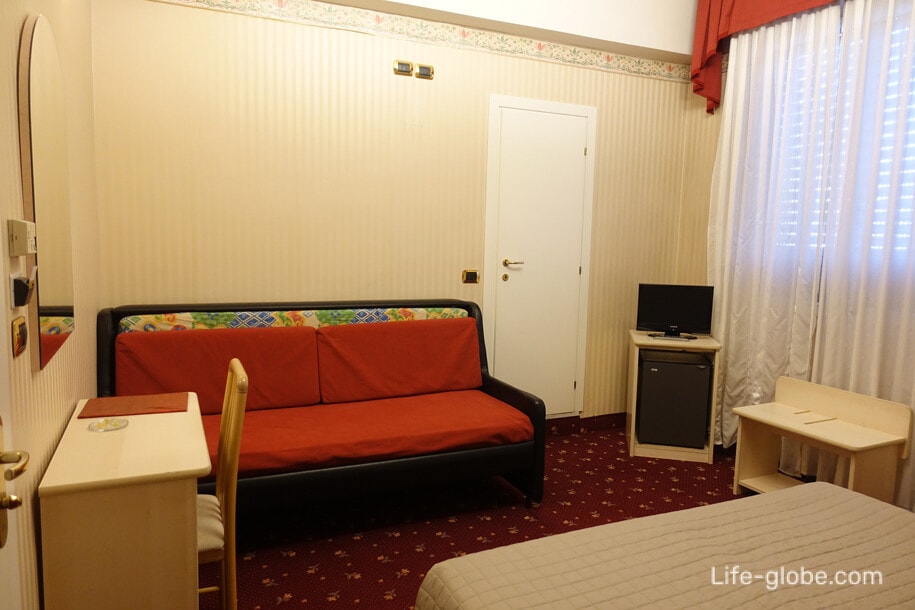 Bathroom. Each room has a private bathroom with a shower or bath. The bathroom is small.
In the bathroom: sink, mirror, bidet, WC, towels dryer, a shower and a Hairdryer. A set of towels per guest. And complimentary toiletries: shower gel and shampoo two in one soap, disposable cups and shower cap.
Breakfast at hotel Royal Plaza 4*, Rimini
Breakfast included in the room rate. Comfortable and Breakfast until 12:00 hours.
Breakfast no complaints, all tasty and fresh.
Breakfast: good selection of fresh fruit, delicious coffee or tea, various pastries, several kinds of cheeses and sausages, delicious kebabs on a skewer, bacon, muesli, yogurt, butter, jam, fresh bread, boiled eggs, tomatoes, cucumbers, sandwiches, milk, water, etc.
Only hot food at Breakfast no, everything is cold.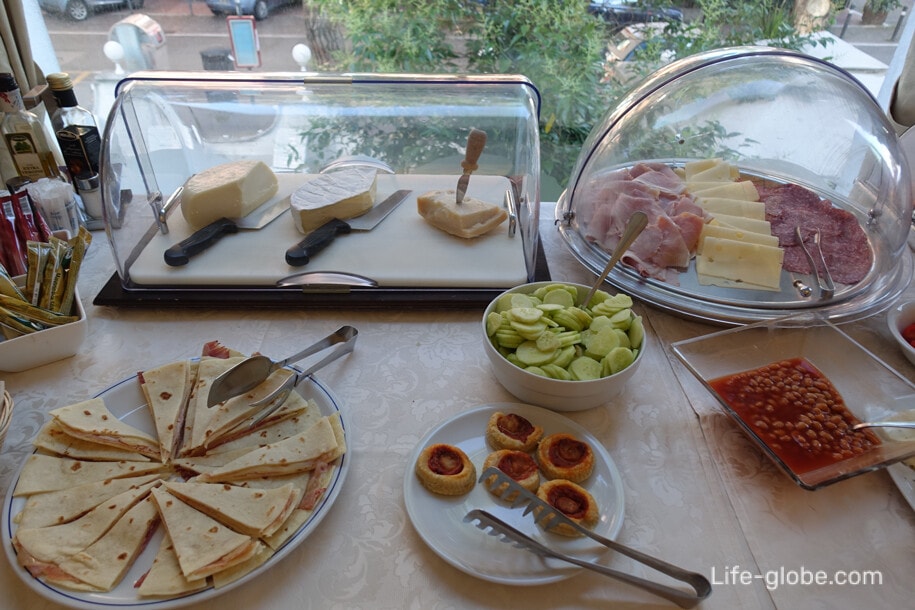 The interior of the hotel Royal Plaza 4* to Rimini
On the ground floor reception area and a bar. The hotel has an Elevator.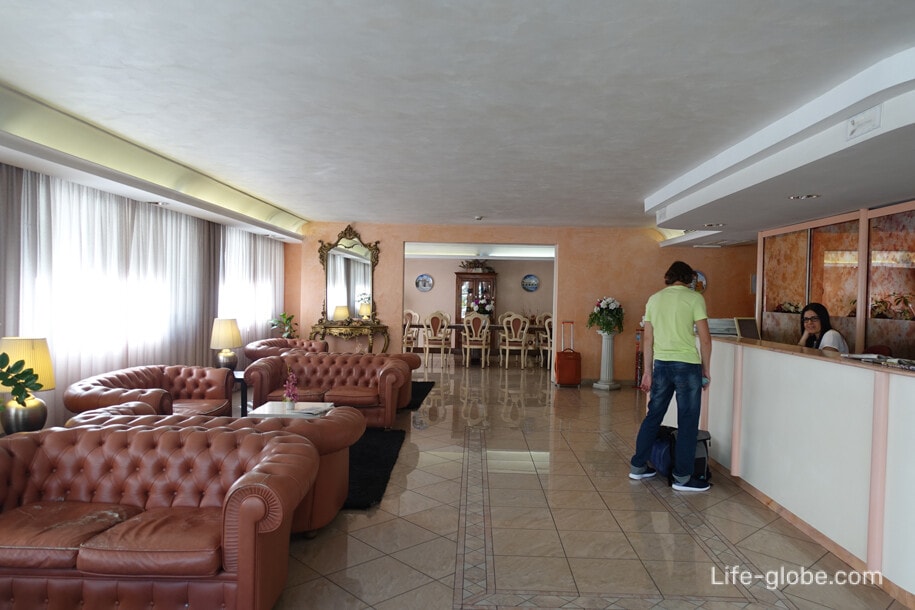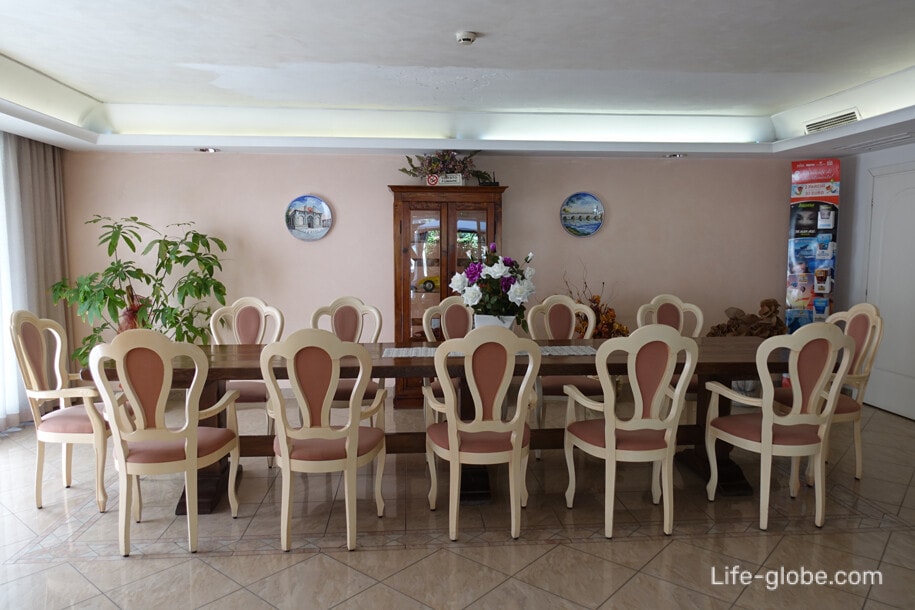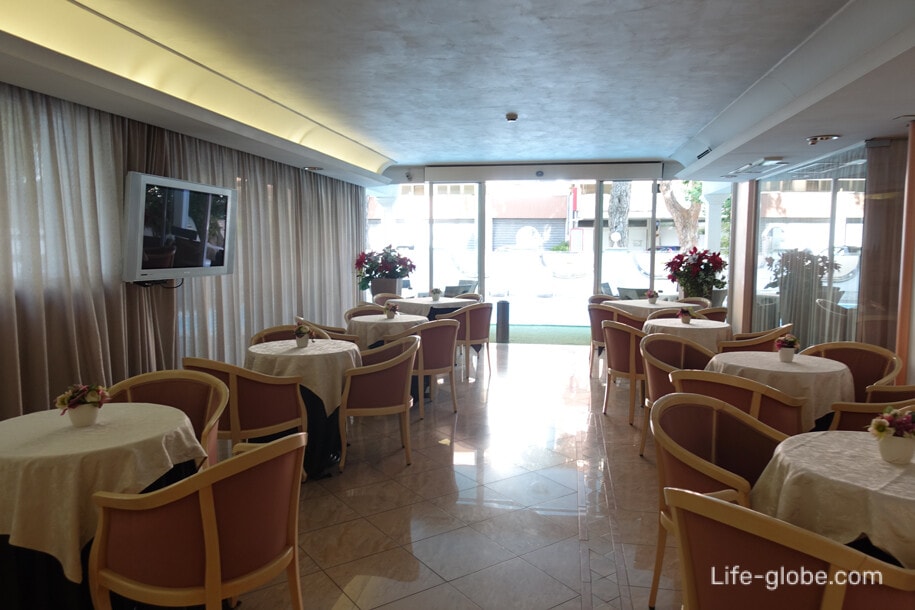 The exterior of the hotel Royal Plaza 4* to Rimini
The hotel area is small. Near the entrance tables. Also there's a small seasonal outdoor pool with several lounge chairs and two street table.
Additional services at hotel Royal Plaza 4*, Rimini
Guests have discounts at a nearby beach. What is the beach and the kochs discount, don't know, personally this service is not used.
The service "Wake up call".
Of the additional services for a fee: babysitter (care for children), Laundry, Fax/Photocopying, business centre, meeting/Banquet facilities.
Private Parking is possible on site for EUR 10 per day.
Extra beds are not available.
Pets are not allowed.
Conclusions about Royal Plaza hotel 4* to Rimini
Very good! If you don't pay attention to a small "shabby" room, and a unimportant hot breakfast and good Internet, in General, you came with a purpose - to relax and enjoy the sun and sea, + interesting to you: the historical centre, walking along the embankments, proximity to public transport, shops, cafes and restaurants, this hotel can become a very good accommodation in the centre of Rimini.
In our view, Hotel Royal Plaza 4* Rimini - a good option for a pleasant and comfortable stay in Rimini on the ratio "Price/Quality".