Pembroke is a city located on the island of Malta, near the waters of the Mediterranean Sea.
To the southeast of Pembroke is the coastal tourist town of St. Julian's.
The town was named after Robert Henry Herbert, 12th Earl of Pembroke.
The history of the city dates back to the time of the Order of St. John, when the knights built two Watchtowers at the extreme ends of the current coast of Pembroke. In the 17th century, the towers were part of a network of 13 towers designed to protect the then uninhabited northern coast of Malta. These 13 towers adorn the official flag and emblem of Pembroke, reflecting the city's military heritage.
At the time of the British in Malta, a military base was built in Pembroke. Also during the history, a hospital, a cemetery, a school, parade grounds, training grounds, a shooting range, barracks and the famous Fort Pembroke were erected.
After the British left Malta in the 1970s, the modern history and development of the city of Pembroke began.
Today the city is famous for a large number of educational institutions. It also has several accommodation facilities (hotels, apartments)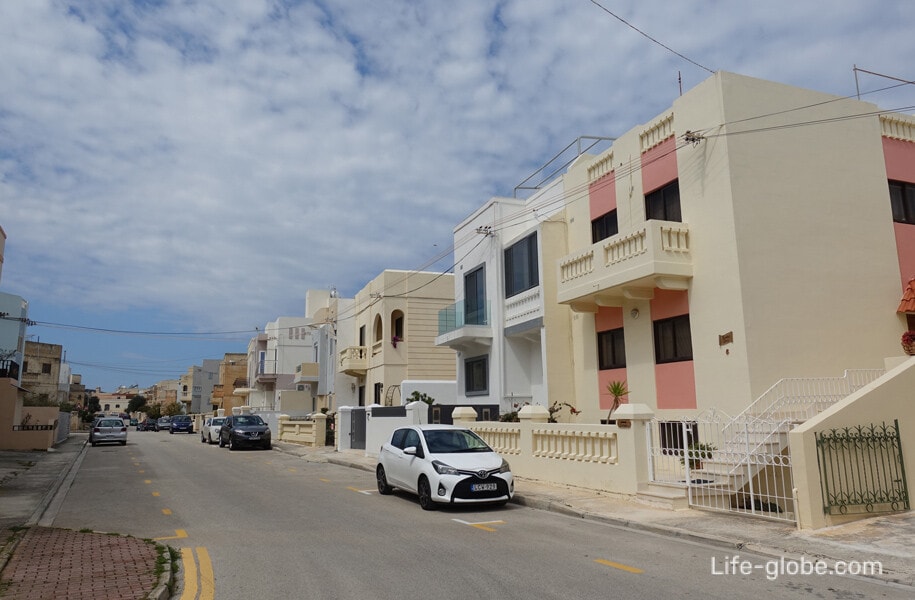 The coast of Pembroke is characterized by gentle and wide rocky shores.
Near the border of the city, in neighboring St. Julian's, by the sea coast, there is a 5-star Radisson Blu Resort hotel with 2 outdoor pools, an indoor heated pool, rooms with free Wi-Fi and large balconies.
Breakfast may be included in the room rate. Link to the hotel
On the shore, near the waters of the Mediterranean Sea, isMadliena Tower (Maltese: Maltese: Torri tal-Madliena), built in 1658.
In 1908-1909, the British built an artillery battery next to the tower. Both the tower and the battery were used until World War II. Today there is no battery, but the tower has been preserved in good condition and is now restored.
Some of the British buildings have also been preserved in the city, including the barracks and Fort Pembroke (Maltese name: Il-Fortizza ta' Pembroke), built between 1875 and 1878 to protect the approach from the sea to the Large Harbor, located about 6 km away. to the east, as well as to protect the right flank of the Victoria fortification line. The fort is surrounded by a moat and glacis and contains underground and casemate rooms for the garrison. Now the Verdala International School is located within the walls of the fort.
Pembroke on the map
Practical information
Coordinates of the city of Pembroke: 35°55'35.0"N 14°28'51.0"E (35.926389, 14.480833).
You can get to Pembroke by taxi, rented car or public buses around Malta, including from Valletta and Sliema. Malta public transport website: publictransport.
Excursions around Malta, including bus and sea, can be viewed and tickets can be purchased here →
All accommodation facilities in Malta, including in Pembroke, Sliema, Valletta, St. Julian's, Mdina, Melliehi and other places, can be viewed and booked here