Boadella beach or Cove of Sa-Bagels (Playa de Sa Boadella beach / Cala Boadella beach) is a beach Cove, located in the Western part of the coast from the city centre Lloretde Mar, over the hill from Santa Clotilde gardens, between the beaches of Santa Cristina and Treumal and the rocky coastline of Lloret.
The beach boasts pristine nature, since it is located somewhat remotely from the town centre (however, the beach from the town centre can be reached on foot), between two hills, which offers beautiful panoramic views of the beach itself and the surrounding area.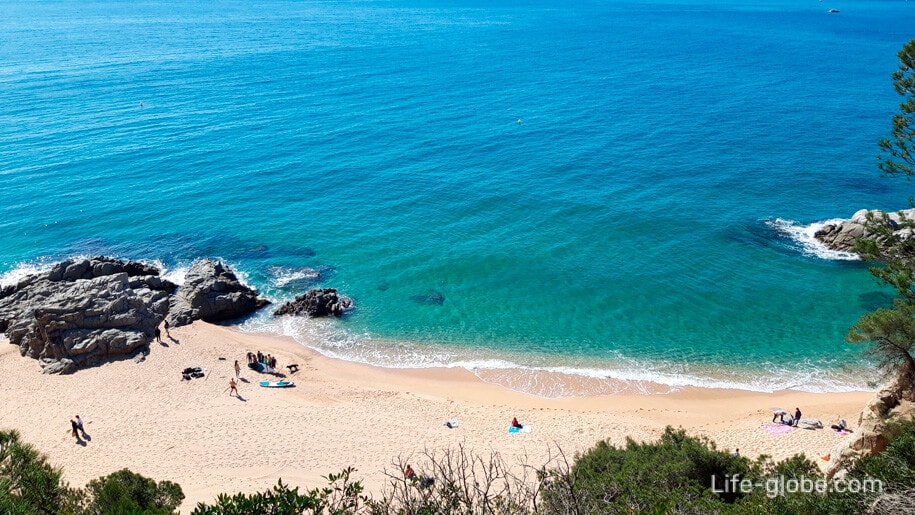 The Sa Boadella beach has been awarded the "Blue flag" in 2008, has a length of 250 meters and its average width is 40 meters.
On the beach are nudist.
The beach is fully fenced by buoys at a distance of 200 meters from the shore.
On the beach of coarse sand of light color, with occasional rock formations. Sea water is clean and clear. The beach is cleaned regularly, sand dub.
In high season the beach is equipped with sun loungers and parasols, bins and showers with taps for washing feet, a lifeguard tower, and a cafe.
To the beach leads to a sandy track. 200 metres from the beach is the Parking.
Where to stay near Boadella beach in Lloret de Mar
Sa Boadella beach apartment with a terrace, a fully equipped kitchenette with a coffee machine and a dishwasher and 2 outdoor pools on site.
Apartment Apt Clothilde with free Wi-Fi, air conditioning, fully equipped kitchen, a dining area and a TV. On-site private Parking.
Albamar apartments with an outdoor pool and a children's Playground on site.
All accommodation in Lloret de Mar, you can view and book here