This article presents a list (with photos, descriptions, addresses and websites) of the main and most striking attractions, museums and entertainment in Dubai, which are worth visiting first or if there is little time allocated for the city. And also how to get to Dubai, to the hotel, attractions and entertainment.
If you need the most complete and detailed list of attractions, museums, parks, viewing platforms, entertainment and interesting places in Dubai, then you can view here →
You can visit the sights, museums and entertainment of Dubai, including the top ones, as well as go outside the city and see the beautiful Emirates, both independently and with excursions.
Excursions in Dubai and outside the city in the UAE
TOP attractions, museums and entertainment in Dubai
Burj Khalifa
Burj Khalifa (Arabic name: برج خليفة) also known as the Dubai Tower is a skyscraper in Dubai, which is one of the tallest in the world and named after Sheikh Khalifa bin Zayed Al Nahyan.
The skyscraper has a height of 828 meters (2,717 feet) and 163 floors, and its architecture was inspired by the structure of the hymenocallis desert flower.
Inside the skyscraper there are: offices, a hotel, apartments, restaurants, bars, a rooftop pool, a gym, a spa center and shops.
The most attractive thing in the skyscraper is the 360-degree viewing platforms with a terrace located on the 124-125 and 148 floors (at an altitude of 456 meters / 1483 feet and 585 meters / 1821 feet). Visits to the observation rooms are paid. Website: burjkhalifa.ae.
Burj Khalifa Address: 1 Sheikh Mohammed bin Rashid Blvd - Downtown Dubai - Dubai - UAE.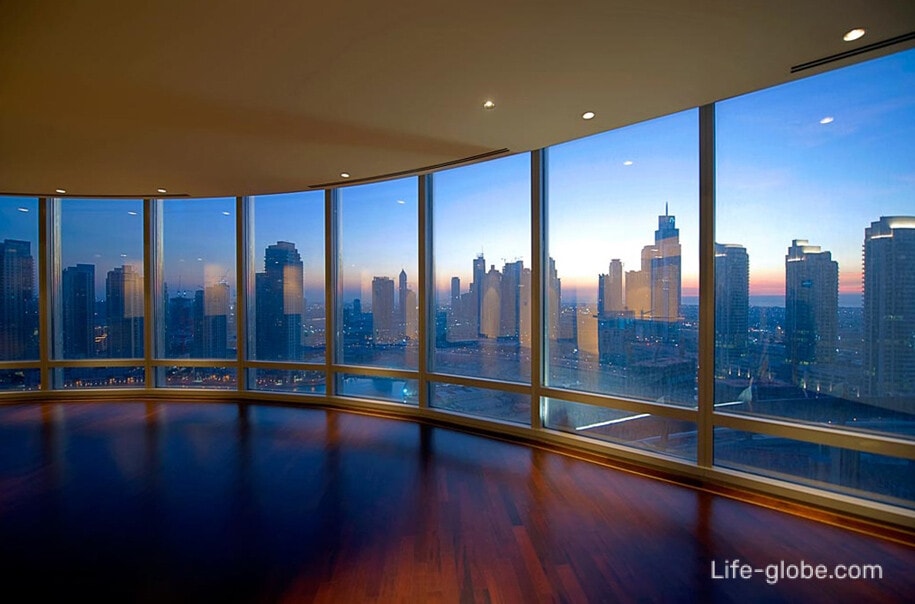 The Burj Khalifa is, among others, 5-star Armani Hotel Dubai, which occupies 11 floors of a skyscraper.
In the hotel: restaurants, bar, swimming pool, spa, free Wi-Fi and direct access to the Dubai Mall.
Room amenities include: flat-screen TV, DVD player, iPod docking station, mini-bar, safe, bathrobes, slippers, hairdryer and free toiletries.
Breakfast is included in the room rate. Link to the hotel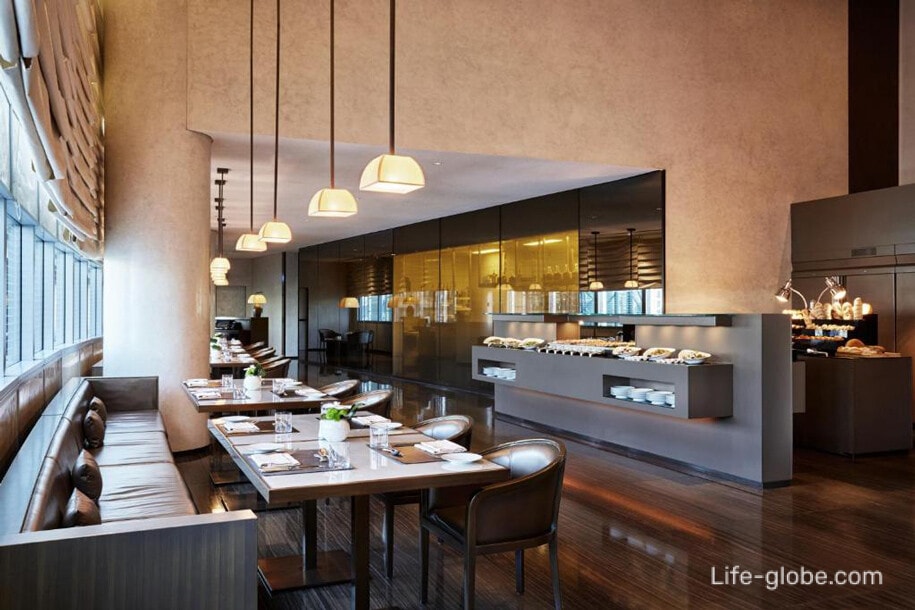 Dubai Fountains, Lake and Burj Park
Near the Burj Khalifa skyscraper there is a beautiful park with a series of artificial reservoirs (Lake Burj) and the famous Dubai water-jet fountains.
Fountains show water, music and light performances. This is the tallest fountain in the world, whose water jets soar into the air to a height of up to 150 meters; and this happens under the lights and sounds of melodies ranging from classical to modern Arabic and European motifs. The fountain has a design consisting of five circles of different sizes and two arches.
You can go for a boat ride on Fountain Lake. You can also purchase a ticket for a seat in the first row (on the floating platform of the fountain) during the fountain show.
Dubai Mall Shopping Center
Dubai Mall is a huge shopping and entertainment center, which is the most famous and visited in Dubai and one of the largest in the world.
In the shopping center: shops, boutiques, cinema, restaurants and catering areas, VR Park Dubai virtual reality amusement park, Dubai Dino zone with a diplodocus fossil (a large dinosaur with a long neck), Hysteria Dubai Mall haunted house, KidZania children's zone, ice rink and free Wi-Fi.
Dubai Mall also has branded stores on a special street "Fashion Avenue".
The shopping center is located near the Burj Khalifa skyscraper and Dubai Fountains (convenient to visit at a time), at address: Financial Center Street, Along Sheikh Zayed Road, Next to Burj Khalifa - Dubai - UAE.
Dubai Mall Website: thedubaimall.com.
Dubai Aquarium and Underwater Zoo
Dubai Aquarium & Underwater Zoo are the centerpiece of the Dubai Mall.
This is one of the largest and most interesting aquariums in the world.
Dubai Aquarium showcases one of the most diverse collections of marine animals in the world, including sharks and rays. Its heart is a 270-degree acrylic walk-through tunnel.
The underwater zoo is located above the aquarium and offers an interactive approach to teaching children and visitors about the ecology and sustainability of marine life.
Entrance to the aquarium is paid.
Dubai Aquarium Website: thedubaiaquarium.com.
Burj Al Arab (Parus Hotel)
Burj Al Arab (Arabic name: برج العرب, which means "Tower of the Arabs") is a famous high-rise building in Dubai, which architecturally imitates the sail of a boat and because of this is also known as the "Sail Hotel" or "Sail of Dubai".
Burj Al Arab stands on its own artificial island in the Persian Gulf, connected to the mainland by a bridge.
The building has a height of 321 meters (1,050 feet), making it one of the tallest buildings in the world, and it is used as a hotel. This hotel has become a symbol of Dubai, and the restaurants with panoramic views of Dubai and the hotel suites make it worthy of the label "The world's only seven-star hotel".
The building houses a luxurious 5-star resort Burj al Arab with a helipad, a spa, a panoramic swimming pool with relaxation areas and sun loungers, a private nearby beach, restaurants, bars and unlimited access to the Wild Wadi Waterpark Dubai, which is located near the hotel.
The suites have floor-to-ceiling windows with panoramic views of the Persian Gulf. Amenities include: speaker system, free Wi-Fi, widescreen interactive HD TV, coffee machine, mini-bar, air conditioning, safe, hairdryer, bathrobes, slippers and free toiletries.
Breakfast is included in the room rate. Link to the hotel
Address Burj Al Arab: شارع جميرا، - Umm Suqeim 3 - Dubai - UAE.
Madinat Jumeirah
Madinat Jumeirah (Madinat Jumeirah the Arabian Resort - Dubai) is a well-known and one of the best hotel complexes in Dubai, which is the largest resort in the emirate, spread over more than 40 hectares of landscapes and gardens.
The complex is created in the style of a traditional Arab city and consists of three 5-star resort boutique hotels (Jumeirah Al Naseem, Jumeirah Al Qasr and Jumeirah Mina A'Salam) and a courtyard of summer houses called Jumeirah Dar Al Masyaf.
The resort is located on a private coastline with a sandy beach. The resort has more than 40 restaurants and bars, lounges, terraces, swimming pools, ponds, gardens, golf, tennis, children's clubs, a spa center and other amenities.
Dubai Water Park
"Wild Dubai" Waterpark (Wild Wadi Waterpark Dubai) is an open-air water park located in the Jumeirah area.
The water park has a heated and cooled wave pool, water slides, surfing areas, a waterfall, a river, tunnels, a play area for children, as well as souvenir shops, restaurants and snack bars.
Entrance to the water park is paid. The entrance fee is set depending on the height of the person. Free access for children under three years old. There are different types of tickets.
Water park website: wild-wadi.
Address of the water park: Opp. Burj Al Arab - Jumeirah St - Umm Suqeim - Umm Suqeim 3 - Dubai - UAE.
Free access to the water park is provided when staying in nearby hotels: Jumeirah Al Qasr, Jumeirah Mina A'Salam, Jumeirah Al Naseem, Burj Al Arab Jumeirah and Jumeirah Beach Hotel.
Ain Dubai Ferris Wheel
Ain Dubai is the largest and tallest Ferris wheel in the world, with a height of 250 meters and located on the artificial island of Bluewaters.
The wheel makes a full circle in about 38 minutes.
The wheel has 48 capsules and provides stunning panoramic views of the city of Dubai and beyond.
Website: about-ain-dubai.
In addition to the Ferris wheel on Bluewaters Island there are beaches, entertainment, hotel, residential and shopping areas.
From the accommodation facilities on the island is allocated 5-star Caesars Palace Dubai Resort with a private beach, a green area, swimming pools, a spa center, a restaurant, a bar and a playground for active recreation. The suites of the hotel offer sea views. Breakfast is included in the room rate. Link to the hotel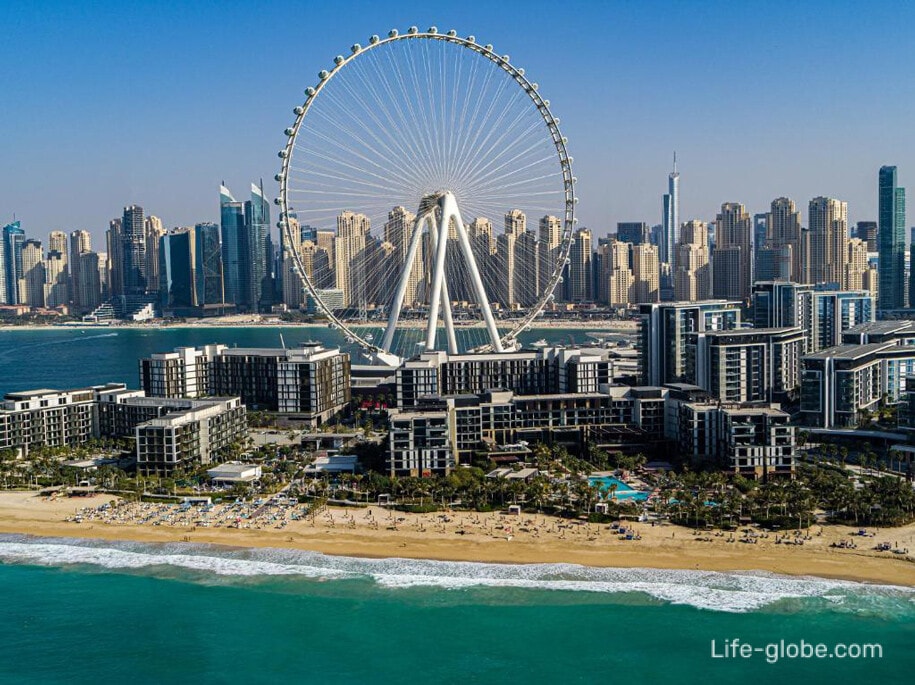 Palm Jumeirah
Palm Jumeirah is an artificial archipelago in the form of a palm tree crowned with a crescent moon, and has beaches, villas and complexes, hotels, as well as entertainment and other public infrastructure.
Palm Jumeirah includes: roads, embankments, beaches, Ittihad Park area, hotels and resorts, private housing, beach club "Club Vista Mare", cafes, restaurants, shops, Nakheel Mall shopping and entertainment center, Aquaventure Waterpark, The Lost Chambers Aquarium, Dolphin Bay Dolphinarium, as well as dancing and a light Palm fountain (The Palm Fountain), located right on the sea surface.
On the Palm Jumeirah archipelago, the Palm Tower building stands out, in which are located:
- 360-degree observation deck "The View at The Palm" with an outdoor terrace at the height of the 52nd floor (240 meters) Palm Tower. In the tourist attraction of the observation deck there is a cafe and an exhibition. Website: theviewpalm.ae;
- panoramic 360-degree observation pool "AURA SKYPOOL Dubai" with a terrace, sun beds, lounge and bar, located on the 50th floor of the Palm Tower. Website: auraskypool.com.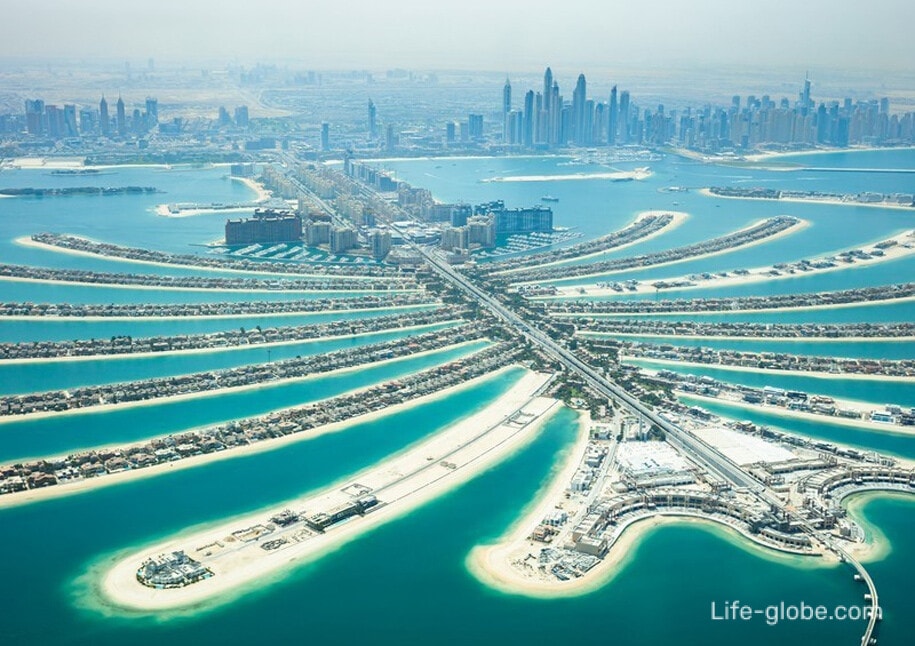 Dubai Marina
Dubai Marina (Arabic name: مرسى ─ب) is an area in Dubai, which is an artificial city with a marina on the canals, spread out on the coastline of the Persian Gulf.
You can travel along the Dubai Marina channels by water bus, which is public urban transport (the site is listed at the end of this article, in the section "how to get there").
The area includes residential towers and villas located on a public coastline with beaches, hotels, restaurants, shops, a promenade, a modern shopping and entertainment center "Dubai Marina Mall" and other infrastructure.
There is also a kilometer-long zipline (XLine Dubai Marina), positioned as the "longest urban zipline", which connects Dubai Marina with the Dubai Marina Shopping Center. Website: xdubai.com/en/xline/experience.
Flower Park (Dubai Miracle Garden)
The Park of Flowers or the Garden of Wonders (Dubai Miracle Garden) is a garden with vertical and horizontal landscaping, in which various figures, patterns and sculptures are created from flowers and greenery.
Every year the park pleases its guests with new floral masterpieces.
The park is open to visitors from October to April. The park also hosts holidays and events; there are cafes, shops and toilets.
Entrance to the park is paid.
Address of the Garden of Wonders: Street 3 - Al Barsha - Al Barsha South - Dubai - UAE.
Website: dubaimiraclegarden.com.
Adjacent to the Miracle Garden is the Dubai Butterfly Garden, which is home to over 15,000 butterflies in 45 species of various sizes and colours. When visiting the Miracle Garden, if you wish, you can also look into the butterfly garden. Butterfly Garden Website: dubaibutterflygarden.com.
Old Dubai
Old Dubai includes two small neighborhoods of Al Bastakiya / Al Fahidi and Al Shindagha, as well as nearby neighborhoods.
These are the historic colorful heritage quarters of Dubai with narrow streets, traditional architecture, historical buildings, including wind towers, watchtowers, museums, galleries of modern art, attractions, mosques, as well as cafes and restaurants, including in the best traditional Arabic styles.
In the "Old Dubai" are particularly noteworthy:
- Dubai Museum, located in Al Fahidi Fort, built in 1787 and is the oldest existing building in Dubai.
The museum tells about the fort, history, cultural heritage and the traditional way of life of the Emirate of Dubai. Website: dubaiculture.gov.ae;
- Saruq Al Hadid Archeology Museum, located in a historic building with a courtyard built in 1928 and once owned by Sheikh Juma bin Maktoum Al Maktoum. It is one of the best preserved examples of traditional architecture in Dubai. The museum tells the story of Saruk al-Hadid - "The Way of Iron" - a remote section of the desert, which about three thousand years ago was the center of metalworking. Website: saruq-al-hadid;
- Crossroad of Civilizations Museum, whose artifacts reflect the diversity and tolerance of cultures, beliefs and religions; embodying the heritage of Dubai and the UAE as part of global trade routes and cultural exchange between Europe, Africa and Asia. Website: themuseum.ae;
- Grand Mosque with the highest 70-meter minaret in Dubai in the Anatolian architectural style, reminiscent of a lighthouse. The mosque was originally built in 1900, then demolished and rebuilt in 1960;
- Iranian Mosque Hosainia, originally erected in 1979 and attracting attention with Persian architecture and facing with blue tiles with floral patterns.
Jumeirah Mosque
The Jumeirah Mosque (Arabic name: مسجد جميرا) is a large mosque with two minarets, which is one of the most significant and most touristically visited in Dubai.
The mosque was built in 1976-1979 and was a gift from Sheikh Rashid bin Saeed Al Maktoum, the former ruler of Dubai.
The mosque has a traditional Fatimid style that came from Syria and Egypt.
The mosque can be visited with an excursion for people of any religion. The visit is paid and includes light Emirati snacks.
Website: jumeirahmosque.ae.
Dubai Park and Resort (theme park complex)
Dubai Parks and Resorts is a large complex of theme parks with various attractions, entertainment and show programs, which consists of three theme parks: Motiongate Dubai, Bollywood Parks Dubai and Legoland Dubai, as well as the Legoland Water Park.
Tickets must be purchased to visit the parks. There are tickets to visit one of the parks or complex, to visit several parks at once.
The complex also includes the "Riverland Dubai" area with themed shops, restaurants, a promenade, a peninsula, the Gateway of India and a stylized French village. You can get to this part of the complex without buying tickets to the parks.
There is also an outlet center "Outlet Village" near the parks.
Address of parks: Park and Resorts - Sheikh Zayed Rd - Dubai - ОАЭ.
The site of the park complex: dubaiparksandresorts.com.
Hotels are also located on the territory of the complex of parks
4-star Lapita Resort, Dubai Parks and Resorts, Autograph Collection, decorated in Polynesian style.
In a hotel: restaurants, bar, swimming pools, spa and fitness centers, free Wi-Fi, rooms, suites and villas with balcony or terrace.
The hotel provides access to amusement parks.
The room rate may include: breakfast or breakfast + dinner. Link to the hotel
4-star LEGOLAND Hotel Dubai with swimming pool, restaurant, bar, free private parking, bar and garden.
Guests can book family rooms, suites and relax on the terrace. The hotel provides access to amusement parks.
The room rates include: breakfast or breakfast + dinner. Link to the hotel
Global Village
Global Village is a cultural, entertainment, family and shopping place in Dubai.
Carnivals, shows, concerts, fireworks and other events are held in the village, there are also entertainment areas and attractions, craft shops, shops, restaurants and cafes. All this was created in thematic pavilions reflecting different countries and cultures.
The village is open annually from September to April.
Global Village Address: Sheikh Mohamed Bin Zayed Road and Emirates Road - Exit 37 - E311 - Dubai - UAE.
Website: globalvillage.ae.
Dubai Safari Park
Dubai Safari Park, may be known as Dubai Zoo, is home to about 3,000 animals from around the world, including various predators and primates, 50 species of reptiles, 111 species of birds, amphibians and invertebrates.
This large park is divided into several thematic zones: explorers village, safari in the Arabian desert, Asian village, African village, children's farm and Wadi village recreation area.
There are also several cafes on the territory of the safari park, there are souvenir shops; and depending on the schedule, you can get to various shows.
Entrance to the safari park is paid. There are different types of tickets.
Website: dubaisafari.ae.
Address: 5CCW+H5 - Al Warqa 5 - Dubai – UAE.
Luxury entertainment
Maybe you are not interested in parks and malls, but are more attracted to LUXURY entertainment? Dubai can also provide such entertainment and pastimes!
From luxury entertainment in Dubai, you can: fly by helicopter and admire the city from a height, go on a private sea cruise on a yacht with drinks and food, arrange a private tour or a tour of the city in a convertible or limousine, go on a VIP desert safari or night safari, and also go abroad the limits of Dubai, for example in Abu Dhabi, etc.
Luxury entertainment can be view and book here →
How to get
There are two major international airports in the city of Dubai itself, which regularly receive and send both international and regional flights. These are Dubai International Airport (DXB) in the north of the city and Al Maktoum International Airport (DWC) in the south.
You can also fly to other airports in the UAE, and from there get directly to Dubai. For example, in Abu Dhabi or Sharjah. Flights to the UAE →
From the airports to Dubai can be reached by public transport, taxi/ transfer or rented car.
Taxi / Transfer
Getting from airports and Dubai, as well as other places in the UAE, is most convenient and fastest by taxi. You can order a taxi / transfer in advance, even from home. When ordering a taxi at the airport, a driver will be waiting for you with a sign where your first and last name will be written. To order a taxi, it is enough to provide your flight data.
There are both taxis with a capacity of up to 4 people, and mini buses from 4 to 16 people.
You can also view transfers here →
Car
The most convenient way to travel independently around Dubai and the Emirate as a whole is by car.
You can rent a car, from economy to premium class, in advance, even from home. The car will be waiting for you immediately upon arrival near the airport or elsewhere in the city.
Car Rental in Dubai (all places) →
Public transport
By public transport from Dubai International Airport can be reached by metro or buses.
Dubai International Airport has two Dubai Metro Red Line stations. Trains depart from Terminals 1 and 3 of the airport. You can buy a ticket at the airport stations. The cost depends on how many zones you are going to drive through. The front car of each train belongs to the "golden class" (increased comfort) for a slightly higher fare; there is also a car only for women and children.
Buses arrive and depart from the parking lots opposite Terminals 1, 2 and 3 of the airport.
Al Maktoum Airport can be reached by bus.
Travel on public transport in Dubai is paid for with a Nol transport card (valid in the metro, buses, etc.), which must be purchased in advance; the cards are available in airport vending machines.
Conditions of travel and baggage transportation, fares, routes, stops, information about transport cards, etc., we recommend checking on the official website of Dubai public transport: rta.ae.
Travel insurance in the UAE is possible pick up and purchase here →
All accommodation facilities in Dubai (hotels, apartments, villas, etc.), including in the city center, near beaches or airports, as well as more remotely from those, can be view and book here