The organ hall in Svetlogorsk, full name: the organ hall of the Makarov company is one of the historical and architectural monuments of the city of Svetlogorsk, as well as the decoration and attraction of this small resort.
The building of the Svetlogorsk Organ Hall has a rich history.
At the end of 1928, the pastor of the Catholic community, Shotoff, purchased a plot of land on Warmbaden Strasse in the city of Raushen (now the city of Svetlogorsk) for the construction of a Catholic chapel.
The consecration of the choir chapel took place on May 10, 1931. The chapel received a romantic name - "The Virgin Mary - the star of the sea" (German name: Katholische Kapelle Maria - Seestern).
In the post-war years, the chapel building was used as a warehouse, later it was empty and dilapidated.
In 1994, the ruins of the chapel were acquired by the Makarov Company. The head of the company, Andrey Aleksandrovich Makarov, together with a Lithuanian company, brought the historic building back to life at his own expense.
So a new structure of traditional architecture with half-timbered elements appeared.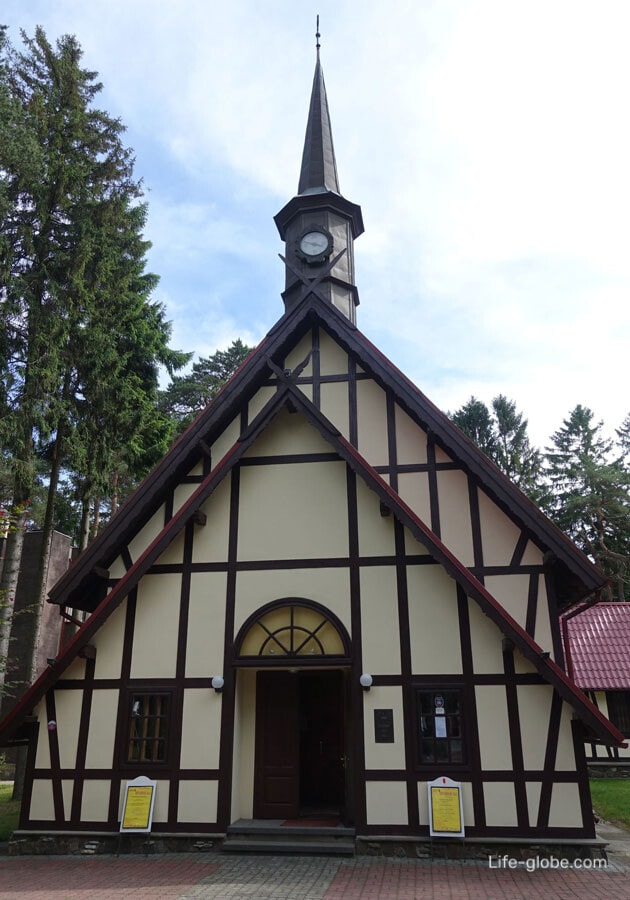 An organ ordered in Germany (Saarbrücken) from the company "Hugo Mayer Orgelbau GmbH" was installed in the hall. A hand-made organ with a keyboard and register mechanical device (24 registers, 2 manuals and a pedal) according to the type of ancient organs of the Bach period, combining German pedantry with French emotions, was transported from Germany to the city of Svetlogorsk and installed in a new concert hall.
The grand opening of the organ hall took place on May 25, 1995. The organ was included in the monograph "Organs of the Baltic" (Duisburg, Northern Germany) and was recognized as the best instrument in the Baltic coast countries, and the organ hall of Svetlogorsk is considered one of the best in Russia.
Concerts in the organ hall are held all year round, where in addition to organ music, vocal, instrumental and choral music is also played.
Poster of concerts of the organ hall of the Makarov company in Svetlogorsk: organhall.ru
The organ hall is located in the center of the resort, on the territory of the park zone, at the address: 3 Kurortnaya Street.
By the Decree of the Government of the Kaliningrad Region No. 132 dated March 23, 2007, the former chapel (now the organ hall) received the status of a cultural heritage object of regional significance.