The Old Courtyard or Old Residence (Alte Hofhaltung Bamberg) is a complex of historical buildings in the German city of Bamberg, which previously served as the residence of bishops.
Today, the Old Courtyard is one of the main attractions of the city and it houses a Historical museum and a theater.
Initially, the palace of Emperor Henry II was located on the site of the Old Courtyard. Since the diocese was founded in 1007, it is likely that the palace also served as the bishop's residence.
After the palace was left at the complete disposal of the bishops, in the 15th and 16th centuries they rebuilt the palace to suit their needs as a complex of buildings in the style of the German Renaissance.
Since the beginning of the 17th century, since the existing residence was already cramped for the bishops, on the contrary, they began to build the so-called A new residence (Neue Residenz). After the bishops moved to a new place, the former residence became known as the "Old One".
Today, a complex of buildings with an inner courtyard, remnants of the palace walls and an 11th-century chapel has been preserved from the Old Residence.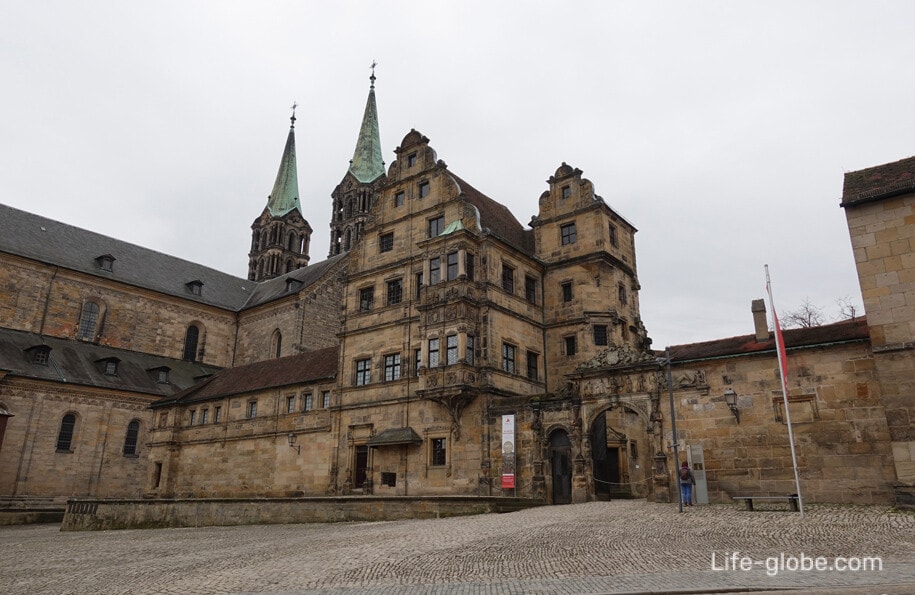 The Old Courtyard can be entered through the "Beautiful Gate" (Schöne Pforte) of 1573, with sculptures of the Virgin Mary, St. Peter, St. George, St. Henry and St. Cunegonde by Pancras Wagner.
Adjacent to the gate is a building with a powerful bay window with rich Renaissance detailing.
Passing through the gate, we find ourselves in a small courtyard surrounded by ancient half-timbered buildings. Passage is free (free of charge).
The courtyard is also used as a meeting place for various celebrations and events.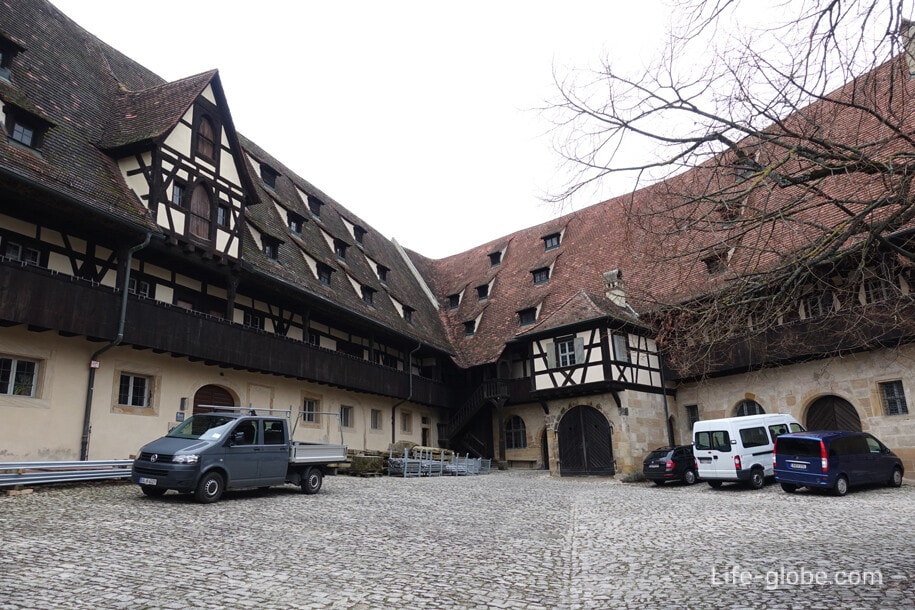 In the Old Courtyard there is a Historical Museum (Historische Museum) and the former Catherine Chapel (Katharinenkapelle, Katharinenkapelle).
The chapel offers a venue for civil weddings, concerts and lectures, and since 2004, from May to October, under the name "Light and Shadow", the 1000-year history of the city, which has become a cult, is performed here (works as a Shadow Theater, Theatre of Shadows).
During the Christmas season, the Historical Museum usually houses changing nativity scenes. The nativity scenes are usually located in the historical stable of the Prince-Bishops of Bamberg.
Practical information
The Old Courtyard is located in the historical center of Bamberg, on Cathedral Square (Domplatz), near Bamberg Cathedral (Bamberger Dom) and A new Residence (Neue Residenz) with a gallery, library and rose garden.
Website of the Historical Museum: historisches-museum.
Shadow Theater website: theater-der-schatten.
All accommodation facilities in Bamberg, including in the historical center of the city and more remotely from it, can be viewed and booked here