The Monastery of Sant Pau del Camp (Antic monestir de Sant Pau del Camp) is a former Benedictine monastery in Barcelona, which is one of the oldest churches, as well as a masterpiece of preserved Romanesque architecture in the city.
Translated, the name of the monastery "Antic monestir de Sant Pau del Camp" means "Saint Paul in the countryside" or "in the fields".
Today, the church and the remains of the monastery can be visited.
The exact date of the original construction of the monastery is unknown, but it is believed that it was founded by Count Wilfred II Borel of Barcelona (circa 874 - 911), since his tombstone inscription was found in the monastery in 1596.
The monastery has been registered since 977.
Then the monastery stood far outside the city - in the fields of the countryside, which is why its name "in the countryside" is connected.
During the history of the monastery, it was destroyed and looted twice, and then it was restored. Today's monastery church building dates back to the 13th century.
In the 14th century, a new city wall was erected in Barcelona, and thus the monastery was located within the city.
Until 1835, the monastery performed its direct functions, and after, with the adoption by the government of the law on the confiscation of church lands, the monastery ceased its functions. The monks left the city, and the church buildings were adapted for civilian needs.
Today, the church and the chapter house, surrounded by a small courtyard, have been preserved from the monastery.
The church is made in Romanesque style and has a Gothic cross with one aisle in the plan. It has a transept with three apses, and inside there are cylindrical vaults. The entrance doorway has two columns with ancient marble Visigothic capitals, and the tympanum depicts Christ in majesty with Saints Paul and Peter.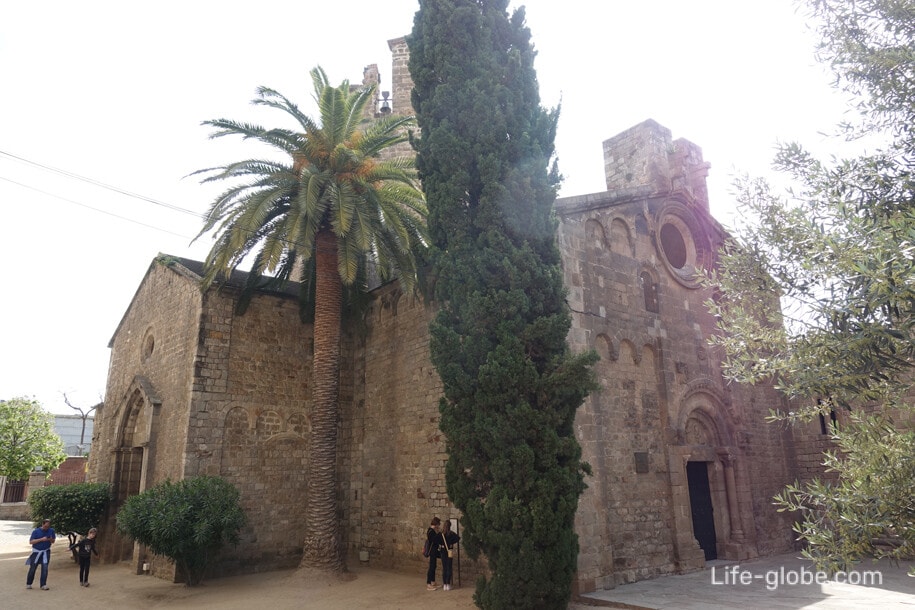 The rectors' house was built in the 13th-14th and early 18th centuries.
In the chapter house (14th century) there is the grave of the alleged founder of the monastery Wilfred II.
The interior of the monastery is made simply and without rich decorations.
Today, the monastery can be visited for a fee. The monastery church also hosts services, concerts, exhibitions and other events.
Practical information
Entrance to the courtyard of the monastery is free (free).
The Monastery of Sant Pau del Camp is located in the old town of Barcelona in the subdistrict of El Raval, at the address: Carrer de Sant Pau, 99, 08001 Barcelona.
Coordinates of the Monastery of Sant Pau del Camp: 41°22'35.0"N 2°10'10.0"E (41.376389, 2.169444).
Website of the monastery of Sant Pau del Camp: stpaudelcamp.blogspot.com.
All accommodation facilities in Barcelona, including in the city center, near beaches and more remotely from those, can be viewed and booked here