Catalonia Square or Plaza de Catalunya (Plaça de Catalunya) is one of the Central and most visited area of Barcelona.
Converted in 1889, after the world's fair the previous year, also further modified for the occasion of the International exhibition of 1929 in Barcelona, including the construction of the metro station, Plaza Catalunya square became the main square of Barcelona.
Currently, the area of Catalonia is about 50 000 square meters and connects the two important district of the city is the Old city of Barcelona and the Eixample.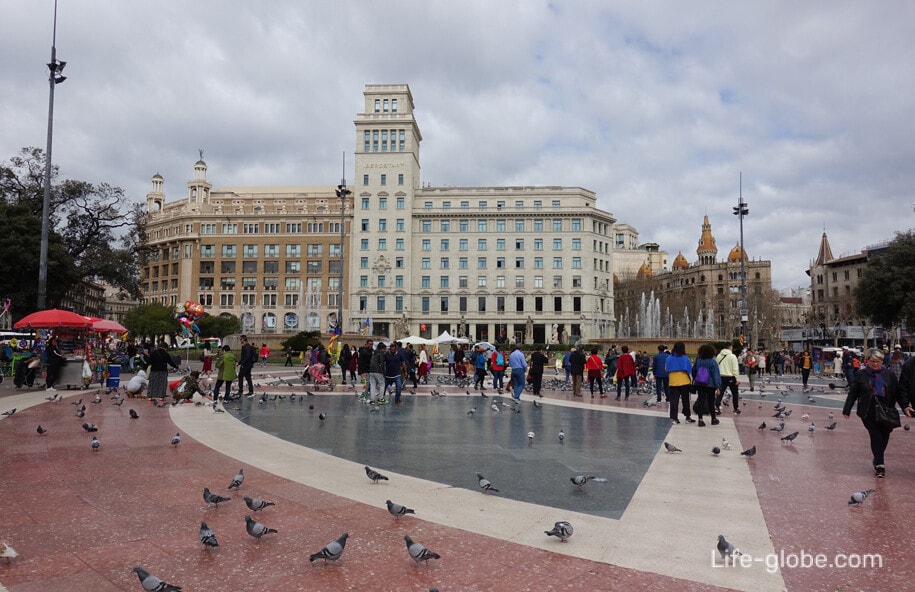 From the Barcelona harbour to Plaza de Catalunya is the Central tourist street of the city - La Rambla.
Since its "birth" Plaza Catalunya became and still is one of the busiest places in Barcelona, which was the focus of literary and political debate and which remains one of the main points of the meeting of citizens.
Especially the famous Plaza Catalunya with its fountains and statues, flocks of pigeons that gather in the center of the square and proximity to some of the most popular attractions of Barcelona.
From Plaza Catalunya originate from the main tourist routes of the city: the Old town of Barcelona, a shopping thoroughfare, the Passeig de Gracia with famous Gaudi buildings as La Pedrera and Casa batlló.
Around the same area of Catalonia is concentrated in its core, the impressive building with cafes and restaurants, shopping centers and shops, a supermarket and hotels.
From the hotels:
- 3-star boutique hotel Boutique Hotel H10 Catalunya Plaza with a terrace and a capsule coffee machine in the rooms;
- The 4-star Iberostar Paseo de Gracia 4* Sup with a terrace with a swimming pool, reception and Breakfast;
- 4-star Olivia Plaza Hotel with bar, terrace and Breakfast.
How to get
Plaza Catalunya sits at the Northern edge of the Old town and is the main transport interchange tourist centre of Barcelona.
On the square stop tourist buses of Barcelona, Barcelona Bus Turistic and Barcelona City Tour.
Under the square is a metro station (Plaça de Catalunya station), where run metro lines: L1, L3, L6 and L7; S1 , S2 and S5.
It also trains arrive. Suburban line of the Rodalies de Catalunya R1, R3, R4 and regional line R12.
Around the square there are numerous buses, including the Aerobus (A1, A2) and night buses from/to Barcelona airport.