Monopteros (Monopteros) - a rotunda in the Greek style, located on a hill in the English Garden (Englischer Garten) in Munich.
When the nearby wooden temple of Apollo was destroyed by time, the idea of creating a new temple came up. In the first half of the 19th century, at the behest of King Ludwig I, architect Leo von Klenze designed and Karl August Skell built a new round pavilion (temple) in the Greek style. The monopter was built in honor of the Elector Karl Theodor and the Bavarian nobility and was finally completed in 1836.
The pavilion received its name "Monopter" for its almost exact reproduction of the architectural form of the Greek monopter.
The "temple" is located on an artificial hill, which was formed from construction debris obtained as a result of work carried out on Munich Residence (Münchner Residenz). The remains of construction materials were covered with earth. So in the English Garden, a 15-meter hill was formed.
A monopter was erected on the hill.
The structure, 16 meters high, is set on a powerful brick foundation 15 meters high, which is hidden underground. The ten Ionic columns of the temple support a shallow copper-clad domed roof. Unlike Tolos, the Munich monopter does not have a cella (closed altar).
A special feature of the monopter is the use of polychrome stone painting in the interior of the dome, which Leo von Klenze was interested in at the time.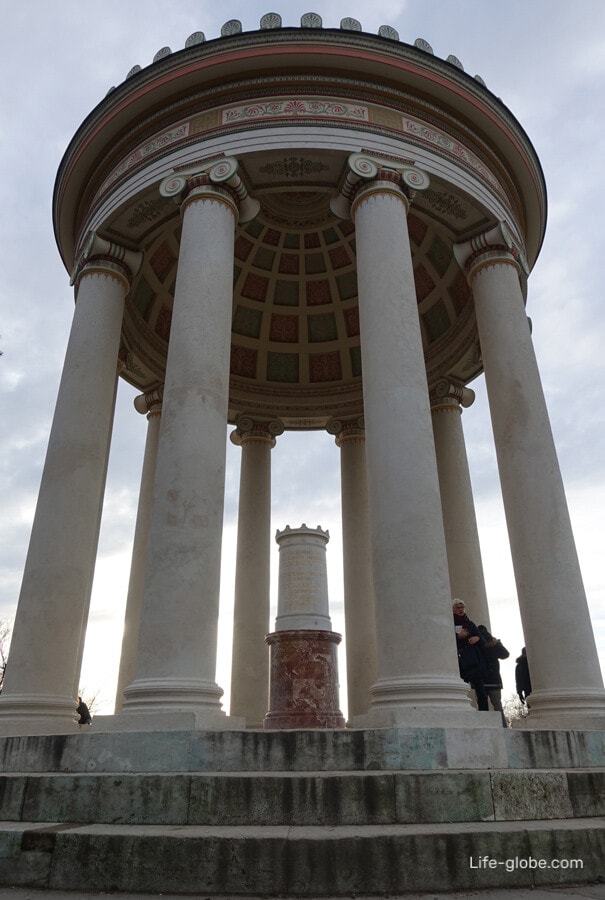 Today, the monopter is a visited a landmark of Munich, as well as a free viewing platform for all comers, which offers views of the English Garden and the Munich skyline.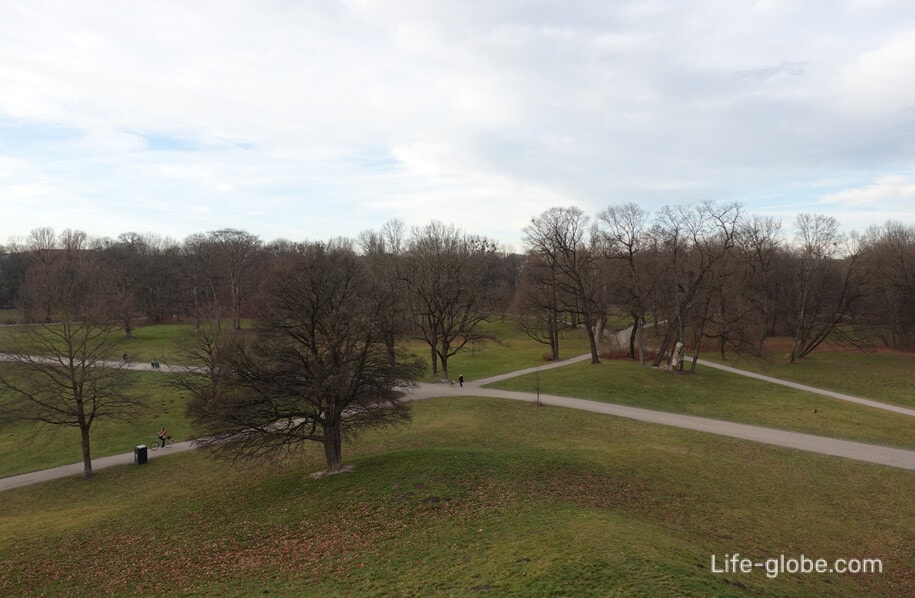 On snowy winter days, the hillsides are used for sledding.
The monopter in Munich is located in the most famous and visited park in the city - in the English Garden, near Chinese Tower (Chinesischer Turm). Read more about the English Garden…