Hotel Storico (B&B Storico) - a small private hotel "B&B" located in the historic Como city center, just 900 metres from the seafront and train station, Como Nord Lago and walking distance from the railway station of Como S. Giovanni.
For reviews of tourists, the hotel has earned a rating of "Awesome" (8,8).
The main advantages visitors will find: comfortable rooms, comfortable beds, great location, friendly owners, tea and coffee tableware, capsule coffee machine and Breakfast included in the room rate.
All of these advantages, we have also noted how the existing, in addition to, perhaps, great Breakfast. Breakfast is kind of mediocre, but many hotels in Europe and the preferences of the Europeans - very much even anything.
Separately want to focus on the ideal location. Out in front of you all the historic centre attractions, plenty of cafes, restaurants, shops and the stunning waterfront of lake Como.
The hotel itself is located in a historic building
Rooms at B&B Storico Como
The hotel has only 9 rooms. The rooms are located on 3-4 floors. The owners live in the same building, on the 3rd floor.
There are rooms:
economy small but comfortable room:
- superior double rooms. We stayed in one of these;
Studio where the kitchen is equipped with fridge, microwave and kitchenware, and a washing machine;
- standard quadruple room and superior quadruple room.
The room rate of economy, at the height of tourist season, is about 95 Euro superior double - 124 - 134 Euro, Studio 136 Euro standard quadruple - 154 Euro superior quadruple - 163 Euros. + city tax. Room rates may vary, also can discounts suggest to clarify with the direct choice of accommodation. Link to the hotel...
Free Wi-Fi fished very well throughout the hotel without a hitch (you can download movies).
In winter, the rooms warm, even hot.
Superior double room: one double bed with a comfortable high mattress; TV with digital channels, a small fridge and a capsule coffee machine, capsule coffee is available one per person at check in, and then a private matter (also a kind of small negative); split-system and individually configuring the battery; a table and two chairs; storage space for clothing and personal belongings; large mirror; two bedside tables with lamps. predsienou table for the bed.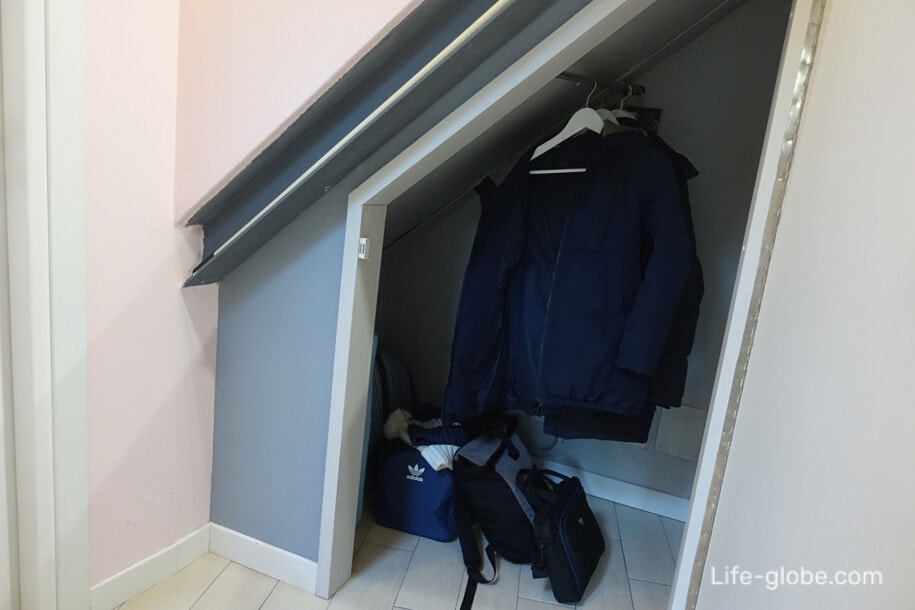 In the closed hinged shelf under the TV: tea and coffee cups; wine glasses; tray; vase; a corkscrew and a can opener.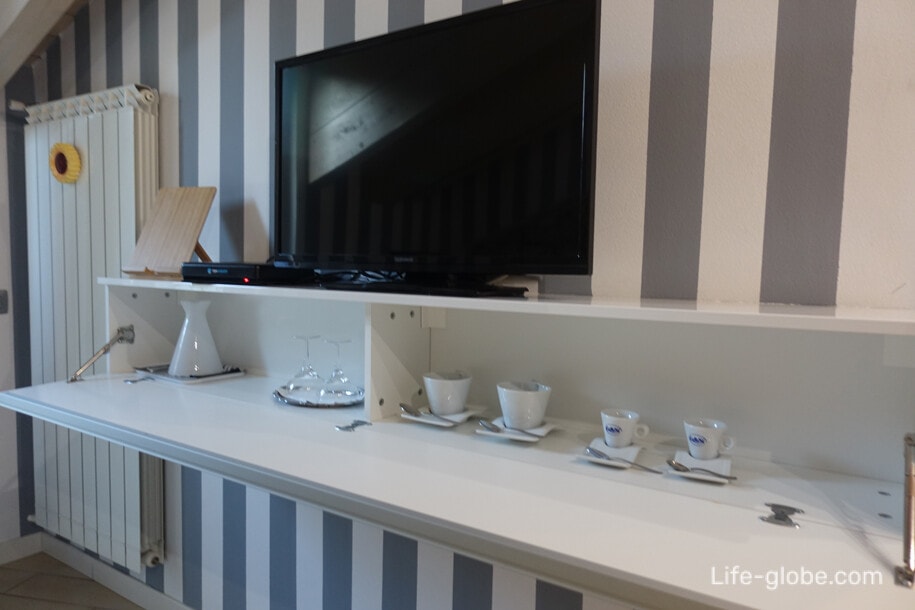 A small balcony with a table and two chairs
A private bathroom where a shower, sink, mirror, bidet and Hairdryer. Two sets of towels. In the room description said "Free toiletries" is too strong for what was in the bathroom. From supply only liquid soap or whatever in a jar near the sink. For us, the lack of a complete set of toiletries was a minus, because when choosing hotels, we pay special attention to this fact, so don't carry all those jars and bottles in connection with the personal conviction to "travel the maximum light."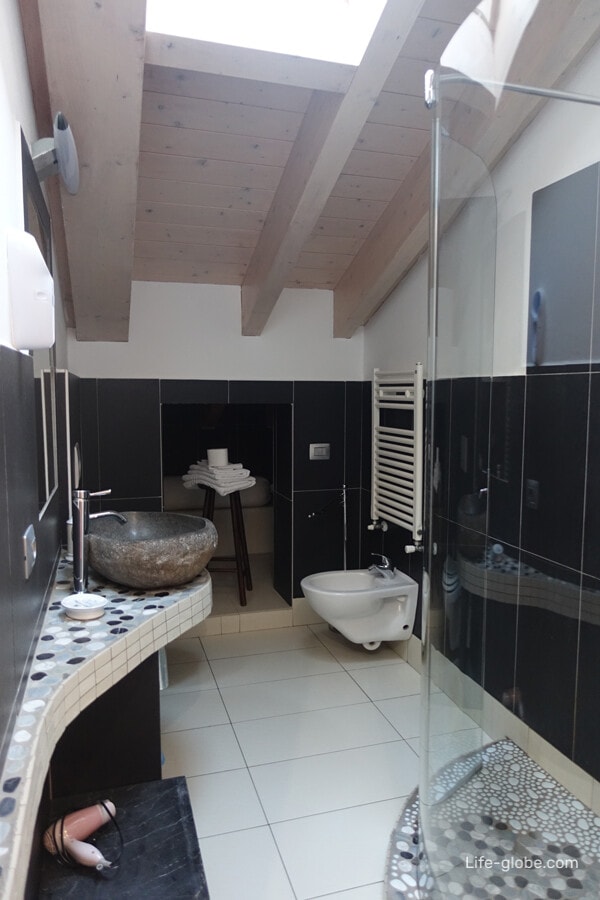 Breakfast at hotel B&B Storico Como
Breakfast buffet is served from 08:00 to 10:00 a.m. on the third floor of the hotel in the dining room of the owners of the hotel. For Breakfast: a couple of types of cold cuts, a couple types of cheese, yoghurt, boiled eggs, bread, muesli and milk long-term storage, a variety of pastries (muffins, croissants, etc., all from the store), juice packs, water, tea, coffee, brewed in the coffee machine.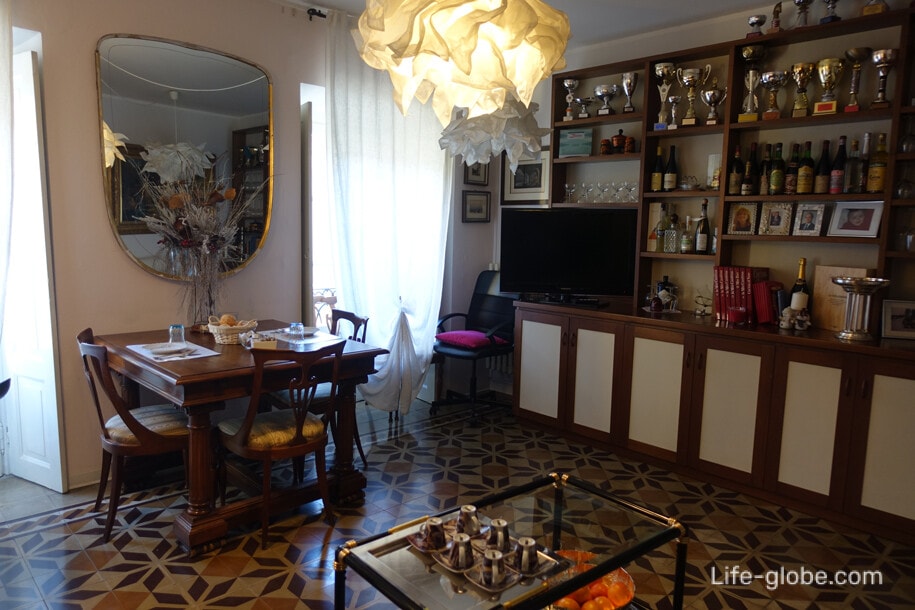 Interior of hotel B&B Storico Como
In the hallway, leaflets, magazines, a mirror, a candy bar and a chair. For the interior common corridor very well. For monoblock special thanks though to us he was not needed, but for someone can be a great tool.
There is also a kettle, tea bags (green tea, black, herbal and various additives - a decent selection), and sugar. Clean water is always close by. Of course, when the kettle is in the room, but the hotel is quite small, and therefore this location was not a disadvantage.
The owners of the hotel B&B Storico Como
Separately want to tell about the hosts and only the positive. The owners Marco and his wife, talkative, friendly and helpful people. Always help and prompt, tell what and where to look, and where better to get that to try out the local dishes and so on.
Marco enjoys chess and backgammon, the player is great, in the dining room you can see a lot of them won cups and awards. So if you're a fan of chess or backgammon, you can break up with him go tie one on, think he will not mind))
Additional services in hotel Storico Como
Cots (surcharge). Children under 12 years in extra beds are charged EUR 20 per night. With the additional placement of older children or adults in extra beds are charged EUR 35 per night. The maximum number of extra beds in a room is 1. Extra beds and baby cots are available on request. Confirmation is required from the side of the hotel to provide this service.
Accommodation with Pets. No extra charges.
A Luggage storage, Babysitting/child services, Babysitting (extra charge), Concierge service, Ironing service and Laundry (extra charge), Fax/Photocopying.
Nearby paid public Parking.
Insights about the hotel B&B Storico Como, Italy
This hotel is very good and deserves the assigned evaluation. Great location, within walking distance to all major attractions, supermarkets and restaurants, close to public transport, discreet and friendly owners, good coffee for Breakfast.
Well, Breakfast and toiletries - it is more related to personal preference rather than real cons.
This hotel can be a good choice, if you are interested in: old town, promenade and proximity to public transport.
C our point of view the B&B Storico - a good option for a pleasant and comfortable stay in Como ratio "Quality/Price", and given the fact that Como can not the areas of the budget.
All accommodation facilities on Lake Como can be viewed and booked here