The central market in Budapest, also known as the Great Market Hall / Central Market Hall or simply the Great Hall (Központi Vásárcsarnok / Nagy Vasarcsarnok / Fővám téri központi vásárcsarnok) is Budapest's largest indoor market.
The market was built in 1896 and opened in 1897. The idea of the construction of the great market hall became the first mayor of Budapest, Karl Kammermeyer, the project market Itself belongs to the architect PEC.
During the existence of the market, it was restored after the Second world war and in the 1900s after years of wear.
in 2013, CNN Travel named the Budapest indoor market the best market in Europe.
Currently, the Great hall is the No. 1 marketplace in Budapest, a monument of architecture and one of the most beautiful brick buildings in the Hungarian historicism. All this makes the market not only a place for shopping, but also attractions of the Hungarian capital city of Budapest.
Stone entrance gate designed in the Gothic revival style. The roof is covered with colored construction ceramics. The building has an area of about 10,000 square meters.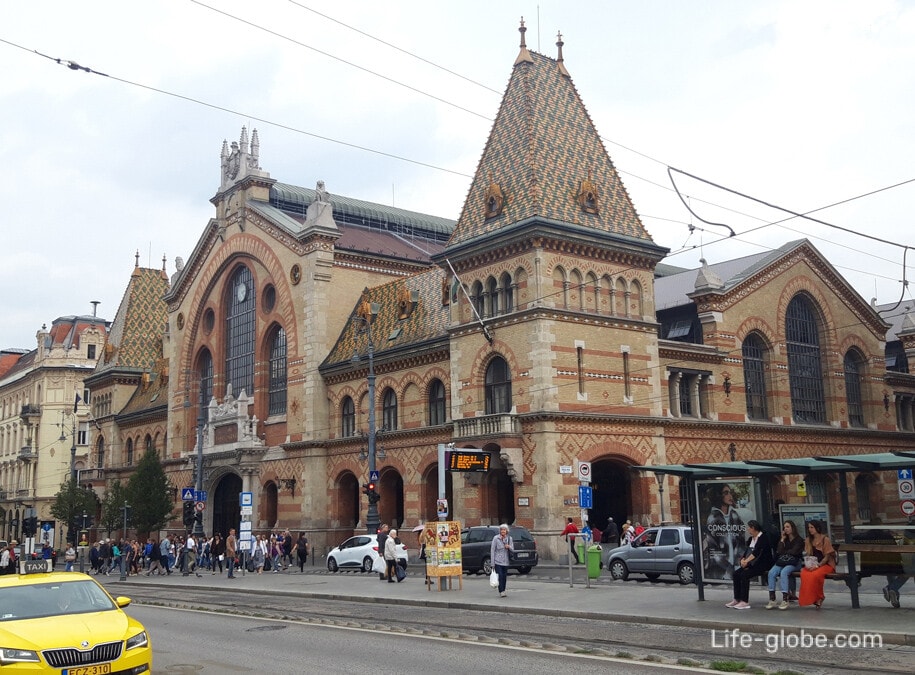 The inner part of Budapest's great market hall has a large hall on the ground floor. Where mainly sell food products (food): vegetables, fruits, poultry, meat, sausage products, canned food, nuts, dried fruits, spices, coffee, tea, jams, sweets, etc.
The large hall of the market is used in order to conduct wine tasting and events, from gastronomy, to receptions, gala dinners, weddings or conferences with up to 1,000 people.
On the second floor metal structure sell non-food items, from hats and clothes, to Handicrafts and Souvenirs.
The most visited tourist part is the West wing of the second floor of the market. Here are a catering company.
In the area of public catering offers ready meals, Hungarian and General European cuisine: chicken, meat, sausages, vegetables, rice, stewed cabbage, potatoes, goulash, hot dogs, langos with various fillings, sweet cakes etc., as well as drinks, including beer and stronger alcohol.
Make you can write here, like sitting at tables or standing near them.
The price of food is not the cheapest in town, some restaurants, cafes and street stalls you can eat for the same money, and even cheaper, and much tastier.
Location and address Central market in Budapest
The market is located in the heart of pest, near the Liberty bridge (Liberty Bridge) and the main tourist and shopping street of Budapest - Vaci street (Váci utca)at the address: Vámház körút 3.
Opening hours of the Central market in Budapest
Monday: from 06:00 to 17:00 hours.
Tuesday - Friday: from 06:00 to 18:00 hours.
Saturday: from 06:00 to 15:00 hours.
Sunday - day off.
Attention! Hours the wound may vary, please check the information directly before visiting.